There is nothing that makes me more crazy than waiting for glue to dry when I am trying to do some major modification like adding fender flairs or chopping a top.
What is worse is the model is much more fragile than before I cut it and the glue lines always seem to bleed through to the finish.
The reason is because we are using glue that softens and melts the plastic and it takes a long time to evaporate out.
I started welding plastic when I was about 15 and there is nothing that is stronger and faster than using heat to weld seams and joints. I use an adjustable temp pencil tip soldering iron. It has a very small tip that is perfect for welding plastic. It is important not to melt the surrounding area so a variable temp soldering iron is a must.
I have to make this warning and I want everyone to read it and understand that melting styrene fumes and smoke is not a good thing to breath in.
WARNING!!!!
VENTILATION IS THE MOST IMPORTANT THING WHEN WELDING PLASTIC.
AT THE VERY LEAST SIT BY AN OPEN WINDOW WITH A FAN BLOWING OUT TO EXHAUST THE FUMES. DO NOT BREATH IN THE FUMES OR SMOKE!!!!!
OK I have warned you... Don't be dumb and ignore this.
The first thing to understand in welding plastic is not to get it hot enough to smoke. If it is smoking and turns brown you are burning the plastic and it will become brittle and your joint will fail.
When you see smoke stop and clean the tip of your soldering iron with steel wool.
Practice is the best thing I can suggest to figure out how hot to get it and when to get off a spot before it starts to warp. But here is a quick explanation of how I do it.
I will put a good weld up against any glue as far as strength and the best part is when you are done welding you can get on with your customizing and do not have to wait for anything to dry.
Thanks and I hope this helps.
Bob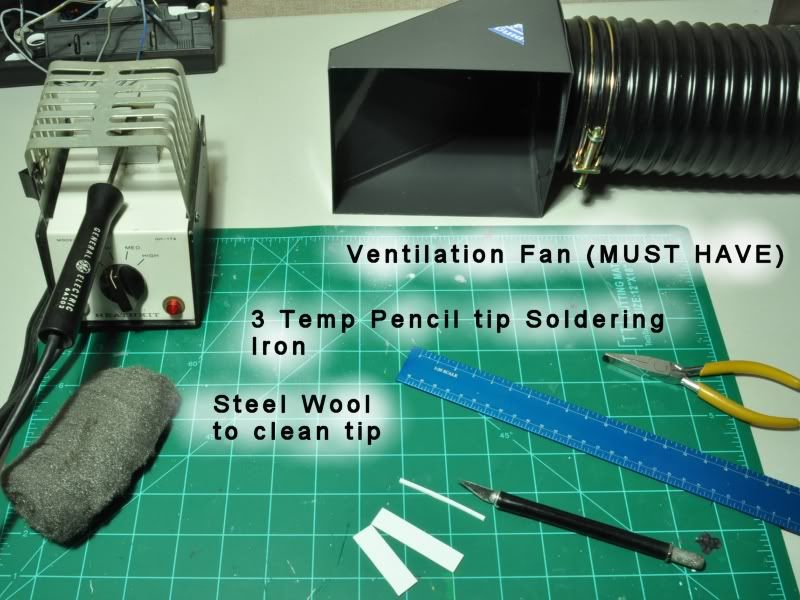 First make sure your area is clean and free of any flammable materials like paint or thinner.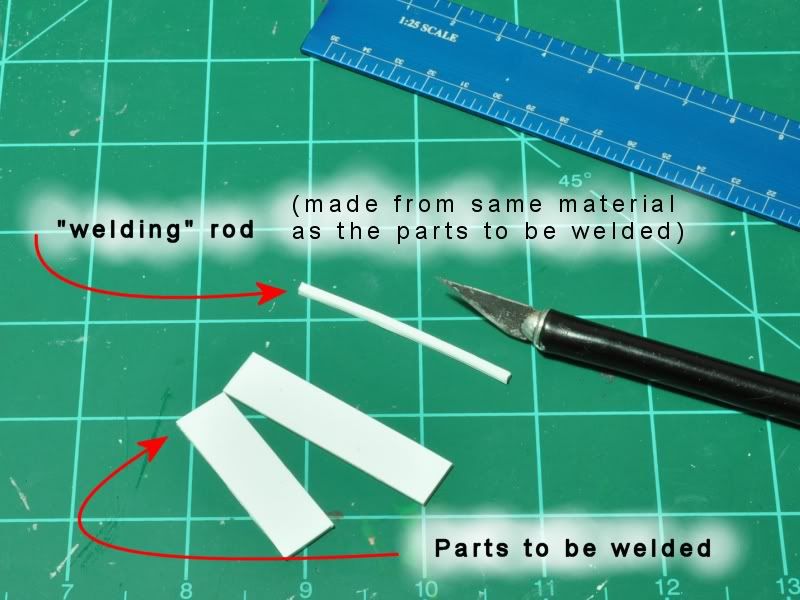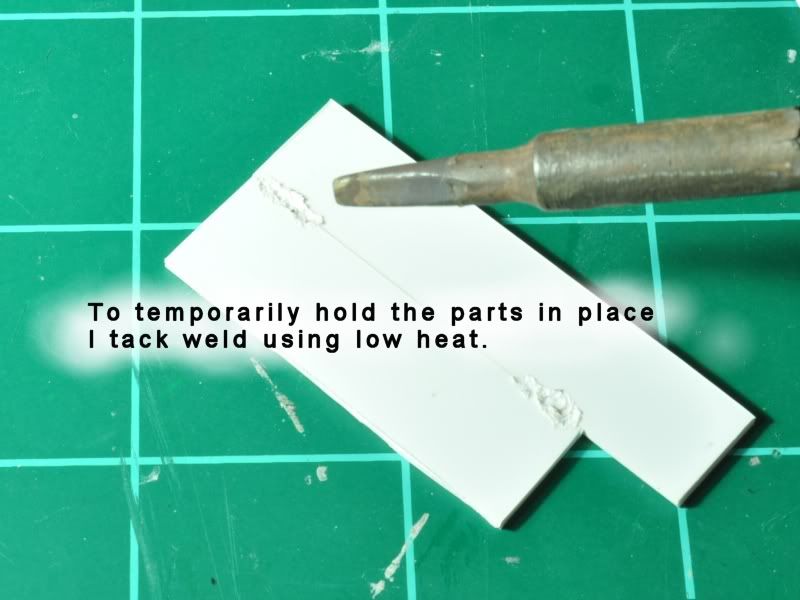 Start by tacking the parts together to keep them in position.
V out a small section and weld in the rod to fill the V. Then create another V and repeat the process.
Notice when I create the V I push the plastic out to the sides of the V. This will be mixed in with the rod in the next step.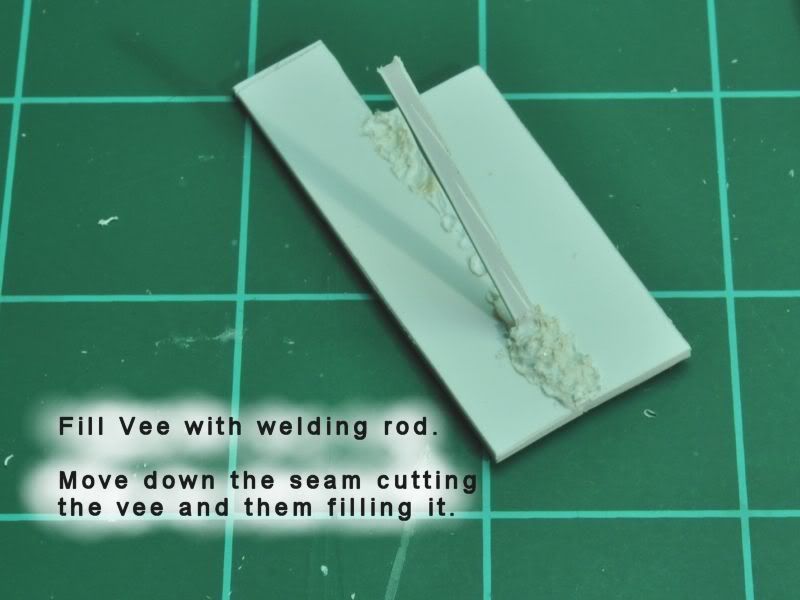 Start welding by laying the rod in the V and moving the iron very close to the end of the rod.
When you see the tip of the rod begin to melt start pushing the rod into the V. While it is soft I start to move it around and then pull the sides of the V in to create the weld.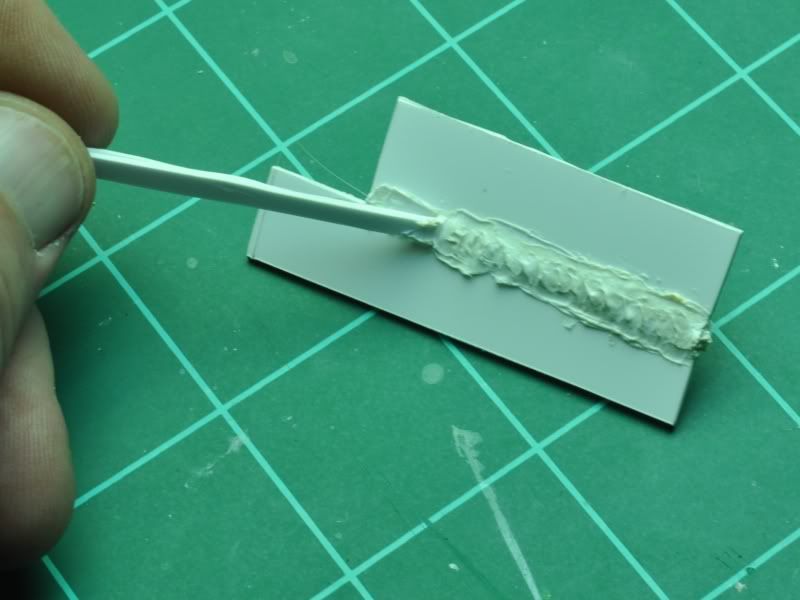 The real trick is to get a very small spot hot but not melt or warp the surrounding plastic. I like to brace the part I am working on with a finger under the spot I am welding. If the opposite side is too hot to keep your finger on then you need to stop and let that spot cool (it only takes seconds).
After I have welded a complete seam I like to go back over it and clean my weld up buy dragging down both sides to move any bumps into the middle of my weld. Then I drag a diagonal line to create a nice smooth weld. If your joint looks smooth with no holes or burns then it will be a good strong joint.
Edited by RobRus, 06 May 2012 - 07:50 PM.