I had been featuring the buildup pics. in a seperate thread but I chose to showcase the completed build in a new thread.
This diorama features a buildup of an Alaska State Troopers Ford Explorer out in the wilderness searching for an escaped con. from the local correctional facility. The last dio. that I built took on a life of it's own and when I was done it became so big that it takes two people to move it so this one had to be a bit more reasonable in size. That being said there is a lot going on in a relatively small space. Not really all that accurate for the real world but appropriate enough for the model world.
Plenty of wildlife from the Moose and Elk to the eagles nest, eagle flying high above the trees and the squirrels, all curious about what is going on. The decals on the police vehicle are aftermarket. I opened the rear hatch for one of the K-9 units to be exiting and added some small details in side like the first aid kit, fire extinguisher and a laptop up front.
This is really only my second or third diorama so even though I had to achieve some weathering throughout I have a long ways to go to make sure that all of the details look accurate.
All of the trees are from different sources, the rocks are all resin cast and the turf is from Woodland Scenics. The couple of fallen trees are straight out of the backyard and the weathering on the vehicle is real dirt, done so if it didn't look right I could wash it off and try again.
I just finished this tonight so tommorrow, after work, I will take it outside to photograph it in the daylight as it will look much better that way.
These are loads of fun to build and I hope you enjoy looking at it as much as I did building it. Thanks.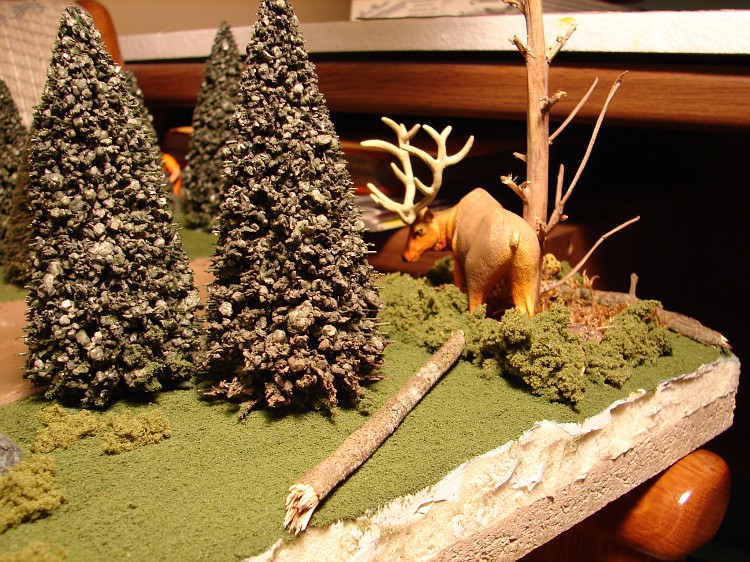 Edited by 1320wayne, 14 May 2012 - 11:47 AM.