Hi all. Here are a few of my Pick up Projects.
This started with a Revell 65 Chevy Shortbox stepside kit.
I had to stretch the chassis to Longbox length in order to mount the body
The Open Road Mini-Motor Home is from the recent M-K re-issue.
Tires are OLD AMT Rubber "Firestone Darlington-Gum Dipped"
Turnpike pieces. I believe Only the original 1962 issue of their
Opening door 58 Impala had them. I have not seen them in any other kit.
Yes the front suspension was cut apart for steering
The Mini-Motor Home's Little Twin;
This one sports MPC G-70's. I have cut the one piece bed apart to yield a more
correct Fleetside out of it
as molded it represents more of a Cameo than a Fleetside
Steering is also pose-able on this one
Next is a Ramp back hauler
This is a bash. Hauler is the M-K Racer's Wedge re-issue.
Chassis is from the MPC Heavy Pedal version 72 Longbox Stepside pickup.
Cab is from the parts box
Here is an Original 67 Annual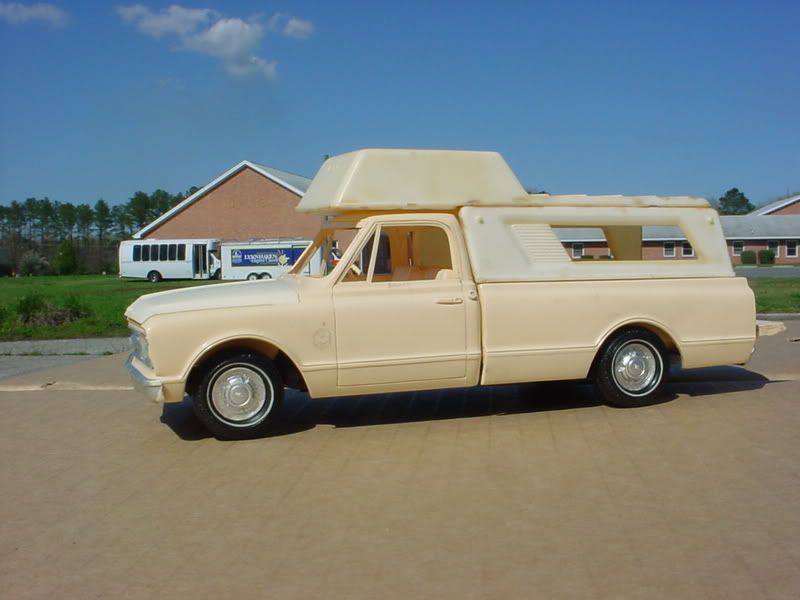 I got this built Years ago. I did paint detail the chassis & engine, but the body & interior are still unpainted
The cap is from AMT offered in the 68 Hunter's Special version of their 63 F-100
And also in their 69 Fleetside
I got it in a Box lot at an auction With a complete built 69 Fleetside!
(Only Model kits.parts I Ever found that way!)
I also have a second 67 that is a Resin conversion
The 67-72 Era Chevy/GMC Pickup is my Favorite.
I have Several including 4 more Built's I got with the Resin conversion 67!
I did have to replace the rims/tires with Stock pieces, but all are Nice!!
Edited by Edsel-Dan, 25 June 2012 - 06:36 PM.