This was a quick project to update a Mako Shark snap kit. I wanted more of a contemporary look and to add some detail. I applied Bare Metal Foil to the windshield and on the body. I detail painted the interior and substituted late model Corvette wheels and tires. It was a fairly easy build and I had a lot of fun with it.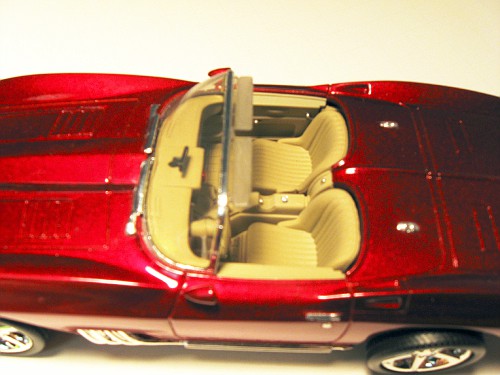 I used Krylon X-Metals base coat and red paint. It gives a nice candy red appearance.


The real surprise was the experiment I conducted with Plaid Folkart Clearcote Glaze. The super glossy finish you see is two wet coats of the glaze directly from the can over the Krylon red with no polishing at all.


I am enthusiastic about the outcome and plan to continue the experiment to see how it works through my air brush and over other types of paint. I used it on a scrap body and I know at this point that it gives the same glossy finish over Tamiya Yellow (TS-16). It also takes an extra day to strip in Super Clean. It looks like I will want to use polishing pads to smooth the color coat before I apply the Clearcote. I don't plan, at this point, to use Novus or other polishes on the color coat in case they would contaminate the surface for the Clearcote Glaze.
I did a Google search for "plaid folkart clearcote glaze hi-shine 11 oz" and found some good prices for the Clearcote Glaze
Enjoy!