COME WITH US NOW TO THOSE THRILLING DAYS OF YESTERYEAR (1972). NEW SHOTS TODAY.
When was the last time you saw a 40-year-old build on this forum? Not often, I bet. But this is my favorite kit I've ever built. It makes a great display model for the average builder (me), can introduce them to the opportunities for extra detailing, and presents an unmatched canvas for experienced builders like Harry (when you gonna finish it, Harry?) and John Teresi to superdetail. The 1/12 scale makes all that so much easier.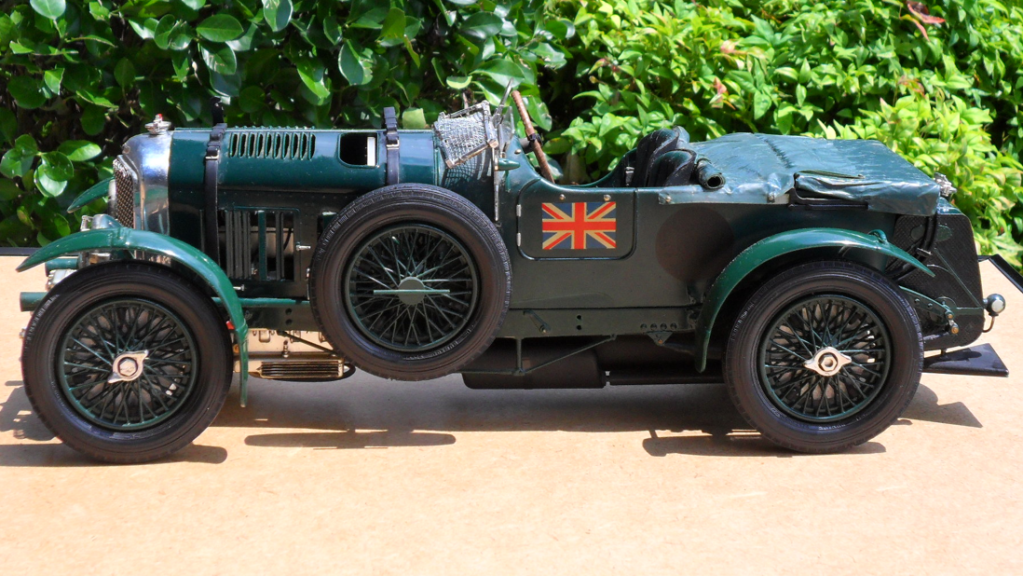 When I saw "General Mills" on the box label when I bought it in 1972, I expected to find corn flakes in the box. But nonetheless, despite its somewhat high parts count (around 280) it's a simple kit that goes together beautifully for anyone. In any case, here it is. Built with next to no reference except for 5 pages in a wonderful coffee-table book ("The Great Cars," by Ralph Stein). This is way before the Internet. It's a great kit, molded with aluminum part finishes and even has outstanding plastic plug wires molded in a realistic way.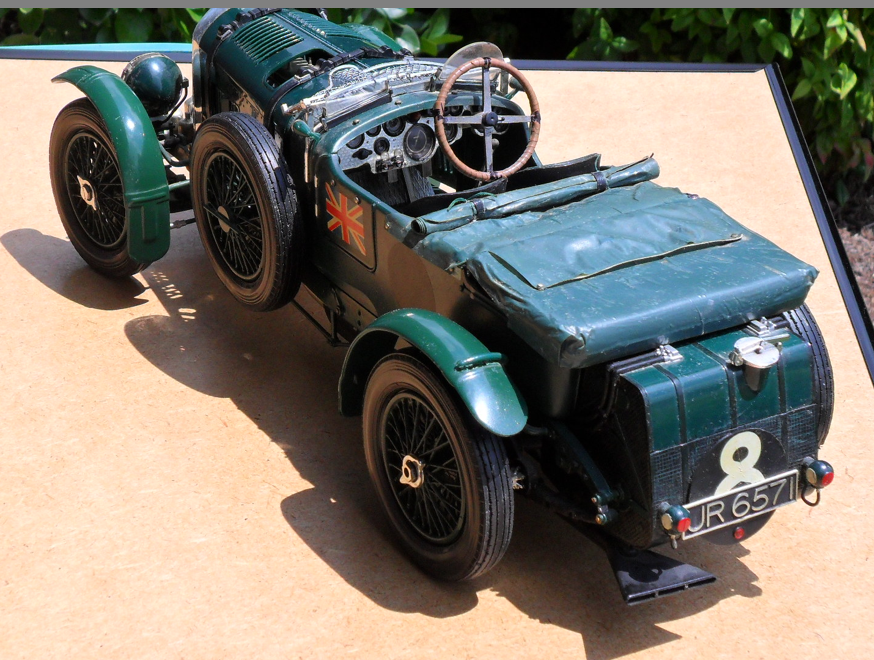 My build is with mostly old-school Testors stuff - spray paint, tube glue and a bit of liquid glue, with no sanding (except for a bit of X-acto work on the superb open louvers), no primer or clear coat. I wanted it to be a tiny bit rough due to its heritage and even worked on adding orange peel to the frame rails (not accurate, as I later discovered). I used artist's acrylics for the seats, for the right finish (the kit awesomely molded the seat bottoms to make them look like they've been sat in). Just some extra washes and that's it. I would point out, however, that yesterday's brush-applied Testors liquid glue does not hold up very well.
I was a bit confused about the gauge instrument decals being totally black, but I discovered the decals were printed backward to be applied to the clear lens part, which is attached from behind the dash. Some builders make their own dash lenses because of the sink marks in the clear piece. My reference showed a wrapped steering wheel, which I thought was leather, so I used tan plastic wrapping tape slivers. It turns out it's cord, so use thread or twine. I also didn't know to wrap the leaf springs in cord.
Today, it's a bit worse for wear, (especially thanks to the cleaning lady who snapped off two fenders and the exhaust pipe while dusting the shelf). A headlight stone guard is long gone, and some of the wire strands on the grille mesh have disappeared. I cleaned off some of the dust, but left a bit for a certain
je ne sais quois
.
So here it is, 90% box stock with the exception of adding flyscreen mesh to the radiator, the headlight and windshield stone guards, plus a full tonneau made out of a Glad leaf bag, and wheel weights made from sprue attachments (the windscreen mesh needs to be very fine - use a plastic drip coffee replacement filter). I had no reference for the necessary gas tank meshes or the carburetor screen. I made a feeble attempt at adding a tachometer wire, but didn't have a clue about any other wiring - as you'll see, the space between the back of the dash and the firewall cries out for it. It needs handbrake linkage, but I couldn't tell anything from the pictures I had. I would recommend that the ENTIRE body including the fabric main body shell should be painted the same dark green; then the body shell should be dulled down quite a bit. I wouldn't bother with clear or polishing on the gloss parts; it looks period correct without that.
I know everything that's wrong with the authenticity and detail of this build, and I have gathered tons of new reference to make it just right. There's simply a ton of stuff I would change or add. But I decided I ain't gonna spend $140 on the new reissue, or even an older kit, to do it again.
Edited by sjordan2, 07 August 2012 - 01:40 PM.