In 2005 I created several Houise Of Kolor Custom DieCast in an effort to show the execs at HOK how I have been promoting their paint system and products in the scale DieCast arena.
House Of Kolor responded with 2 UPS vans full of Paint in gallons, quarts and 4oz. bottles, showcase stands, T-Shirts, Baseball Caps,Tech Manuals, CDs, coffee table books, John Kosmoski step by step CDs, HOK banks (cars), 2 dozen large banners, and loads of small giveaway items for me to use to promote their company.
HOK sponsored (more paint and more Banners) an all day HOK BuildOff I staged at a Texas DieCast Convention sending along 2 of their local representatives.
Here's some pics of one of those HOK Custom Cars.
All Graphics are designed by myself on scanned imagers of the castings so everything fits perfectly.
All Products Used Are EXclusively House Of Kolor, Of Course!!!!!!!!!!!!!!
Clear InkJet Decal Paper is from Papilio.com where I am the Moderator.
Castings are all stripped with KleanStrip AirCraft Remover and then sanded and rubed down with #3 Steel Wool.
The existing headlights were frenched and holes drilled in the front fenders for additional high beams.
Holes were drilled in the rear for backup lights, brakelights and turn signals.
All the Rhinestones are inlaid from the inside except for the ones in the existing headlight forms.
First a light dusting of Adhesion Promoter.
Then a basecoat of Shimrin White followed by SnowWhite Pearl.
Then the fenders are all shot LimeTime Pearl and lightly coated with InterCoat Clear and a dash of Duo Green-Yellow Pearl-Ex powder.
Fenders are taped off and the whole thing shot again with Shimrin White followed by SnowWhite Pearl to cover up any fender overspray.
Again a light coat of InterCoat Clear for taping purposes.
The beltline was taped off and the roof, hood and rear shot with InterCoat Clear with a heavy dose of the Duo Green-Yellow Pearl-Ex Powder. Enough was used to contrast with the SnowWhite Pearl sides.
Next the hood was taped off and the nose trim was shot with Zenith Gold.
Then the stones are inlaid, decals applied, pinstipe tape put down and windshield and rear windows trimmed.
Finally the entire car was shot with HOK Clear with a dash of Brilliant Gold Pearl-Ex powder.
All products HOK, Of Course!!!!!!!!!!!!
These castings are going to be real HOT!!!!!!
I'm still a huge fan of the HW Dairy but you can't help but like the style and wheels of this one.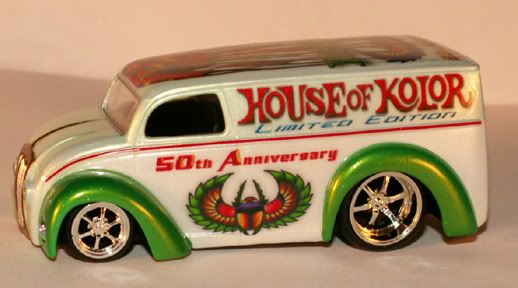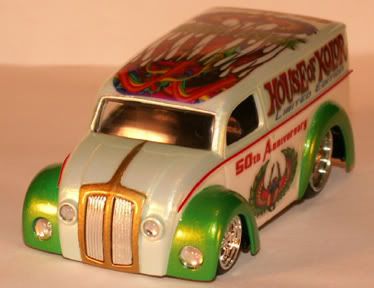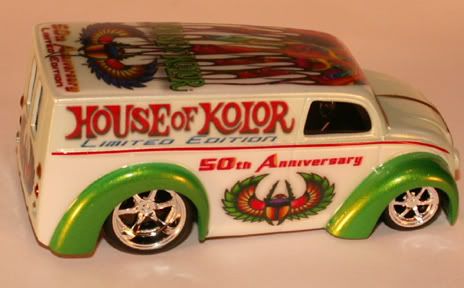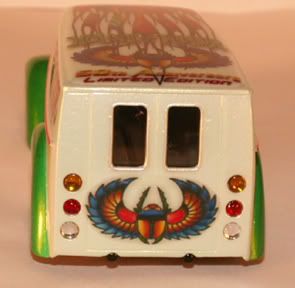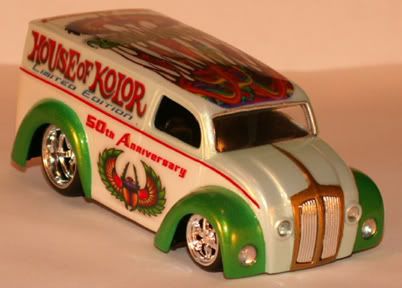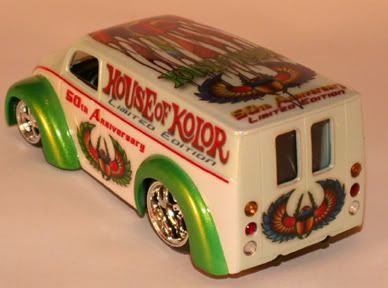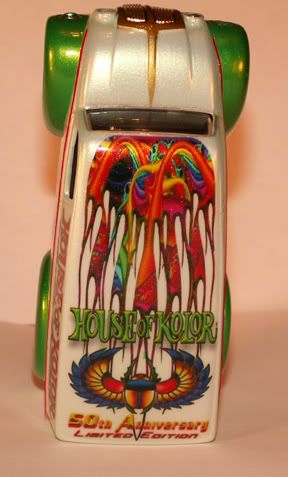 CadillacPat the UnCustomizer
Edited by CadillacPat, 09 August 2012 - 12:47 AM.