Those of you who know me through my writing know that I don't build customs very often. It's not that I don't like customs, I really do, it's that I hate the fill-sand-prime-repeat that's involved in just about any custom. And I don't really do it well so it works out pretty good that I prefer race cars!

Anyway, I've had this Lindberg '53 Victoria in my collection for a number of years now and I finally got around to doing something with it. I figured doing a mild custom would keep me away from all that filling and sanding and, for the most part, I was right. I still had to fill in some of the side trim and the dimples where the door handle went and I did okay but if you look hard enough you can still see where the filling happened.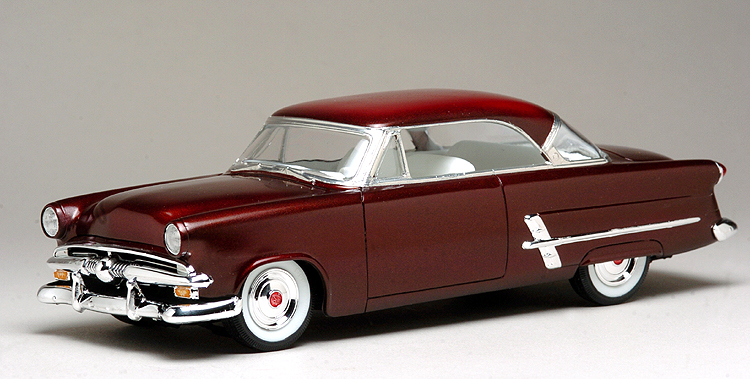 I guess the paint is the main feature of this car. The base coat is Testors Flat Black on the body and Metallizer Aluminum on the roof. Then I fogged a little Flat Black around the edges of the roof. All of that was followed by an overall coat of Testors Model Master Stop Light Red Metallic. I was hoping for a greater contrast between the roof and the body, but I guess it's okay the way it came out.
The interior is just all Flat White. I built this as a curbside so there's no engine and no chassis detail. There's only enough parts to hold the wheels on and everything under there is flat black.
I would have liked to remove the bumper guards for a smooth bumper look but the bumpers are completely hollow so that wouldn't have worked. Those bullet taillights came out of my spares box.
Anyway, I'm mostly happy with the way it came out and now that I've done a custom I don't have to do another one for a long time.

(only kidding of course) So, let me have it, comments, critiques, and whatever you have to say is welcome and encouraged!