Or at least was one working on the project to turn the Sebring into the 200 anyway............
A few weeks back I parked my 200 up near the garage door and noticed the wing-ish shape to the light put out by the projectors, but chalked it up to being around the time I was going to see the newest Batman movie and thought I was seeing things. Recently, somebody on the 200 owners forum I've joined noticed the same thing with his recently and took a picture of it and shopped in a computer generated version of the current wing badge place above it.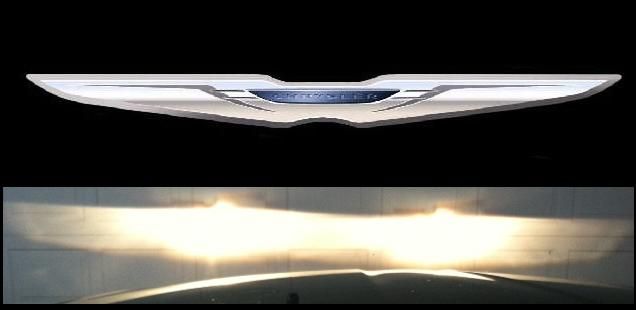 I can't get a clear pic of it on my since the lights on my car seem to be a bit low in comparison to this 200 (I need to get them adjusted before we go to Branson, Missouri, low aimed lights in the Ozark Mountains may not be too fun), but not only is it still noticeable, I can see it on the road when driving at night, it's just heavily distorted (and slightly Nightwing like!) Now all of us on that forum are beginning to wonder what the story behind it is. Now this is kinda cool as it is only obvious when pulling up to a non-glass wall of some sort. I'm kinda curious if they've done this with the 300 as well (which also uses projectors) and if this is a feature on Bentley and Aston-Martin since they also use wing badges on their cars too!