Here's the first of a few trucks I built for our club challenge. Major changes from the kit are chassis,running gear and seats from 37 sedan, nailhead from Orange Hauler, wire wheels from 29 Woody. The rest are modified kit parts.
the 37 chassis was used as is except for an additional bar for the trans mount.
the engine is the nailhead from the Orange Hauler, really supprised how well it fit.
it's painted with semi gloss black Duplicolor.
the air cleaner came from the Orange Hauler, with a little adjustment of course.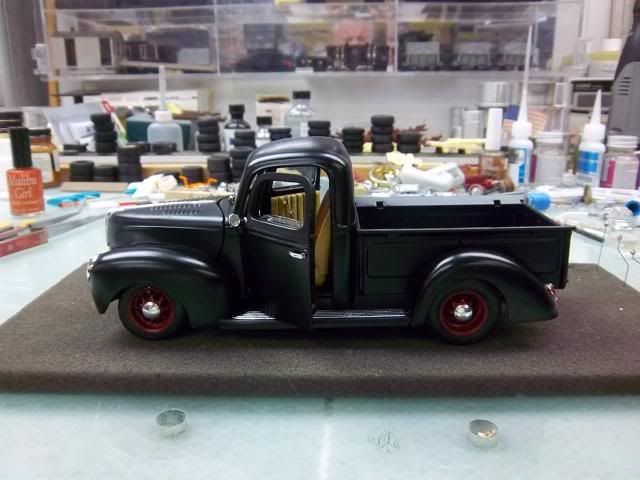 I sanded the door panels flat and added half round to simulate tuck and roll to match the roof panel.
I added a chrome foot gas pedal from the Tijuana Taxi and door handles from the 37 and an eyeball shifter. The bed and running boards have foil strips.
the exhaust came from the 37, I think, had to extend it to match up with the nailhead manifolds.
did you notice I left the steering wheel out of the first pic like this? let me tell you how much fun installing it was with the doors glued solid!
the next one is a drag truck.