This is the definitive early cowl-steering setup...a Franklin steering box. This is shown in Barney Navarro's dry-lakes car. Navarro's car had the sector shaft exit on the right side of the cowl, which was a little unusual. By turning the box over, obviously, the effectice direction of movement on the Pitman arm would be reversed, so it would work equally well on the other side. The steering wheel is at the top left of the photo, and the Pitman arm and drag link are under the R&C logo, bottom right. The tube in front of the box is a part of the structure of the car, and the end of the sector shaft closest to the viewer would be supported as well.
"Early on the preferred steering box for this steering style was the Franklin steering box from Series 9 ('16-21) and Series 10 ('22-24) Franklin automobiles. The Chrisman Brother's famous number 25 dragster, one of the first purpose-built drag cars, utilized a Franklin steering box in a through-the-cowl steering setup, as did many early Midget, Sprint, and Indy cars. As the Franklin unit became scarcer, the Ross center steering unit, found in a variety of forklift trucks, became the steering box of choice. The '48-52 Crosleys also utilized a Ross steering box, but it was not as beefy as the forklift models. Eventually various manufacturers, like Jones, Halibrand, Norden, Schroeder, and others reacted to the racers needs and began manufacturing through-the-cowl, or center steering-style steering boxes specifically for oval track racing applications."
....here's a Ross in a Midget. Notice how the tube the sector shaft runs in is supported on both ends.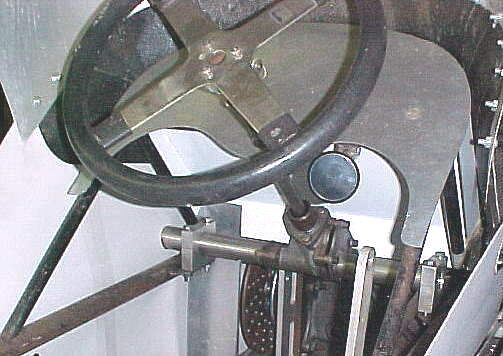 And here's a '56 Ford F-100 box modified to use in a through-cowl application. Again, notice the tubular braketry at the top that will become rigidly attached to the vehicle structure.
Edited by Ace-Garageguy, 01 November 2012 - 02:07 PM.