2

Doodlebugs, Scrambolas, Jitterbugs, and Field Crawlers to Name A FEW
You cannot reply to this topic
Posted 04 December 2012 - 02:46 AM
Cool Subject!  We used a Model A "doodlebug" as a parts chaser/torch wagon at the junk yard for many years. 
---
Posted 12 April 2015 - 11:24 AM
---
Posted 13 April 2015 - 03:20 PM
An older friend (now deceased) had two Modet T Ford Tractor conversations plus a Model A that had larger wood spoked rear wheels, a pair on either side, I think he told me they were off of a Pierce Arrow.

One of the Model T tractors ran steel wheels the other had about a 2" X 2" diamond pattern pneumatic rubber tire. One of the T's ran a much taller radiator almost the height of a Fordson Radiator, the other had a stock appearing painted Model T radiator she'll and probably a deeper re-cored radiator (Honycomb). Ignitions were the Model T "Buzz Box" Coils, no other electrics except for plug wires. Very simple Tractors to say the least. The T with stock Radiator she'll ran the top hood only, taller radiator had a simple bent sheet metal "Hood" held on with sheet metal screws and old rope. Both ran stock cowling and both had center mounted tractor type seats on a curved flatiron mount. Both had stock dashboards with non-working gauges. Both ran remnants of front bumpers one bent to a gentle vee the other a radius around the tall tractor type grill and bolted to the front of the frame horns. Bumpers being a place to hang lead or concrete weights onto the front but out of the way of the starter cranks. The tractor radiator also ran an auxiliary three speed no reverse transmission behind the stock Model T transmission.

The Model A was much more crudely converted from car to tractor, it ran a stock coupe/sedan cowl, stock seat springs and metal seat structure only. This one ran head lights and single Model A tail lamp, probably for going to and from fields in morning and evening hours. The front wheels were stock Model A with a three rib implement type tire, rear tires were stock street type tires which appeared to have had a heavy lug to them floorboard was crude wood 4 - 6 inch wide X 1/2" thick (unknown) wood boards held in place by flathead screws with square nuts on backside. Radiator she'll was extremely well worn chrome, hood top only from a different car either black or blur at one time, cowel looked like it may have originally gray then brush painted faded red then gray again. Dashboard held all of the stock Gage's which all worked still, even the speedo, though not at the correct speed, all glass including the wracked and delaminating windshield were pitted and discolored. Any painted surface was severely faded with a light sheen of rust, but not severe rust.

All three had shortened frames with shorter closed drive shafts, rear cross members were moved forward and bolted back to the frame rails. Most of painted surfaces were painted either black or gray. All appeared to have been maintained through the years. I was told that all three were found in the High Desert Areas of Eastern Washington State where they were working up until the late fifties to very early sixties. Most likely used in the orchards during the later part of their lives. When they were brought to Western Washington they were parked out of the weather inside of sheds and started every once and a while. I know that all three were originally bought with the idea of using their running gear in other Model T & A project cars, then he just couldn't bear tearing them apart. The two Model T's are back in Eastern Washington bought by a collector of farm stuff. Makes me wish I had pictures of them, we just didn't "waste" film on stuff like that back then.

These would make an incredible weathering and conversion project, there are tons of pictures of these little tractors in books and I'm sure here on thee 'net. Lots of greasy open mechanicals, tons of dust, shiny worn metal from tons of use. Right up the Good Doctor's Alley!!

---
Posted 29 April 2015 - 03:50 PM
I've always loved Doodlebugs since they just ooze with the story of American ingenuity.  Farmers needed a tool so they set out to make one from old cars and left over parts.  A really cool depiction is in the movie  "Cider House Rules".  There is a shortie orchard truck that is featured prominently in the movie.
Skip, there have been models done over the years by various folks.  I have one I started off the old AMT '32 Vicky / Phaeton kit.  I really need to finish that one!
---
Posted 30 April 2015 - 12:38 AM
I guess my 32 Ford Supply vehicle could be called a doodlebug:
http://www.modelcars...topic=98987&hl=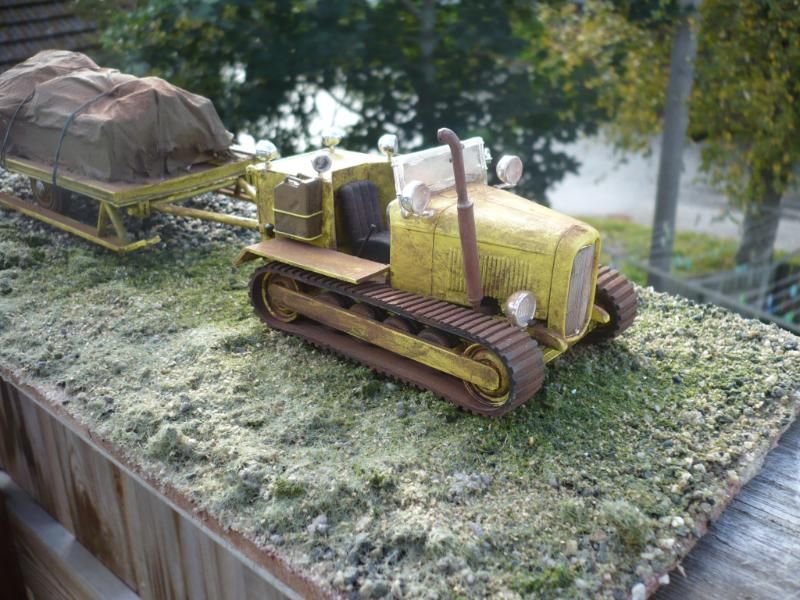 ---
Posted 30 April 2015 - 06:58 AM
Whatever happened to Dr. Cranky?  I haven't seen any posts from him for more than a year(?).
PB.
---
Posted 30 April 2015 - 07:35 AM
---
Posted 01 May 2015 - 09:34 AM
I miss his "interesting" posts, wish he'd find his way back into the fold again; maybe it's time for a good old MCM Revival Meeting to get the wanderers back!
Edited to correct spelling, iPads can't seem to autocorrect the right words!
Edited by Skip, 01 May 2015 - 09:35 AM.
---
Posted 01 May 2015 - 11:11 AM
I do too. He did have some interesting ones.
---
---
---