I built this Dodge Ramcharger a bunch of years ago but I hadn't posted it on this forum. It's the old Monogram kit, and as such was a bit simplified and toylike for starters,  This was my first shot at using auto paint from the spray can. It's Plastikote paint with their clear over it all.
Rear view
Under the hood. Things were molded in here like the battery and windshield washer tank. I had to rely on detail painting to make it convincing.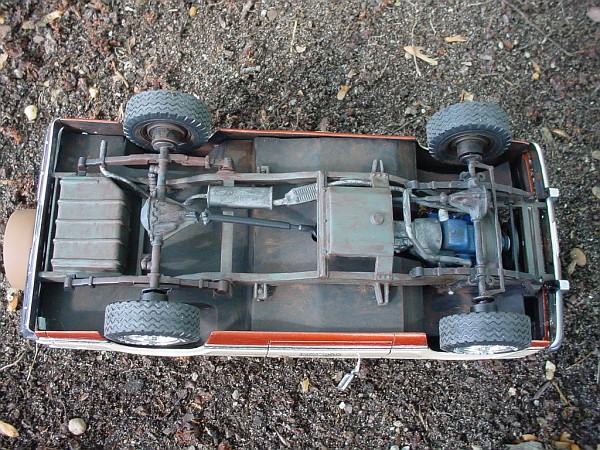 Here's where the kit was truly lacking. The chassis was fairly good and detailed but the floor was simply the interior tub bottom with huge gaps all around it. I added a complete floor to it, still I didn't do a lot of detailing on that.
I built the truck as a memory of the Trail Dust Steak House. I used to travel on business to Denver all the time and would always go there.  I liked the logo, so in the days before computer decal printing, I created the decals on a Xerox machine. It also has Colorado plates. 
The interior is beige tones with actual brown carpet. I went for just two seats up front opting for some cargo room in the back.  The Trail Dust Steak House had a thing where if you wore a tie there, they'd cut it off and buy you a drink. All in fun, so guys would wear a crummy tie there. The walls of the place were lined with ties, so I decided to make a box of bad and loud ties.  Those were fun to make.
All in all, I'm pleased with the build. It has a special place in my display case.