Just finished this one up on Christmas Eve.  A fictional car with extra decals I had laying around.  Used the Downing and Ryan Fairlanes as inspiration for the paint scheme. The paint is Model Master Wimbeldon White laquer and Gaurds Red enamel.  Headers are Thunderbolt units, and were a pain in the rear to make them fit decently....lots of chopping and filing of the frame rails and crossmember.  Never did get them to fit great, but good enough to satisfy me.  Paint was a pain too.  After getting the first, and half of the second, coat of white applied, I ran out.  No biggie, so I thought.  I grabbed the new can I had on hand, and continued.  Unfortunately, it was a bad can, as the paint came out in small, stringy globs, even after setting it in warm water and changing out the spray nozzle.  So out came the easy off and the paint stripping began.  I bought a new can, and test sprayed first, and found it to be good.  Once the body was cleaned up, round two of painting began, this time with no issues.  After applying the Gaurds Red and waiting forever for it to dry, I dug out the polishing kit and proceeded to nearly burn through a spot on the passenger side quarter panel.  I didn't feel like slapping on another coat of paint, so I went the easy route to cover it up, and hence the Hurst and M&H sponsor decals.  I thought the hood scoop was lacking a little height oob, so I added some .015 x .060 strips of Evergreen into the hood scoop inlay on the hood to raise it up.  Then I puttied and sanded the seam smooth.  I also had to do some fiddling to get the tires centered up in the wheelwells. 
A fun build, but I'm glad to have it off the bench.  Is it totally correct for and SS/B class car, probably not, but close and good enough for me.  Thanks for looking, any questions or comments (good or bad) are welcome.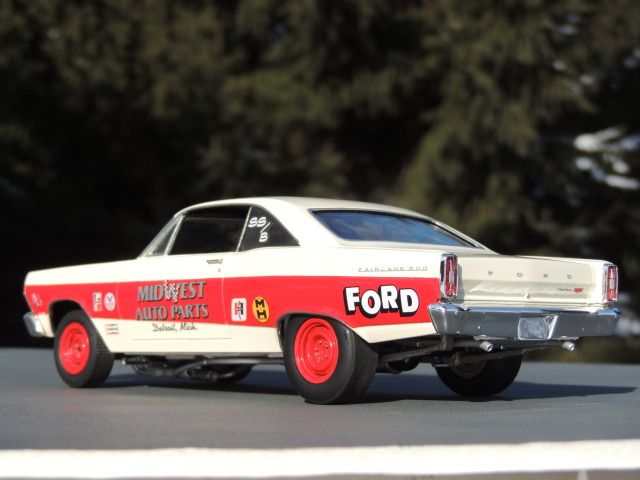 A few more pics in a minute or two.....