I finished this one a few days ago. This is Pocher's first Alfa Romeo kit, released in 1968. As with all Pocher kits, it has all the typical Pocher problems and headaches... poorly fitting parts (or even non-fitting parts), glaring omissions, inaccurate details, vague instructions, etc., etc. Anyone who has ever built (or tried to build) a Pocher kit knows what I mean.
Anyway, I built this one to look as it looked when fairly new, not a restored car... so the paint was not rubbed out or cleared, just painted the way it would have been painted (I think) back in the day. In fact, I slightly "dirtied up" things to give it a slight "patina," sort of. 
Here's the overall view (pardon the pix... I do not have any sort of "real" photo lights, etc. I pretty much have to fake it with a combination of room lighting and the camera's flash). I gotta say, the fit of the body panels on this model is surprisingly good compared to other Pocher kits I've built. Note the pretty tight fit between main body, firewall and hood. That, folks, is about as good as it gets with Pocher body panels unless you do some surgery (which in this case I did not have to do!)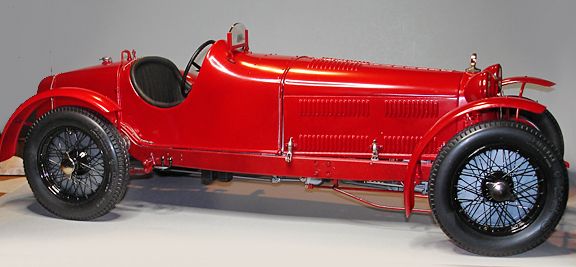 The car is painted Testors "Dark Red" enamel, right out of the can, no polishing, no clear, no nuthin'. I was trying for a finish as it might have looked when the car was new, not a restored, overly shiny, glass-smooth finish. The wheels are plain old gloss black.
The list of things I changed, added, scratchbuilt, whatever, is long... so I'll list things as we go. Let's begin with the heart of any car...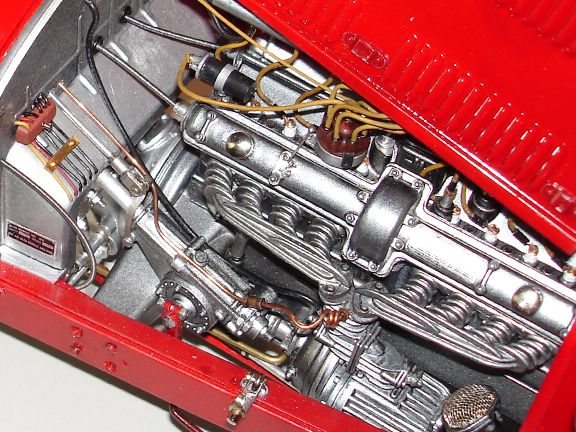 The engine was built pretty much out of the box, but I added a lot of missing linkages, wires and cables, according to photo references. Among the things I changed under the hood:
• Added correct ignition wire terminals
• Added scratchbuilt distributor linkage and distributor cap hold down clips
• Added misc. wiring and cables
• Added a scratchbuilt ignition wiring loom and brackets per reference photos
• Added electrical connections to coil
• Added hose clamps made of strips of BMF and short lengths of styrene rod
• Cut upper intake manifold into two separate pieces (it's molded-incorrectly-as one piece)
Because Pocher kits are meant to be built using either screws or friction fit (no glue), many of the parts are assembled with screws. The problem is, many of these parts were not assembled the same way on the real car, which means there are visible screw heads in all sorts of places where they would not be on the real car. For example, the engine block halves are meant to be screwed together. Obviously the real thing was a cast metal piece that was definitely not screwed together in halves... so I filled all the non-prototypical screw holes and assembled parts using glue instead. I tried to do that wherever I came across a screw that wouldn't have been there on the real car.
The fuse boxes are kit pieces, but they are positioned incorrectly, so I filled the holes in the firewall and drilled new ones for the boxes and the wiring.
More to come...