This is a 1/12 scale model of a Concord stagecoach. The model is about 13" long and 9" high. These coaches were used between the 1830s and 1861 to carry mail and passengers between St, Louis and San Francisco. They had a capacity of 9 passengers, plus mail and baggage in the "trunk" at the back and also piled up on the roof.
One of these coaches weighed about two tons. There was no suspension system (as in springs). The body of the stagecoach was suspended between front and rear uprights by thick leather straps, and would sway back and forth as the coach traveled (remember... this was in the days before paved roads). The trip between St. Louis and San Francisco was almost 3,000 miles over rough, dusty terrain and Indian territory. Let's just say that the Indians along the way were not always very happy to see a coach full of whites coming through their land. You can guess what happened sometimes. And then there were the regular stagecoach bandits to deal with. Couple that with the fact that the coach had no source of heat (or cooling)... it made travel in the hot summer or cold winter extra fun!
Congress discontinued stagecoach mail service in 1861, and the transcontinental railway, finished in 1869, pretty much made stagecoach travel obsolete. But for 30 years or so, if you wanted to head west, they were the only regularly scheduled service available.
Anyway, enough of the history lesson. The kit is mostly wood (laser cut pieces) with a lot of smaller detail pieces being cast white metal. The roof rails are brass rod that the builder has to bend to shape and assemble. There are also photoetched parts (mostly buckles and stuff like that). The model is built pretty much the same way as the original-piece by piece, tiny bolts holding everything together. While the bolts are all real, individual pieces, they are not threaded... you hold them in place by gluing on tiny cardboard "nuts." The front and rear axle assemblies alone have dozens and dozens of individual pieces to them... once everything is assembled and painted, it's hard to see how many pieces are actually in there, but there are a lot!
Each wheel spoke has to be carved to shape by the builder, which is a very time-consuming process. The "leather" luggage boot is actually paper that I painted with acrylic craft paint to look like leather. The chassis and coach body are painted with acrylic craft paints and glossed up with Future. Pinstriping was done with red and black fine-tip Sharpies. I scratchbuilt real padded diamond tuft upholstery for the two interior benches. Here are the pix: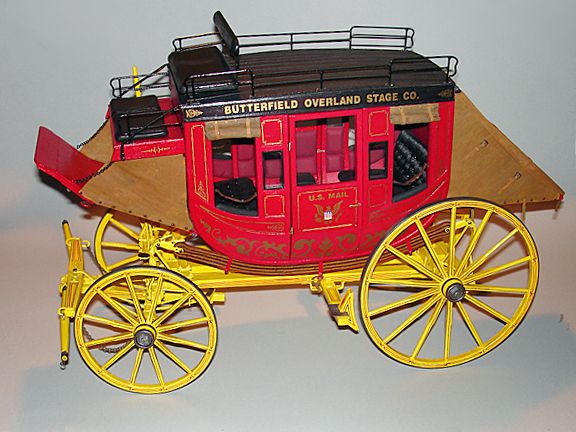 Some detail shots of the chassis... front axle:
And rear axle: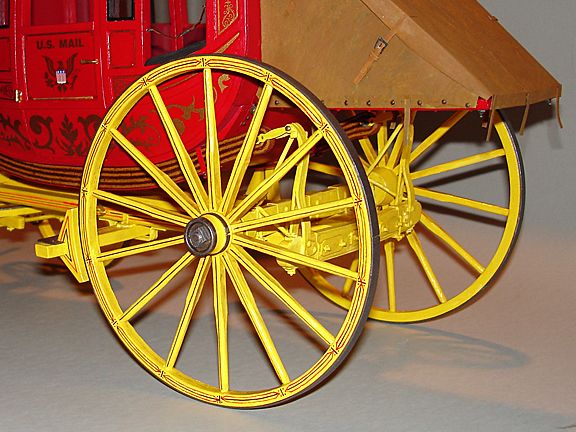 In the above two photos you can see the leather straps that are suspended between the axles that the coach body rests on. Yes, they are real leather.