This is part of what I hope will be a 3-piece set I'll get done in time for this year's NNL west in mid-February. It's a '34 Ford Roadster highboy done in early postwar dry lakes style. It's based on a resin body done by Chuck Mier, proprietor of Altered Sates Models (http://www.alteredstatesmodels.com/ ). Oddly, it's not offered on the Altered States web site. Chuck has recently begun selling his wares on eBay under the name "oldmandowntheroad" and besides many of the items from his web site he's offering some pieces I've never seen before. This is one of them: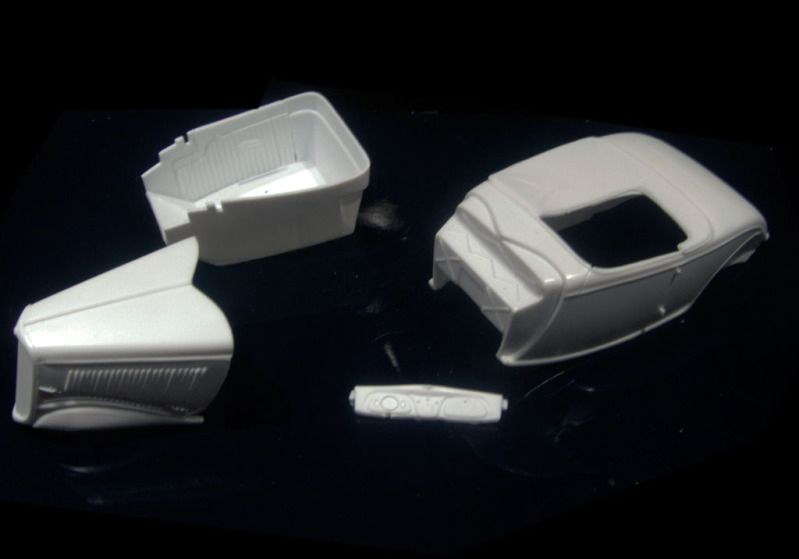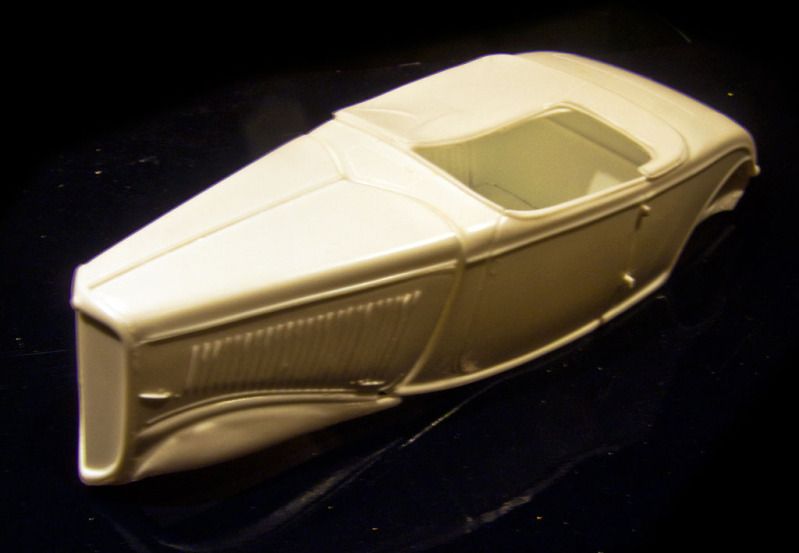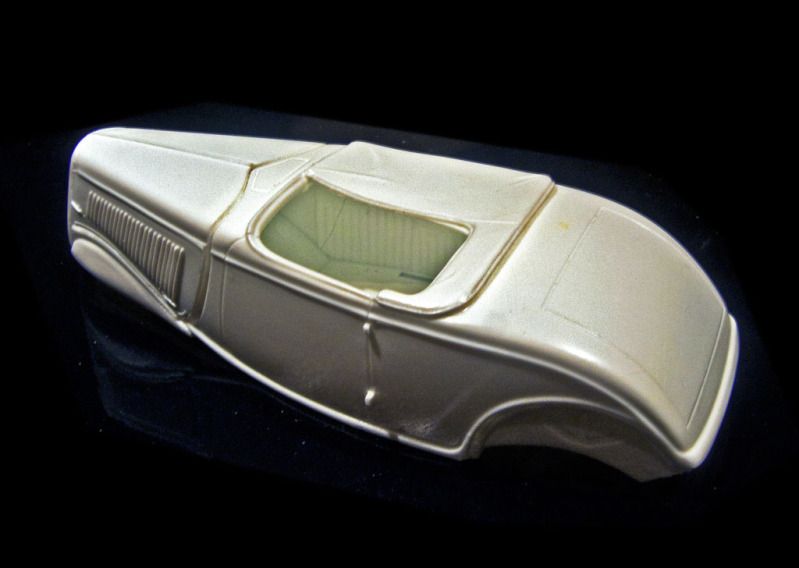 As you can see it includes a one piece hood and grill unit, something I didn't want to include in my build. The body is designed to fit the AMT '34 Ford 5-window kit. As usual with Altered Sates stuff, the resin is smooth, bubble free and relatively thin and styrene-like. Fit to the AMT kit is near perfect.
For my version I wanted to build a classic highboy lowered slightly front and rear. It will have a postwar style hopped up flathead and the paint scheme will match the '40 Ford Sedan Delivery shop truck I've already started (Wimbledon White and Dark Jade Green Metallic). The frame rails and fender well panels and the upper part of the body will be Dark Jade Green Metallic. The filled front fender well panels, incidentally, are courtesy of Ed Fluck at Drag City Casting (see http://public.fotki....-city-casting-/ ). Like Chuck's stuff, Ed's resin pieces are flawless and fit perfectly (the gunk in the picture is rubber cement used for the mockup).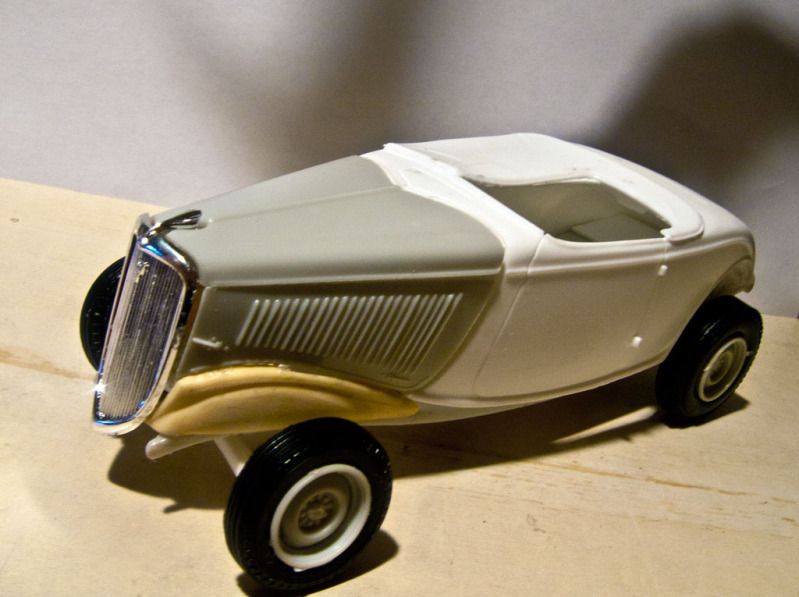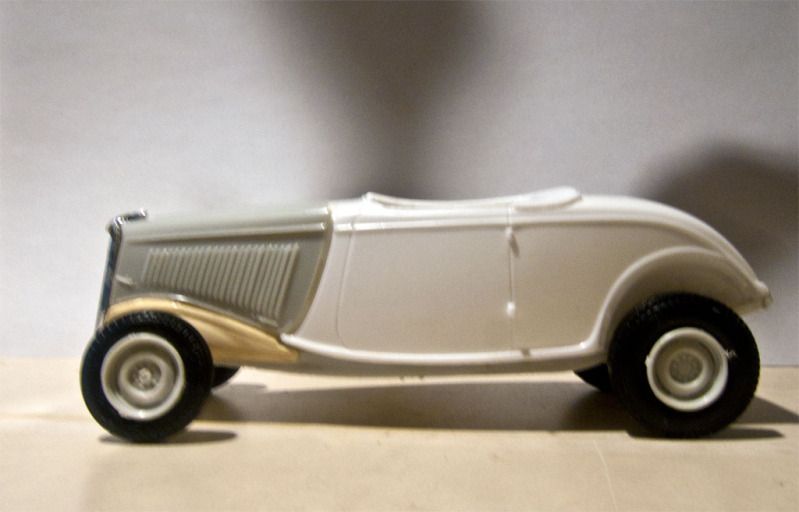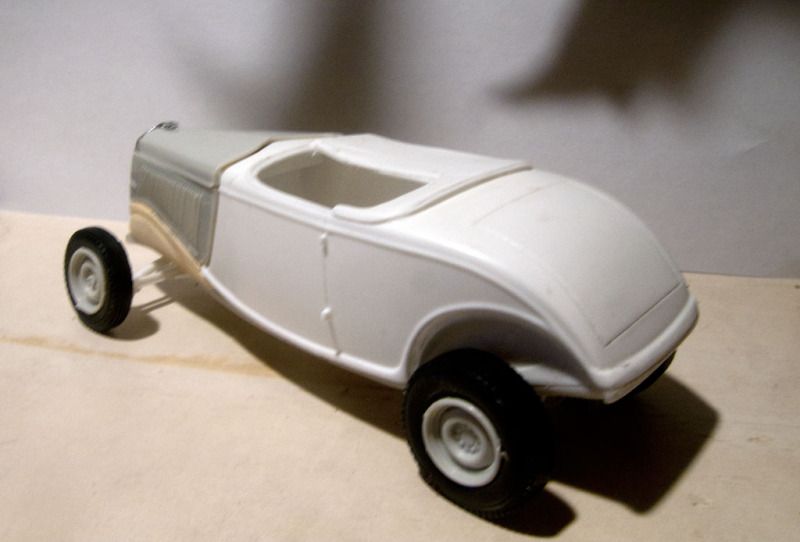 At the front I'm using a dropped front axle from the various Monogram/Revell '37 Ford kits with a little bit of the stock front cross member shaved away. At the rear I z'd the frame to tuck the frame ends inside the body. I also trimmed the rear fender liners slightly at the back and made a small roll pan from styrene stock. The result is a conservative lowering job typical of the lakes cars of the late 40's. The quick-change is from a Revell Tony Nancy Double Dragster kit and the axles bells are AMT '25 T pieces with the AMT '34 Ford brake plates and rear spring. The tires are the ones I'll be using, Modelhaus T110's at the front and T180's at the rear. I haven't settled on wheel treatment yet.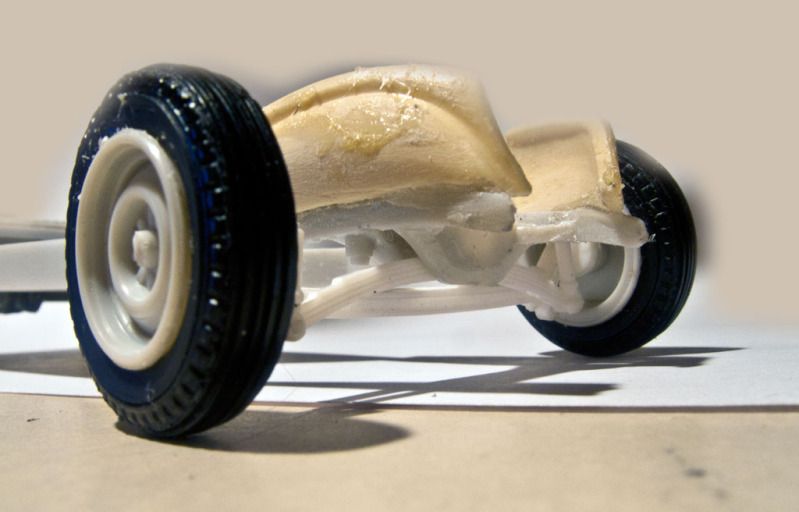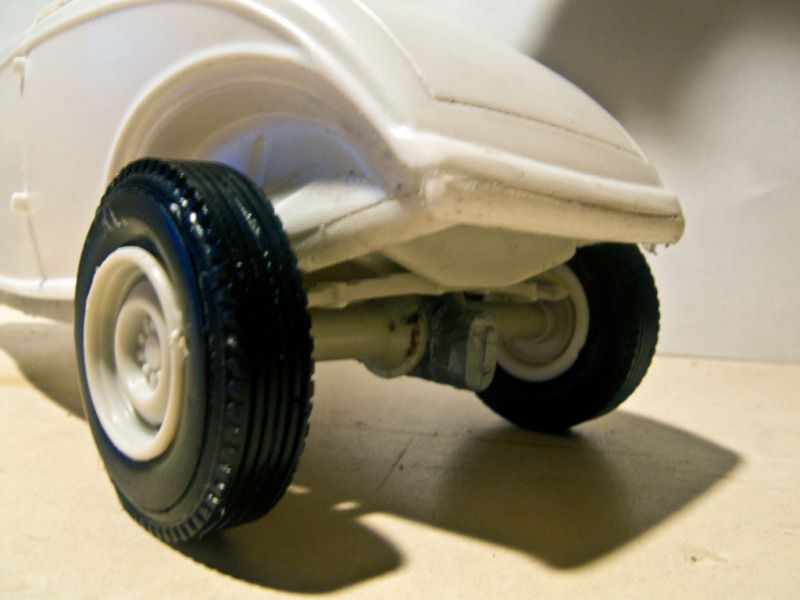 I'll have to build a custom trailer for the setup and that is most likely the part of this project I may not complete in time for the NNL. In that case I'll put a push board on the shop truck and display the two pieces as a set that way.
Thanx for lookin',
B.
Edited by Bernard Kron, 11 February 2013 - 04:49 PM.