OK I can finally post some updated progress pictures on this project.  The chassis is completely assembled.  The engine is in, the wheels are on and all 4 touch the ground......  wooohooo.  I brush painted the hubcap centers with the Duplicolor Dark Green Metallic body color.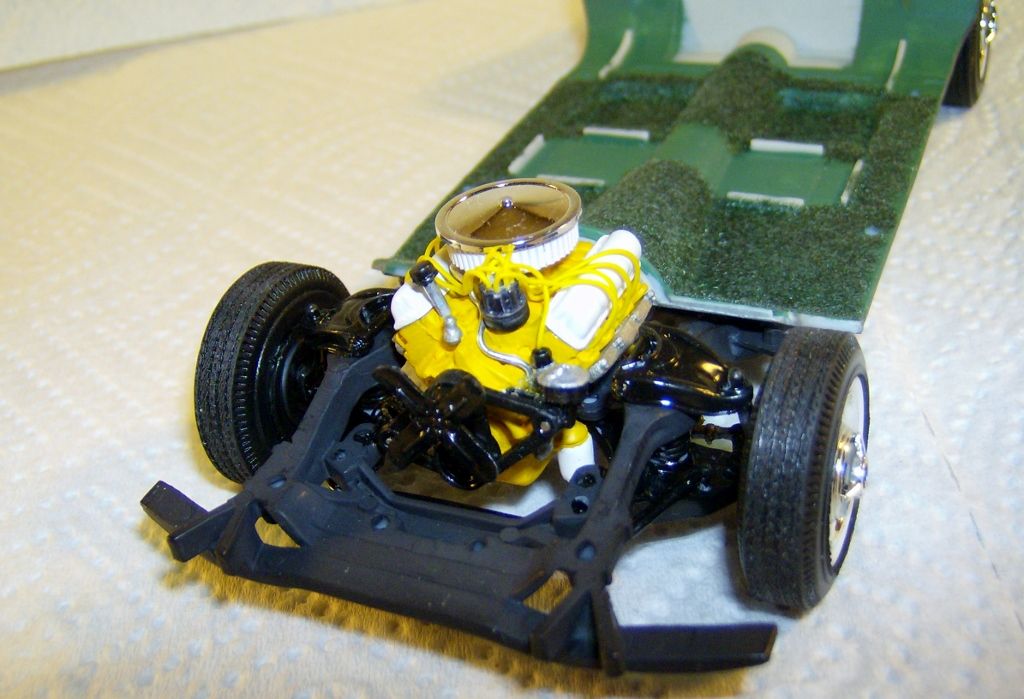 I finished detailing the dashboard.  The upper part is painted the Dark Green Metallic and the bottom is White.  I glued on the gauge faces and the radio face from BestModelCarParts (cutting them out was a chore..!!).  I then glued on PE metal trim rings for bezels on the round gauges and next I applied small drops of clear epoxy for lenses.  For the center Speedometer I glued on the tiny black & white gauge face and then flowed some clear epoxy over and around it with a toothpick to make the clear domed cover.  It's not "perfect" but it's the best that my almost 66 year old eyes could do using an Optivisor..!!
Today I'll finish assembling the interior.  The body has been primed and I painted the roof, side coves and rear panel Duplicolor Arctic White.  I'll mask that off and apply the Duplicolor Dark Green Metallic to the rest of the body, hood and continental kit pieces.  I'm on the "home stretch" with this build.  An all time world's record for me, as this is the 10th model I will have finished since last years' NNL East Show...!!!
Thanks for looking in.