So after I painted the '58 Edsel body I've been working on, and had nothing to do, I opened the '58 Cadillac Eldorado that I got in a Trade from Dan Helferich (Thanks Dan) and started in on it...  Yeah it's another 1958 car...!!  I've been saying that "I'm on a mission" to build as many cars from 1958 that I can and so far I'm sticking to my plan.  The scale difference (this is a 1/24 scale kit) doesn't really bother me.  
I sanded off the mold lines on the body...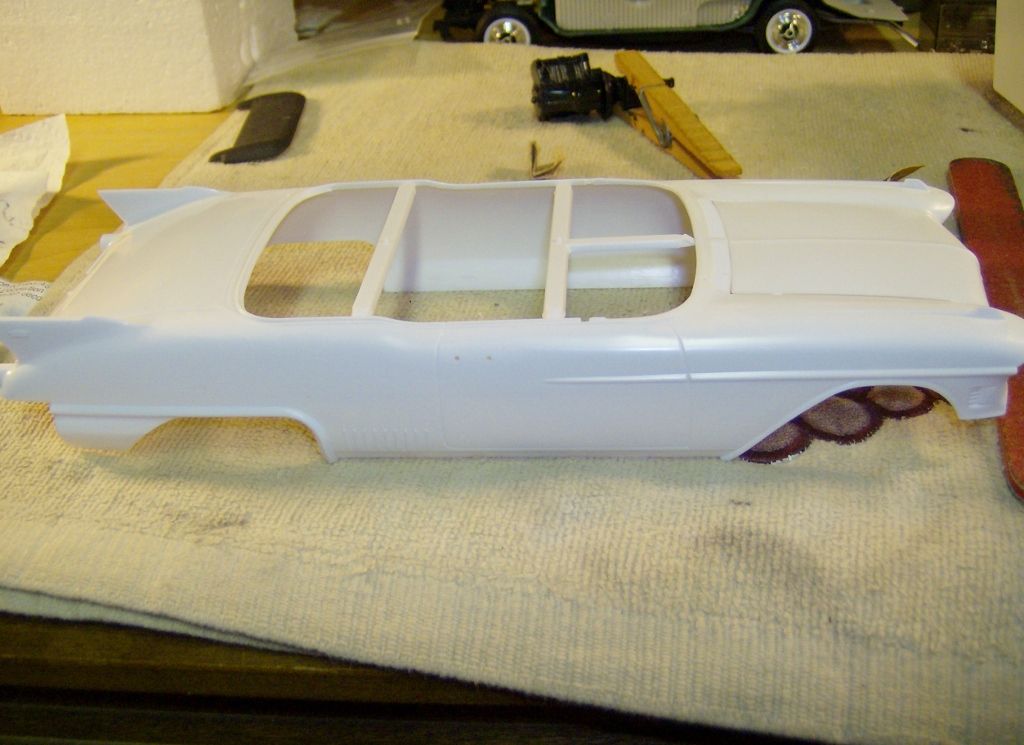 and painted the chassis dark gray...  i'll do the chassis rails in semi-gloss black and metalizers on some of the other parts.  The box art shows whitewall tires but the kit tires are blackwalls and since it's a 1/24 scale I really can't use 1/25 scale tires with whitewall inserts.  I'll have to paint on whitewalls with white acrylic paint (happy happy joy joy..!!)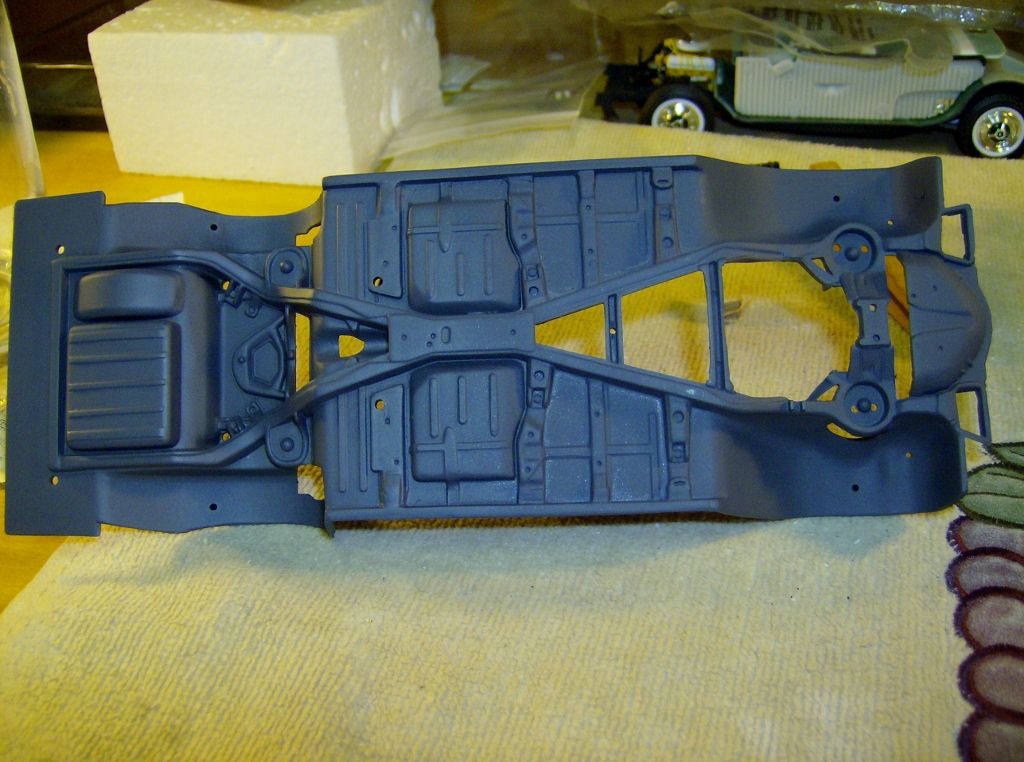 and I glued together the engine block...  I'm thinking Gold valve covers and air cleaner...
I think my plan for this car is to keep it pretty much Stock, as it kind of looks a little Custom to start with.  I'm thinking Duplicolor Champagne Gold color for the body.  A friend told me about a '58 Eldo that he saw on an Overhaulin' show that was done in Gold, with an Orange (tuck & roll) and Cream colored interior.  I've never seen that episode of Overhaulin' but that actually sounds pretty cool.  The kit seats are molded with a tuck & roll pattern on them.  I'll have to spray the interior pieces with a good primer/sealer coat because they are all molded in a turquoise color plastic and I don't want that to "bleed through"  whatever paint I use.  I'm also thinking that Brown carpet would look pretty good with the body and interior colors.
Here we go again.  This is odd for me because I usually don't start another model until I completely finish the one in progress.  I guess an old dog CAN learn new tricks.  
Thanks for looking in on this new ride.  All comments and/or suggestions are always welcome and appreciated.