Hey Guys,
This is a project that has taken a few turns along it's journey.  This was the inspiration for this build.
Since at the time I began this rig, no Freightliner FL Series cab was available( I have since bought the Plaskit version, but that is for another project).  It started out with a Mack R style cab, but it looked a little dated.  I checked my "stash", and found a Plaskit Mack RD resin hood.  It was posed with an R cab for a mockup
The cab was stripped, hood glued, and painted:
The dry side tanker body was scratchbuilt.  After the pump panel was roughed out, these photos were taken: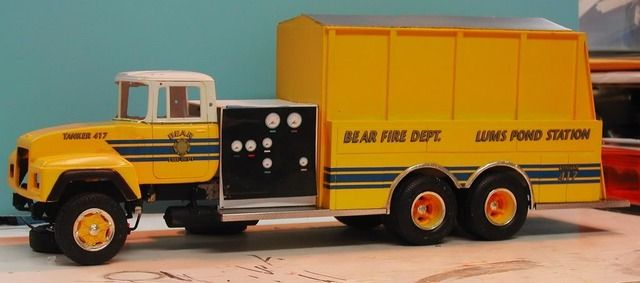 After investing so much time in the tanker body, I realized, that it was too narrow.  I couldn't bring myself to cut it up, so I set the project aside for a while.  A fellow modeler built a great International elliptical tanker model that I really admired.  He shared his construction techniques and the following advice: "Sometimes a project comes out looking totally different from how we imagined it".  How true!  This is when I made some major changes...
Edited by hooknladderno1, 20 March 2013 - 04:53 PM.