Buckboards originated in the Appalachian region of the eastern US around the mid 1800s, and were meant as cheap, basic transportation for one person. The earliest buckboards were very primitive... they were nothing more than a large, wide board (or several narrow boards placed side by side) between two unsprung axles, with a simple wooden bench seat on top. Over the years the design evolved, and by the late 1800s, fancier buckboards like the one depicted in this model featured fully sprung front and rear axles, a sprung seat, and many times even an upholstered seat cushion. But even at their most evolved state, they remained very simple, basic vehicles.
This 1/12 scale model is made by the same company that makes the stagecoach, doctor's buggy and Civil War ambulance that I posted previously. The model is basically laser-cut basswood parts with cast metal hardware, fittings, brackets, etc. Raw basswood is a very pale wood, even lighter colored than balsa... so it would never do to replicate the hardwood (usually oak) that these buckboards were made of. So all the basswood parts were stained by dipping them into my own homemade "stain" consisting of water with a little acrylic brown, yellow, red and a tiny bit of black. Once the wood parts were dry, they looked a little too "cold," so I painted them all with Future that had a bit of acrylic yellow mixed in to "warm up" the tone of the wood. Then the parts were sprayed with Testors Transparent Black window tint spray to darken and "age" them, and finally a coat of Testors Dullcote. All the cast metal parts were painted flat black.
On with the show...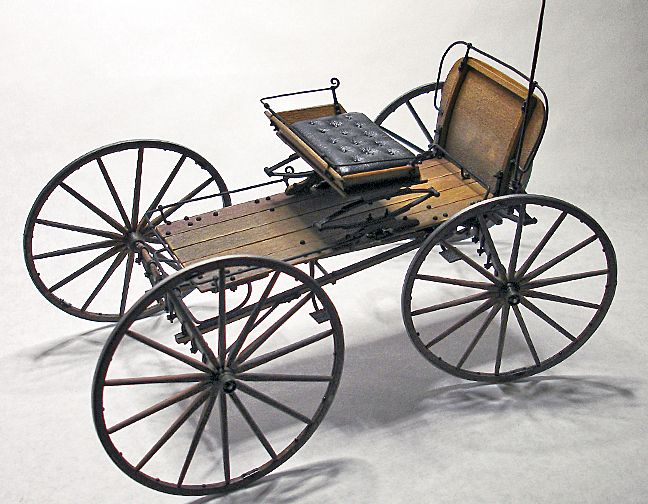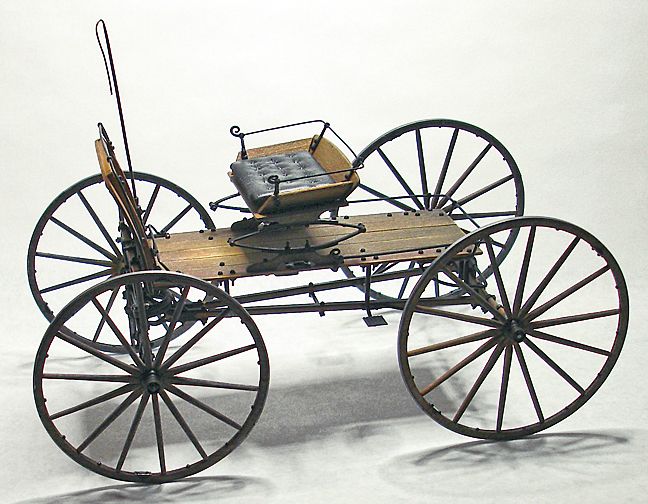 The above photos show you the general layout. It's just a very simple design... every single piece is visible, which is the beauty of a simple vehicle like this. It's all on display, nothing is hidden behind fenders or under a hood... it's all out there in plain sight. Some more elaborate buckboards had a second seat, but this one has just a simple platform behind the driver for cargo, surrounded by a low rail. The hardest part of this model was building the wheels. Each spoke has to be individually carved and sanded to shape--the spoke is square in cross section at the hub, and both tapers and becomes round at the rim end... so each spoke "blank" has to be hand formed. The hard part isn't forming one of them, it's forming all of them so that they all look identical (or as close to identical as you can make them!). Then you have to glue each spoke individually between the hub and the rim, and finally you add the iron "tires," which are strips of thick cardboard that I painted a metallic gray color to simulate the look of iron that would have been in constant contact with the road surface. And no, that vertical thingie at the front right is not the radio antenna... 

 ... it's the whip (or the "accelerator pedal" in automotive terms!).
As you can see, the front axle features a transverse leaf spring set, just like a Model T. The wooden axle was clamped to an iron reinforcing bar via the large U-shaped axle bolts, and pivoted (steered) on a "fifth wheel" type of pivot.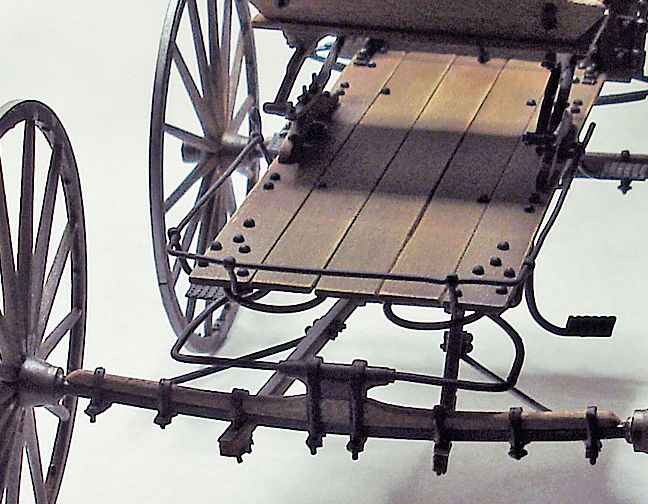 Out back things are a little different. No transverse leaf springs, but a unique double helix-type of spring called a "Schuler spring" (named after its inventor?). I don't know if this type of spring setup was unique to buckboards, but before this model I had never seen anything like it.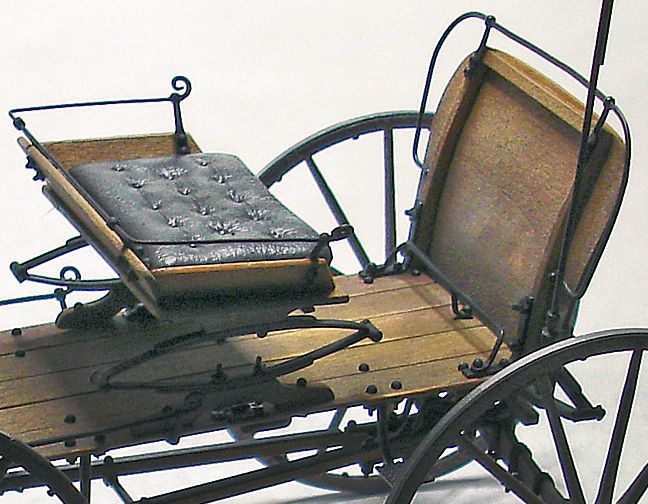 The "interior" (if you can call it that!) was nothing but the driver's seat, the front board (called the buck board, because it protected the driver from the horse if he bucked), and an iron foot rail.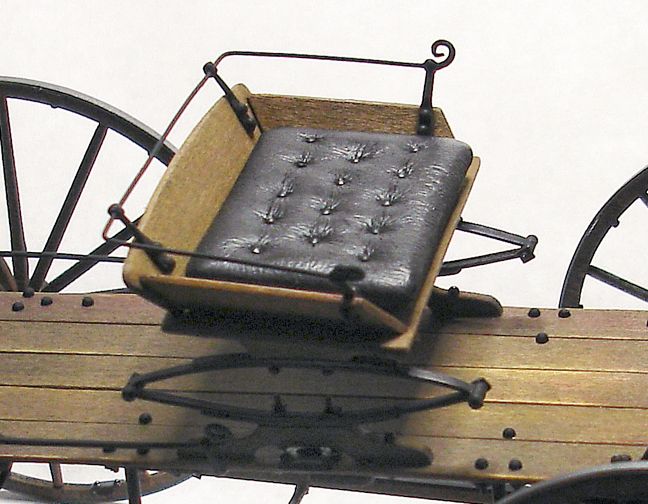 Here's a close-up of the seat. You can see the leaf spring arrangement, and the scratchbuilt seat cushion that I added to the model.