I am going to be starting another saloon car from 1936. This time it is going to be a Bentley. I will be taking it from start to finish, naturally, and am anticipating about a 2 month build on this one. I will be doing some new things, new methods, and incorrperating working steering, and if someone has 3-D drawings of the engine for this and a 3-D printer they can make me a working engine,

(in my dreams). I will also be incorrperating additional information on  other builds as I go along as they relate to the construction of this car. I will also be making modifications to the car that are not on the origional as shown below but are common to the 1936 Bentley.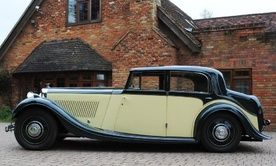 So, sit back and follow along and comment along the way whether good or bad.....critical suggestions are the way to good models since I can miss things or always make them better when incorrect areas are brought to light.

I am still in need of good chassis drawings and engine information on this.

Kenn