My son recently painted an AMT Fast & Furious Supra with Testors Metallic Silver rattle can for undercoat and top coated it with House of Kolors Kandy Cobalt Blue. He got some runs in the blue, so he decided to strip it. I provided Super Clean (post-Castrol stuff, but still in the purple jug, labelled "BioDegradable"). It softened some of the paint, but severely attacked the plastic. The body is destroyed beyond recovery unless he wants to build a crash & burn diorama. Here are some pics of the body.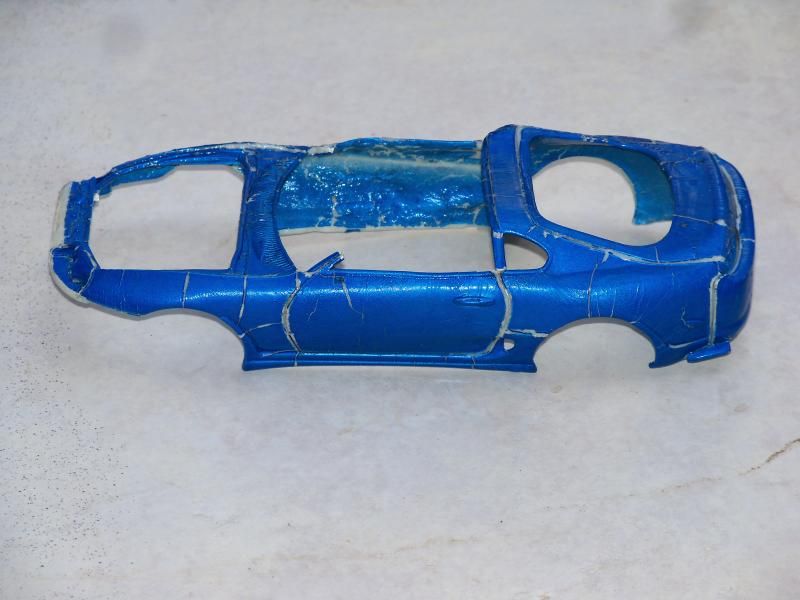 A couple of weeks ago I had used the same stuff to try to remove chrome from the engine of a 10-year old AMT 57 T-Birdand it took days to remove the chrome, but left the yellowish lacquer and didn't touch the styrene. I also used "Purple Power" degreaser and "LA's Totally Awesome" on that with no better luck. However none of them attacked the plastic.
I'm thinking maybe the gray AMT styrene which is so soft to the touch, is vulnerable to the current formula of Super Clean. The T-Bird was molded in white styrene which is the harder stuff similar to what was used back in the 60s and 70s.
I'm not a total dummy about such things, I spent 11 years in plastics R&D, 6 of that in a test lab. But I'm hoping someone has some recent experience.
My friend has a chassis for a recent issue AMT 69 Barracuda molded with the gray styrene he wants to strip paint off of now and we're afraid to use the purple stuff again. I did a search of this site for removing paint before posting this. Anybody have any up-to-date suggestions on removing paint now with what is currently available? With kits retailing at $25-28 these days, such problems get expensive REAL quick.