While I was sifting through some boxes in the cellar about two weeks ago, I cam across the box for one of my long-lost projects.
This was prompted in part by seeing a couple of recent first-generation Riviera builds here. Those, being one of my favorite cars, got me to wondering what I had done with the parts of the one I had started around 8th grade or my freshman year in high school.
That's the "long-lost" part, as that was between 1988 and 1990!
I had started to build a then-current issue 1965 Riv, and typical for me at that point, the paint did not come out well at all. I put the body in the stripper tank (ammonia in a non-airtight plastic box), and it sat....for years.
Fast forward to today, when I was finally able to re-locate the body and excavate enough so I could get over to it, and found parts from some other projects that will be back another day, too.
This is the body shortly after I put it in my cleaning tank. It was covered with sticky messy residue, and I decided to memorialize the mess before the soap dissolved it all. This is what happens when a body is left and forgotten about since roughly 1990...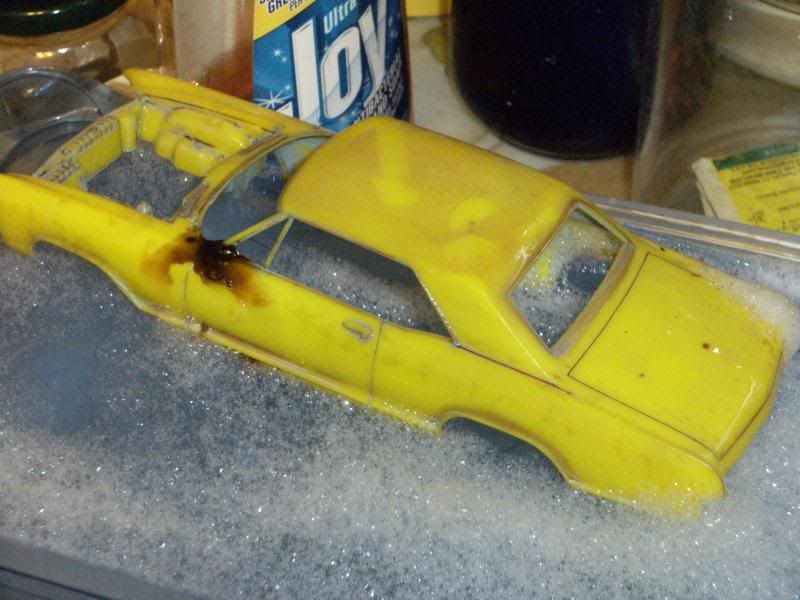 This is the sorry excuse for an attempt to paint the interiror and some engine components.
This engine will also have to be stripped and re-painted.
Given the propensity of the yellow plastic to cause problems, I'm considering using this kit to experiment with an all-acrylic paint job, primer and all, just to see how it works. I'm leaning towards a light color for this, such as silver or light blue.
Charlie Larkin