My oldest surviving models?  Since  I lived outside the country and it was tough to get models, mine usually got broken down for parts for my next great idea.  So I never had a whole shelf of finished models.  Once we moved back to the US I did buy and build a bunch, but I left it all carefully stored in my old bedroom closet at my parents house.  Termites got into that closet and my father threw it all out when I was in my 20s. And I wasn't all that concerned about it in those days.
My best survivor is my favorite Mini Cooper that I've had since I was 12 (I'm 54 now). This is diecast and was sold as a finished model that I've seen in the US, but it also was available as a prepainted diecast in Europe.  I had seen The Italian Job which got me into the Mini, but yellow and black were my colors, so I held out until I found one in the right colors. Those tires are lettered by me with Testors white that somehow dried and the hood was brush painted Testors lumpy black. I thought it was cooler without the grill and I painted the interior and installed orange felt carpet.  It has always been on my shelf, so it's survived all these years. When I was in high school it was the subject of our one frame animation movie.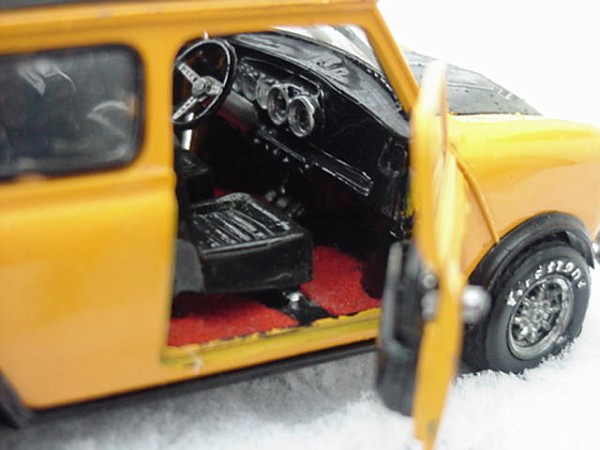 and here's one that survived the termite closet.  I started this Anglia in my teens and it got just this far. Paint job stunk and I did zero body prep so I don't know if it is deserving of getting finished this way or stripped and redone in the scheme I meant to build back then. I remember that I wanted to make myself a street car instead of a drag car. There is another engine and tires in the box too.  And of course you notice the color scheme.
I also have a Revell Porsche 914 and a few Airfix 1/32 kits from my life in Europe.