Hi Guys,
So glad that the forum is back up!  This is a model of a Horton LPR 145 built to resemble the rig on the cover of a Horton brochure from that period.  It began life as an AMT Ford pickup kit whose frame was lengthened.  Evergreen strip was added to fill in the ribs on the chassis.  The ride height was raised to represent a 4x4.  The rescue body was scratchbuilt utilizing a subframe structure, similar to stick building a house. 


The photo above shows the detail on the door logo and the helmets mounted in the cab ala "Squad 51".  The idea for the project came about when my medic partner(also a volunteer firefighter) and I would discuss what type of vehicle we would rather run in than the Ford Explorer that we were assigned...


All graphics were designed by me and printed on an ALPS printer.  In this photo, you can see the Star of Life that wraps around the rear and sides of the vehicle.  The lights were Fashion Drops as Zoli has shared in the past.  In looking at the newly taken photos, I see that it may be time for some updates.  Rubber pads added to the rear bumper, and clearance lights would be appropriate additions to the rear.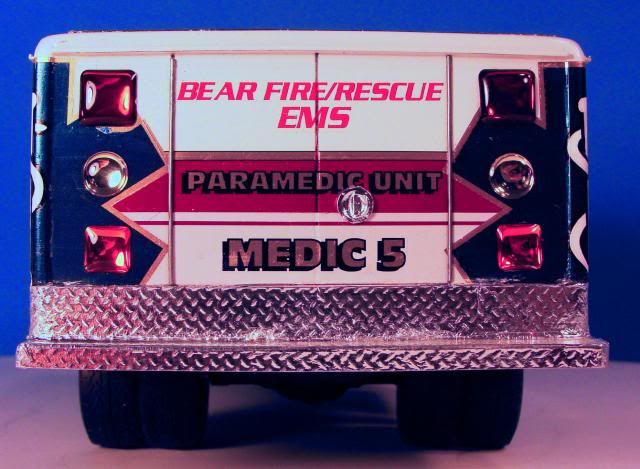 A little wash applied to the insides of the slam locks would also tone them down a little and bring out the detail a bit.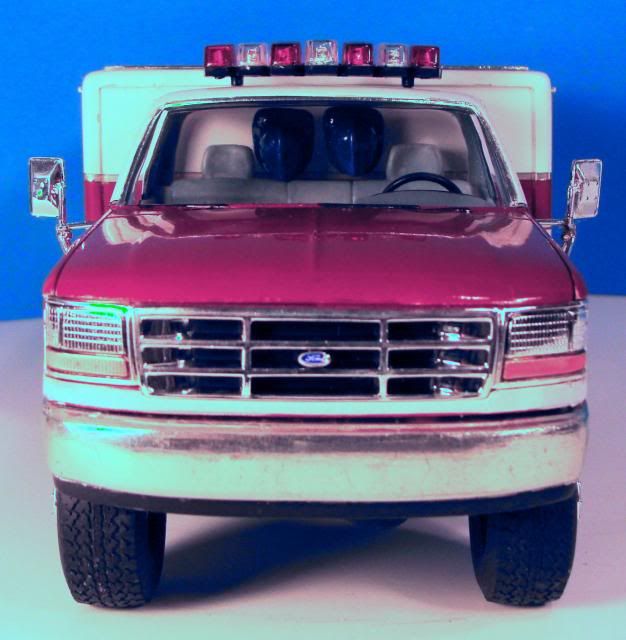 The front fenders and grille could  probably benefit from the addition of some strobes and perhaps audible warning devices.  Diamond plate cab steps and replacing the BMF front bumper with an Alclad treated one would also be a good update.  This model was built several years ago.  I am just now getting around to taking some decent pictures of it.  Let me know what you think!  Thanks for looking.
David
Edited by hooknladderno1, 13 July 2013 - 08:41 PM.