It looks like quite a few of you are working on this similar model so I'm hoping you guys can help answer some questions and point me in the right direction. I'm in the beginning phase of research, so here's the scoop.
What makes this build great is the personal connection I have with the prototype. As an impressionable kid around 10 years of age my uncle use to take me out in his '64 Chevy and burn rubber up and down the neighborhood. I can tell you there was nothing like it at the time. The truck was nothing fancy to look at. It had a brown rusty primer coat, and the inside was dirty from the long dirt road it traveled to get home. Looks aside, this thing was a beast and it sounded awesome.
So to pay tribute to my youth, I've started to collect some photos from my uncle in hopes to recreate this great memory. He says this was a '64 stepside shortbed with a 327 engine, but I'm still trying to make sure he didn't get the dates wrong. From what I've read, the '65 had the 327. Either way, I was able to find this Revell model that looks darn close.
I'll continue my research, but maybe you guys can confirm for me whether this photo is a '64 or '65. Also, I've already purchased the kit, but if this is indeed a '64 do I need to look at buying a '64 kit? Personally, the '65 is all I could find.
Finally, what kind of after market parts should I be looking for, and where do I find them? I'm still trying to find a side view photo, but the wheels will definitely need to be changed. I need to add an antenna. The brake lights are different and so is the grill. You can see that it does not say Chevy on it like the model.
I know this is a lot to throw out there, but I sure would like to see if I can recreate this. Hopefully he has a shot of the interior and engine. I'll post more photos as I come across them.
Prototype pic:
Model kit I plan on using: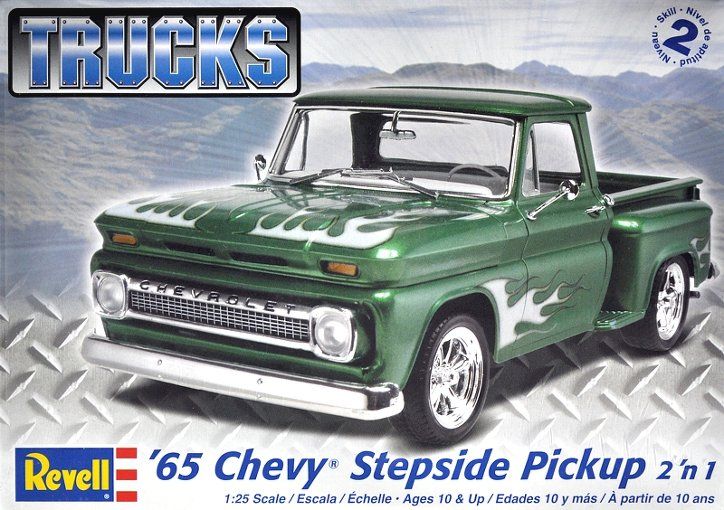 Edited by Union Modelworks, 23 July 2013 - 09:51 AM.