I started this re-build eons ago (well over a year) to get a feel of what could be done with the 1/24 Monogram kit. I bought a gluebomb cheap, 'cause I didn't want to spring for a cherry kit 'til I had some idea of the potential. Now I have a virgin kit, so I've dragged this one back out to see where we stand.
This model really was a lot worse that it looks. Must have been one entire tube of glue on the poor thing.....even the opening doors were glued shut, and the hood, and how much gloo does it take to hold a model car together, anyway??
I did a lot of damage during disassembly, as a lot of the parts were completely melted together. I was getting a little disappointed because so much was going wrong, with a lot of areas just not salvageable...
 The only solution appeared to be to channel it to get rid of some of the damaged areas lower down on the bed and cab, and after the rough channel I thought a chop would help the proportions. The channel on the cab is 1/2 the height of the frame, but the bed is channeled almost the entire height of the frame. So much of the bottom of the bed was destroyed taking it apart, there wasn't much choice, but I've raised the rear fenders relative to it, and I like the stance and proportions now. The chop is about 1/8", or roughly 3.5 scale inches. It's also going to get louvered frame covers instead of running boards, 'cause there's not much left of them either. I was lucky to be able to get the doors open.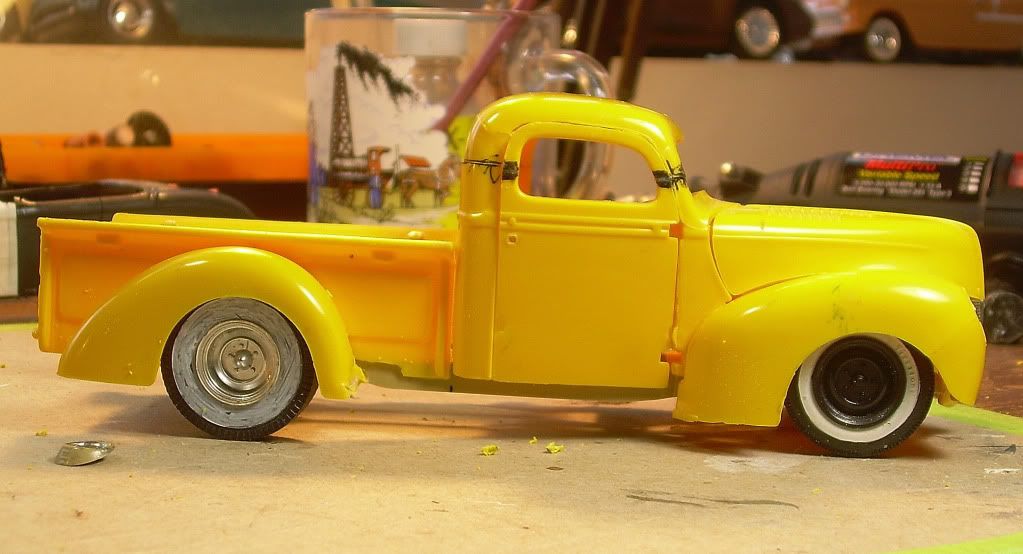 I'm happy with the overall look now, and if you channel these right, you can get them looking really low but with enough scale ground clearance so they'd still be able to function as trucks. The louvered frame covers will help the lowness of the appearance, and the fenders are so voluminous there's still enough scale room to have steering and suspension travel simultaneously.