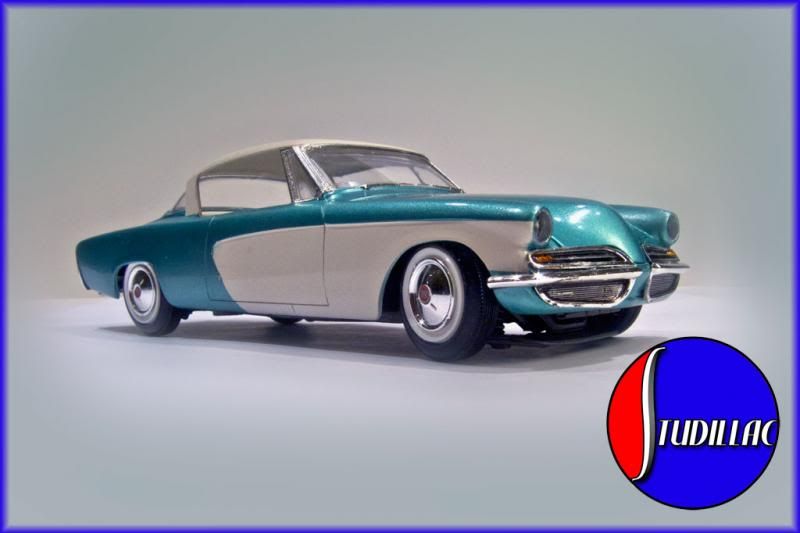 Customized 1953 Studebaker Starliner "Studillac" Hardtop
(More photos below)
Raymond Loewy's design for the 1953 Studebakers was a radical departure from virtually any other American car of the period. Low, streamlined, and devoid of the heaviness of the new pontoon style bodies pioneered by Ford in 1949, it was an instant classic. But the near-perfect integration of form, line and proportion, and the radical simplicity which was so atypical of the period, made it terribly difficult to restyle successfully – most of these cars suffer horribly under the customizer's torch. And yet, when AMT developed their 3-in-1 kit for this iconic car in the early 60's they showed remarkable sensitivity and restraint and came up with restyling parts that, if anything, actually served to "purify" Loewy's masterpiece, emphasizing its best points. In doing this project I set out to take advantage of what AMT had given me.
The result is a car that looks almost stock but which in fact is pretty thoroughly gone over. The front end consists of the kit's Custom lower pan and grill surround, the Custom lower grille and bumperette pieces, and the stock upper grille pieces. I chose to use the stock upper pieces because the Custom upper grilles were designed to match the lower halves exactly, creating the impression of a large, continuous opening. It just looked too big to me. The stock pieces with their thin chrome spears and turn signals in the corner served to define the upper half and lighten up the front end a bit. The kit's Custom rear bumper and taillight combination is incredibly simple and a perfect complement to the rest of the design. It's so "pure" that I left off the license plate, something I have never done on a street drivable car before. The only other accent was to include a pair of polished aluminum exhaust tips, to make a performance statement.
The whole project was an exercise in less is more. The two tone paint scheme actually was never offered by Studebaker who only painted the roof in a contrasting color. But the coves seemed a natural to emphasize Lowey's masterful lines. As for the rest, it's the usual Customizer's trick of cleaning up the basic design – shave, french and mold.
Motivation is provided by a Revell Parts Pac 354 Cadillac V8 with quad carbs. This modification was a popular one in the mid 50's because the Caddy mill was dimensionally nearly identical to the Studebaker V8, about the same weight, and yet put out almost twice as much power. Similarly, the Revell Caddy drops into the AMT Stude with almost no modifications. Studebakers modified in this way were referred to as "Studillacs".
Below are all the details. Unless otherwise indicated, everything else is from the basic AMT kit.
Thanx for lookin',
B.
Bodywork: AMT kit rolled front grille pan, Custom lower grille and bumperettes. Frenched headlights with kit Lucas beams. Kit Custom rear bumper and taillights. All trim, handles, etc. shaved and vents and gas filler lid filled.
Interior: Custom tuck and roll upholstery using styrene strip over stock kit seats. Steering wheel from AMT '29 Ford roadster kit.
Engine and transmission: Revell Parts Pac Cadillac
Chassis: Lowered 2 ½ scale inches front and rear using kit front king pin offsets and lowering blocks in the rear. Scratch built dual exhaust system using kit mufflers, solder and aluminum tubing.
Wheels and tires: Kit supplied '53 Studebaker Commander hubcaps with Cadillac crests from Revell '49 Mercury kit. Whitewall tires are Modelhaus T-193's.
Paint: Duplicolor Hampsted Green Metallic and Wimbledon White over white primer. Chassis finished in Testors Metalizers and flat black acrylic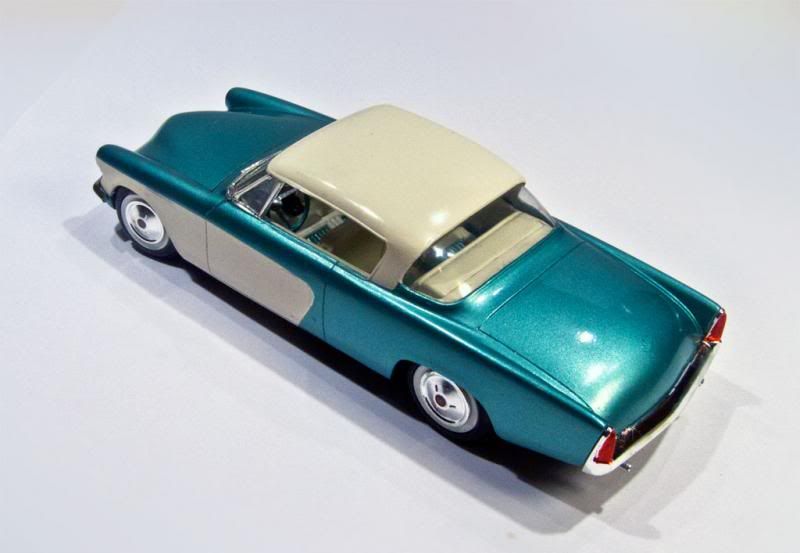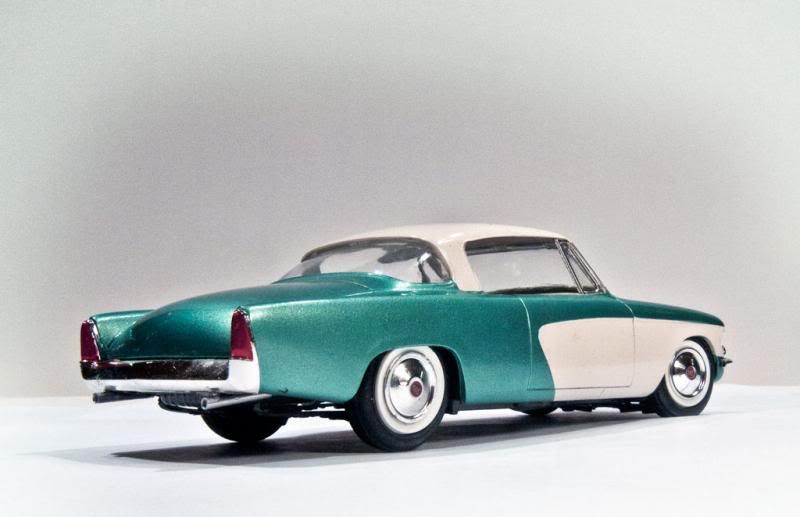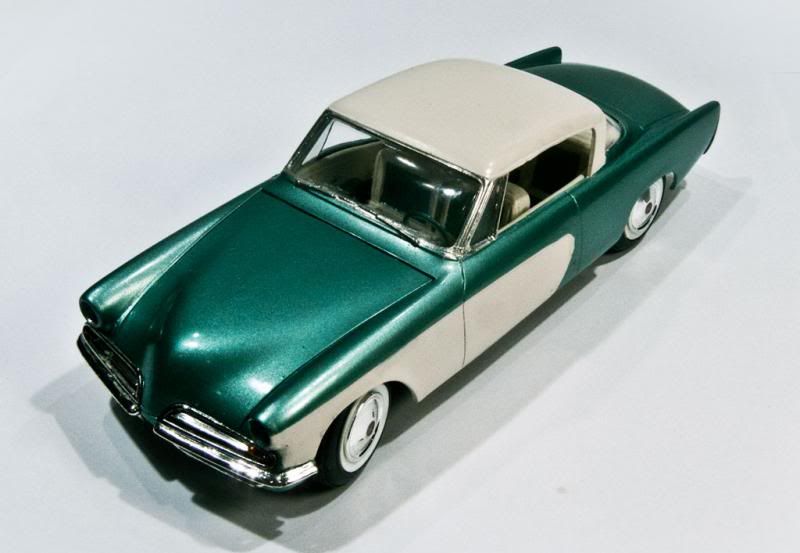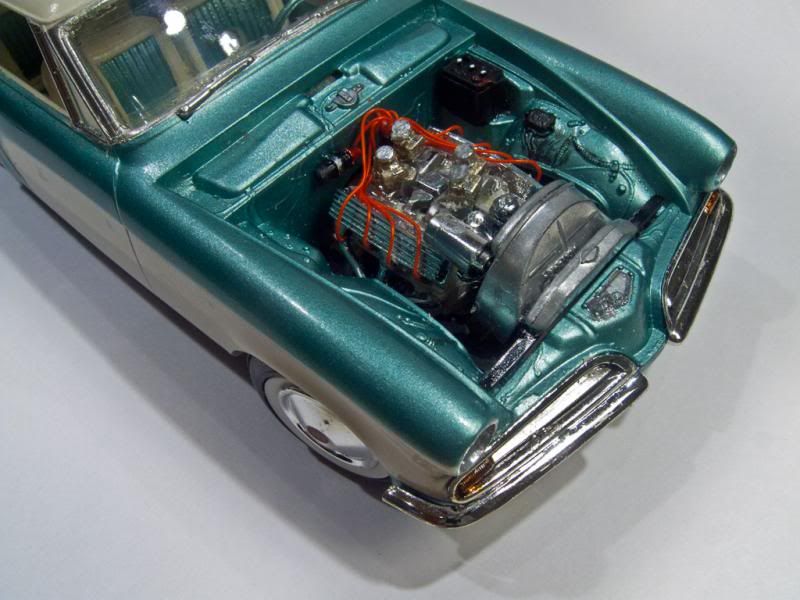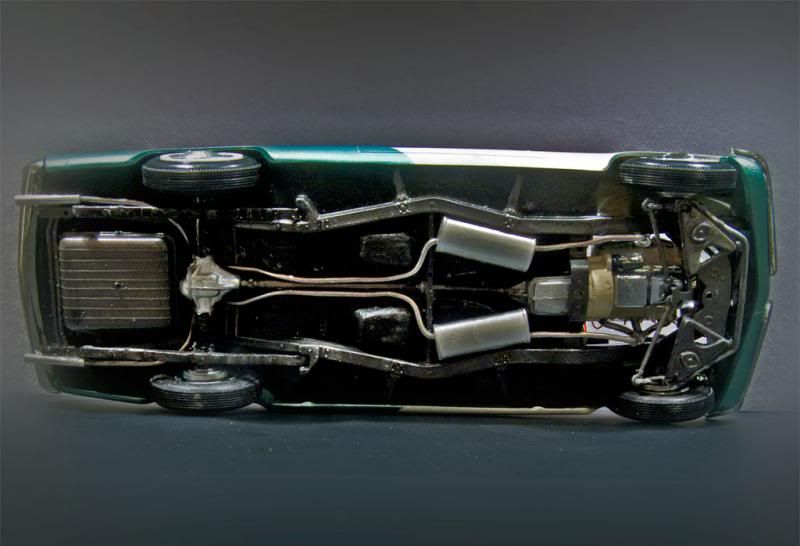 Edited by Bernard Kron, 11 August 2013 - 06:25 AM.