The popular Weird-Ohs® model kits - the classic 1960s multi-million selling phenomenon...
Bill Campbell is another one of my favorite artists, he is behind the Hawk model companies 1960's Weird-Ohs series.
He also did the box art for many WW2 planes, trains and cars witch proved him to be an all around great artist.
The Weird-ohs series later spawned the Frantics, the Silly Surfers and an off-shoot line of plastic toys, Halloween masks and board games.
The Hawk company has recently re-released the Weird-ohs, Frantics and Silly Surfers kits with the original box art.
Daddy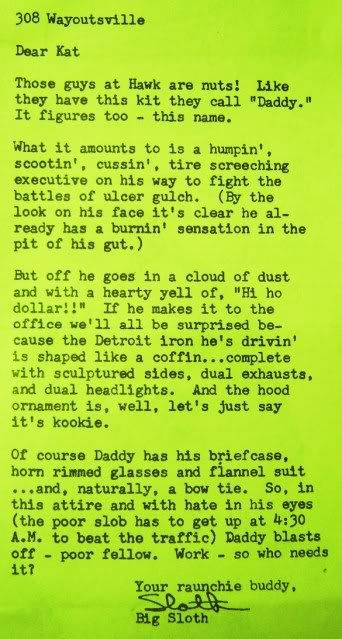 I have painted the coffin with Tamya spray cans, as well as wheels and rims.
The rest was painted first with mat black ( spray can ) and then by hand with Acrylic mat paints (FIN by WACO, great experience).
These colors can be diluted with water or abrasion-proof.
For the eyes, mouth, teeth, all shiny areas, I cover it with Enamel Paint No.1 by Revell.
The back of the coffin is filled with lead pellets, so that the whole makes a wheelie, and the briefcase serves as a wheeliebar...

I also add some hair...
Well, this is my version, hope you like it.