The Taco Trike was originally released in 1972 as the "Wedge Chopper" in MPC's 1/25 Scale Cycle Series.
Retro Hobby's Johnny "Von Xeno" Greczula  has gone loco! 
The decal sheet is so big, it barely fits in the box!
There's eight different colorful themes that can be used to create some very wild and unique versions of the model, including the "California Chilli Chopper", "Luna Cycle", "Wild Wild Wedge" (with or without woodie panels) and many more.
Ay carumba!

Nevertheless, I had at the beginning, a very different plan, with this thing.
For me, it somehow looked like a fire helmet...
Perhaps far-fetched, but somehow ...
The idea was a fire trike, a fire engine trike, with all equipment, ladders, fire extinguishers, hoses, ax and a big bell, which the driver rings with the hand, through the side window...
I had some old decals from the Fire Iron.
http://www.showrods..../fire_iron.html
With these would be the perfect result.
I thought ...
Unfortunately, with the emphasis on old decals.

I took the decals on.
When the whole was dry, it looked a little "milky". 
This old glue!

I painted it anyway with a varnish layer.
I thought, that it will be better and so it looked then: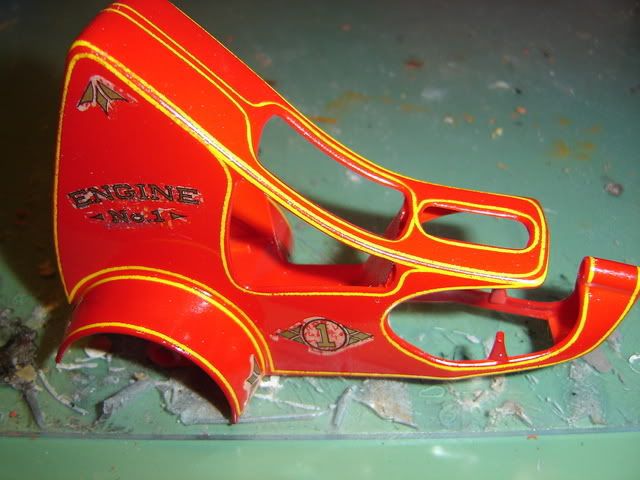 Disastrous...

They were shriveled and still "milky" and the whole was no longer to save...
So there was nothing else left for me, as starting to grind the clearcoat and Decals.
Under this act, this thing was a long time unfinished.

Until now.
I decided to use the Taco Trike variants.
Here it is, I hope you like it.