"Oh Brother, Where Art Thou?" is the fifteenth episode of The Simpsons' second season. It originally aired on the Fox network in the United States on February 21, 1991.
After watching the latest McBain movie, Grampa Simpson suffers a heart attack. This prompts him to confess a long-hidden secret: Homer has a half-brother.
As Grampa explains, he had met a carnival floozy and prostitute before marrying Homer's mother. They had a son, and left him at the Shelbyville Orphanage. Determined to find his brother, Homer and his family go to the orphanage and find out that Abe's son was adopted by a Mr. and Mrs. Powell and named Herbert.
Herb Powell (who looks just like Homer, except with more hair and a little less gut) is the head of Powell Motors car company (in danger of being taken over by the Japanese because of otherwise poor management). He is very rich, but is quite unhappy not knowing who he is and where he comes from. He is overjoyed upon hearing of his half-brother and invites the entire Simpson family to stay at his mansion in Detroit.
Bart, Lisa, and Maggie are enthralled by Herb's wealthy lifestyle (though Marge constantly worries about spoiling her kids), and Herb decides that Homer, being an "average" American, is the perfect person to design a new car for his company, which has been losing business due to foreign car manufacturers. Herb introduces Homer to his company's design team, who soon use his lack of vehicle knowledge to try and design 'their' perfect vehicle.
When Herb asks Homer how the car design is coming along Homer can't give him a straight answer. Herb feels that Homer is not being forceful enough with his ideas, and gives Homer a pep talk. Pretty soon, Herb has invigorated Homer, who begins rejecting the designer's ideas for weird items-like bubble domes, fins and several horns that play "La Cucaracha".
At the unveiling of "The Homer", Herb is horrified to discover that the car is a monstrosity that costs $82,000 (significantly more when inflation adjusted for today). Herb's company folds, his mansion is sold off and he leaves regretting that he ever met his brother. As he departs on the bus he angrily remarks to Homer that he "has no brother". Lisa laments, "His life was an unbridled success... until he found out he was a Simpson." In the end of this episode, while Homer drives the family home, Bart tells him that the car he built was great. Homer became relieved that only one person seems to like it...
The storyline of a controversially styled car causing the company to fail both echoes that of the Edsel and the Tucker Torpedo.
The Edsel was a controversially styled car that bore the name of Henry Ford's son, Edsel Ford, and is now considered one of the biggest car flops in history.
Production of the Tucker Torpedo, which introduced many new features, was shut down amidst scandal and accusations of stock fraud in 1949.
Homer wants the horns of the car he is designing to play the traditional Spanish folk corrido "La Cucaracha".
The Pope shows up for the unveiling of Homer's new car.
Herb berates his staff for suggesting that the company name a new car "Persephone" after the Greek goddess of fertility in Greek mythology. Herb tells the staff, "People don't want cars named after hungry old Greek broads! They want names like 'Mustang' and 'Cheetah'—vicious animal names," referencing the Ford Mustang and Lamborghini Cheetah cars...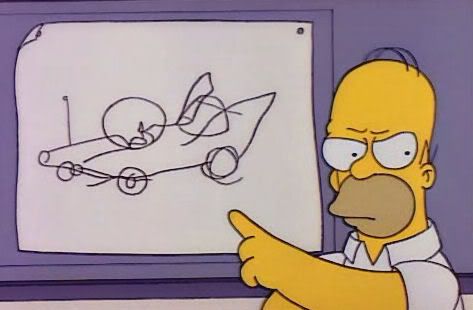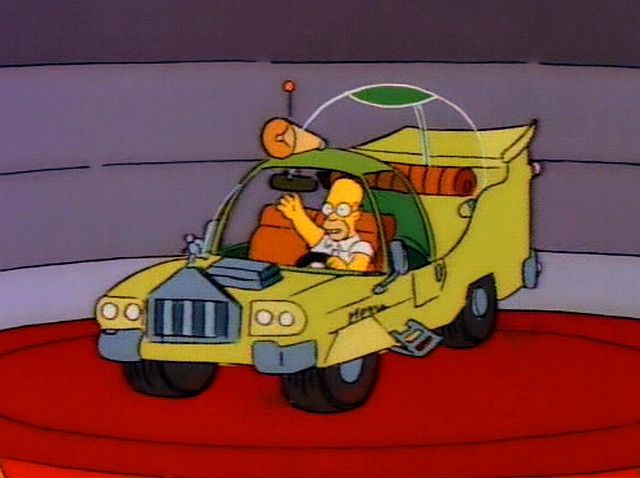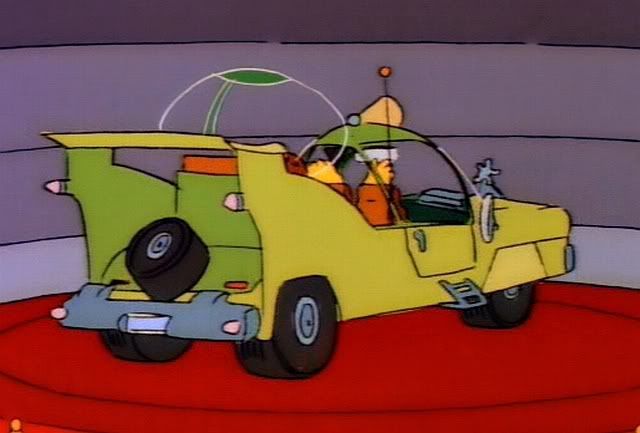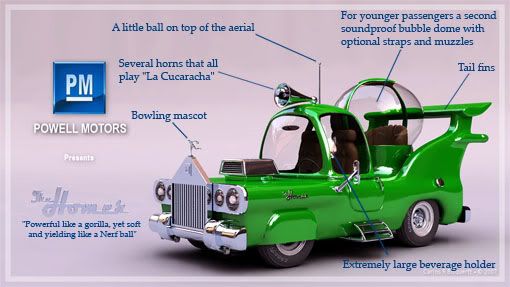 Well, I can not even profess to like this model and its appearance, but these kits are good for exercise...

Initially, the color should be a very bright green.
But I decided for a darker, an olive green, to get a better scope for the chrome parts.
Nevertheless, it was a fun build, hope you like it...