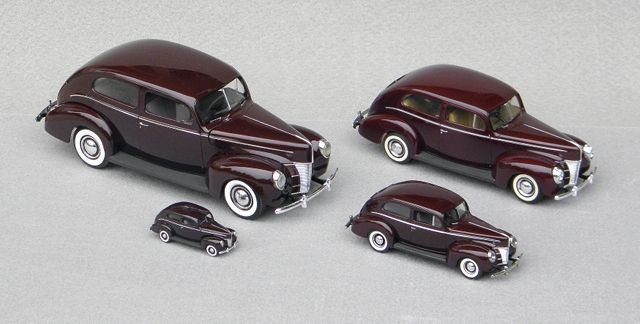 I built this maroon '40 Ford Deluxe Sedan 'ensemble' in the late '70s just for fun from various kits in various scales.......AMT in both 1/25 and 1/32, Renwall in 1/48, and Jordan Miniatures in 1/87.
The 'Renwall' had such awful wheels/tires that I wound up turning wheels/tires in aluminum and used the Renwall hubcap only, and the 'Jordan miniatures' was a '39, so I had to make a tiny '40 deluxe grille.
Paint back then was mixed and thinned Testors, sprayed with my old BINKS airbrush.  Chrome modeling foils were just becoming available but I've always had better luck using muffler tape for straight trim. They were built sequentially, so my color matching wasn't always 'bang on'. Fortunately, they all look quite close in color on my indoor shelf.
I've always kept them all in a display case so, as you can see, they've stayed in pretty good condition all this time, and I think this is the first time they've ever been photographed