The Surfite was basically a smart car that carried a surf board.
How genius, right!?

The car made some claim to fame in a brief shot in the 1965 Annette Funichello & Frankie Avalon movie "Beach Blanket Bingo".
Designed by Ed Newton, this is another Roth custom scaled down from the real 1:1 rod to a cool little Revell kit of the '60s.
Public interest in show cars peaked in the mid-1960s and then began to decline.
In '65 Revell introduced the Surfite, the sixth and last of the Roth rods.
It was a dainty car, a surfer's beach cruiser on a tiny Austin frame.
The cute little Surfite proved to be a poor seller and was dropped from the catalog after just two years.
After '68 all the show cars followed the Roth monsters out of the Revell catalog...
The Surfite was the first car, on which Ed "NEWT" Newton  got out there and squooshed the plaster around, and that's why he meant so much to him, when it was put into model form by Revell.
The only Part that disappointed Newt, was that he recommended go-kart style wide rims with flotation ATV-type tires, but Ed Roth had a deal with Kelly Tire and Cragar, so they ended up with, in Newt`s opinion, oh too- skinny Astro wheels.
Newt`s 1964 sketch for the Surfite clearly shows the wide, floatation- type tires he wanted.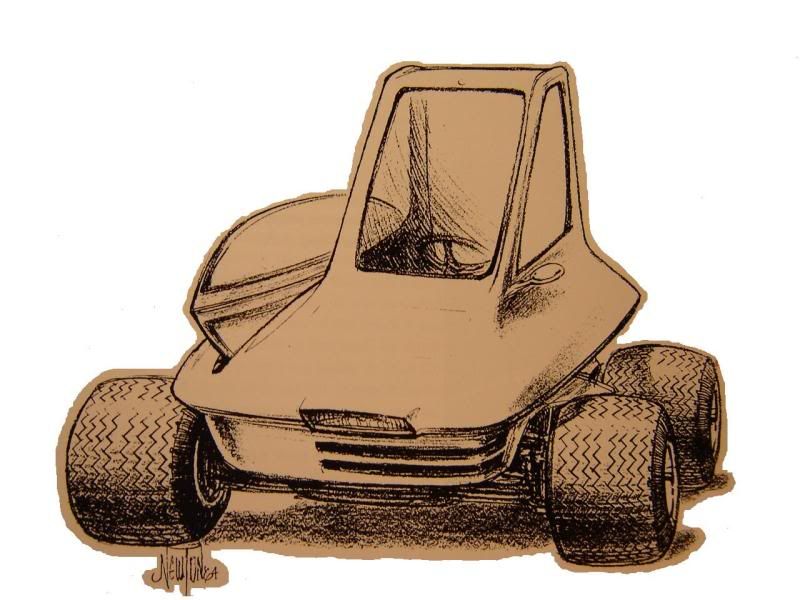 My version is, apart from the wheels and the colors, mostly box stock.
The interior is flocked.
The wheels are homemade.
The rims are from my part box, with stainless-steel beds and the tires are from Lego.
This is my version, hope you like it.