Hi Guys,
Started this a while back.  It is a light rescue unit for my semi-fictitious Summit Airport Fire Rescue ARFF station. 
It began life as a Miasto Ford pickup.  It was stripped to bare metal with aircraft stripper and primed with Duplicolor self etching primer.
.  The cabs were then primed with Tamiya fine white surface primer.  It's stable mate will become a Type 1 ambulance as pictured here: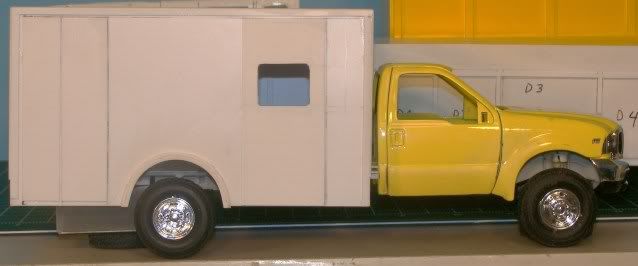 The rescue body was scratchbuilt with Evergreen sheet and stock.
The build was painted in the ARFF station's signature colors of white over lime yellow.  This mock up with the graphics was done several months ago.  Please note that the graphics were attached with tape, and not secured well.  The final graphics will have a silver with black outline beneath a blue with white outline.  The top layer will be offset slightly to give the appearance of a drop shadow.
As the graphics were removed, some of the aluminum paint came off the doors.  New doors were made attached, painted, and clear coated. 
The chassis was completed and rear bumper tacked in place with Fun Tak.  Still lots to do.  like painting the new rub rails, fashioning new diamond plate rear wheel well covers, and making more of the Whelen strobes/scene lights.  Also considering diamond plate for the rescue body top, and running boards for the cab...  Thanks for looking. 
David