Ok you all. Back for Part 2 here.
 After I applied the basic camo theme and the mottling I moved on to the decals:
Before this I knew nothing of really HOW to apply decals. I had the whole gloss coat thing down but never used decal set or Microsol until here. I will never NOT  use them again!!! These decals were a dream too. They were Eagle Strike decals #24006.

Moving along to the plane with a few more items on it and opened back up after the dull coat was applied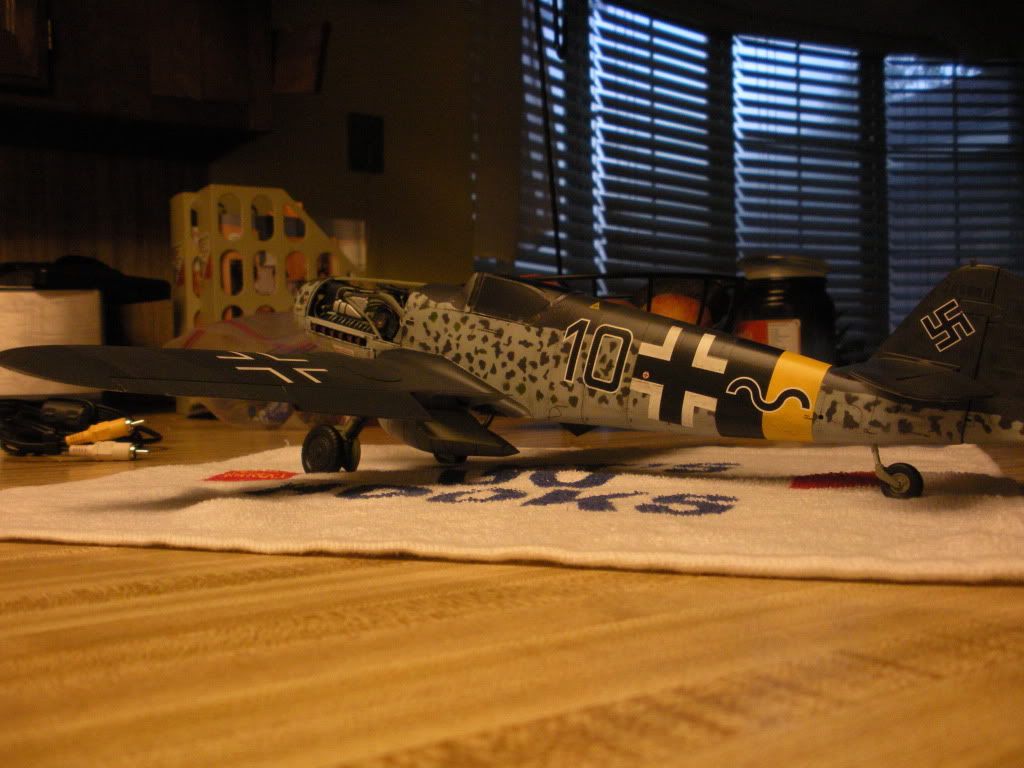 I used after market wheels too. Can't remember the manufacturer but those turned out decent too. The dang tail wheel strut broke early on in the build so I had to wait till this stage to drill out the strut going up into the fuselage and the other half that was still attached to the tailwheel side of the strut. I then inserted a metal rod into both halves and pressed fit together using epoxy to secure the rod at both ends. It worked!!! And this is a heavy bird!!

A little up close of the engine detail and weathering of the nose:
I also weathered the engine here after I had learned some tricks on how to do it!
And finally some finishing pics:
This is the only picture I have with the cowlings closed. I should have taken a couple more this way.
..............and with the cowlings open.
This next one below is outside and though it's unfinished, it shows the color off well.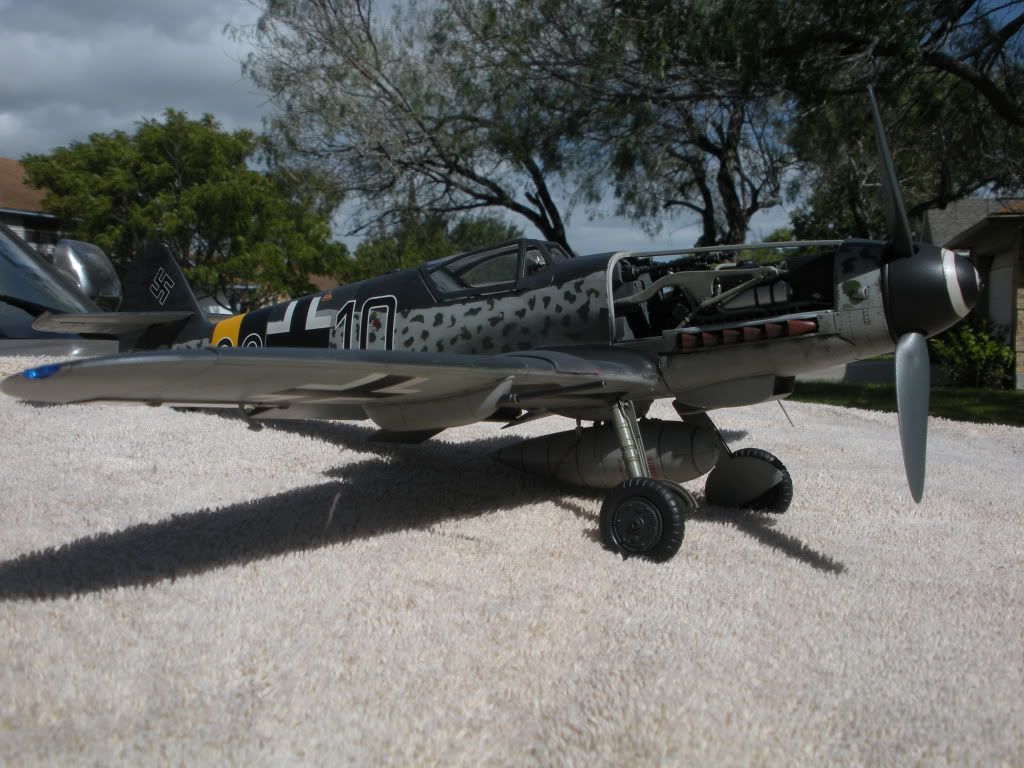 and then there's the scratch build deluxe for me on this whole build pictured below.  I bought a 1/35 scale 3.7cm brass ammo kit and used the shells from it. I opened up one of the wing gun pod access covers, sanded the door and inside of the pod to scale and displayed the 20mm cannon. This was SCREAMING  for something stoooopid in here so I cut the 3.7cm shells a little short so that they would fit into the ammo chute of the wing cannon. Then I used aluminum tape to scratchbuild the belt links and weathered the ammo and belt links. I weathered the cannon as well and drilled out the cannon barrels at the ends. Here's all that stuff in a picture: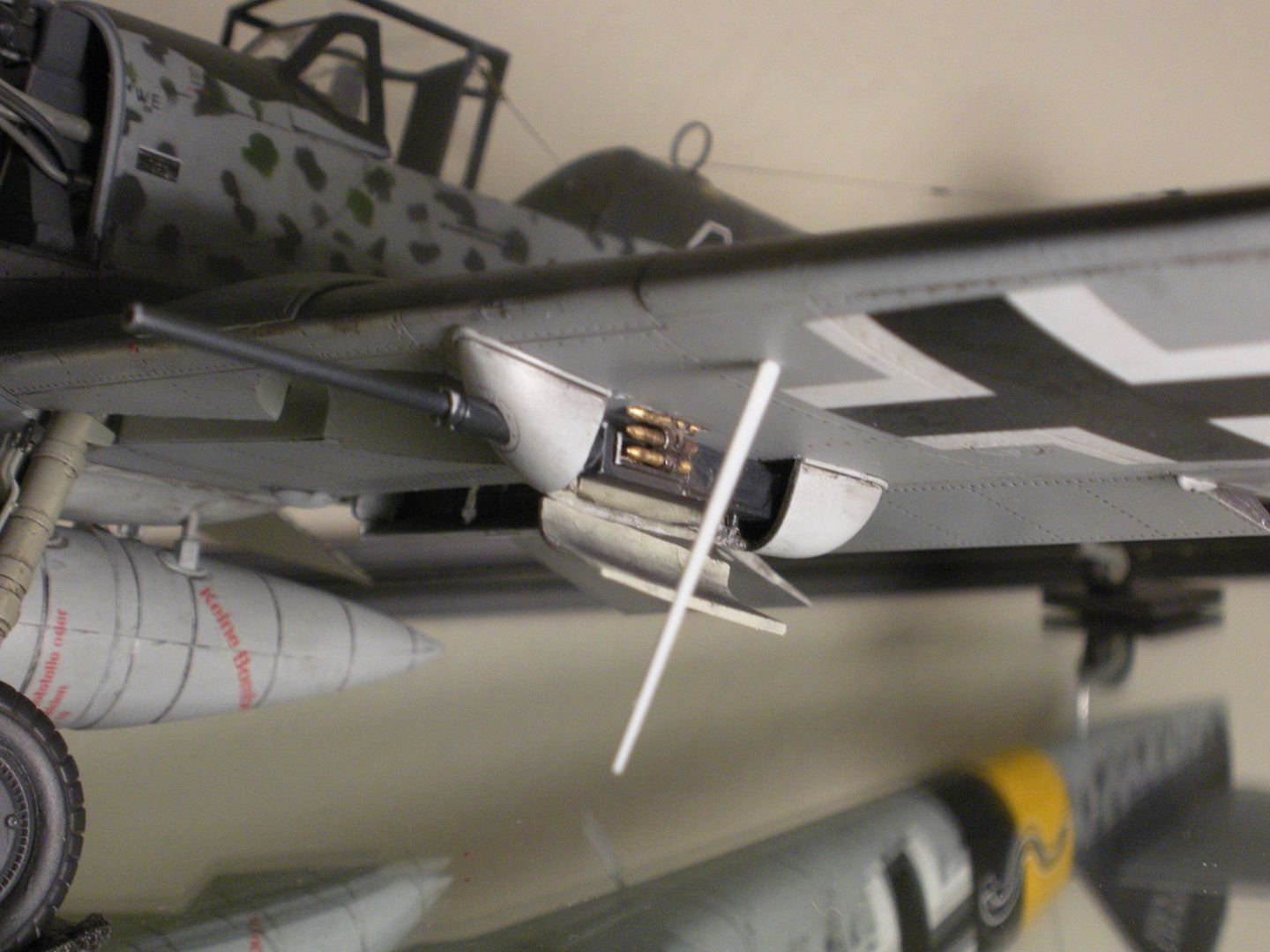 And that's that in a nutshell. All in all I was happy with it. It took me about 8-1/2 months to build largely because of my inexperience and my taking extra precautions as to not do double work or screw this thing up. I will say this: 1) I have gone back to building 1/48 scale stuff because that's where I belong , 2) that Trumpeter has to make some of the most over engineered stuff I have ever seen. You know, 8 parts to accomplish building something that should have only taken 2 or maybe 3 and finally, 3) the friggin ejector pin marks!!! Good Grief there were tons ......and all in the wrong places!! Really I got past this build ok. While looking back and knowing that there were some things I wished I could have done differently or better I also feel a sense of accomplishment.....and had fun doing it. Thanks for looking, Joe
 
Edited by mustang1989, 22 October 2013 - 03:51 AM.