After Dinky's killer black Willys modern rod I just had to move my '41 project to the front burner. I was inspired. But the problem was that although I believe that Revell's Street Rod was meant to be lowered I felt that model's as good as Dinky's pretty much say it all when it comes to the modern look. So what to do?
First some background. I've had this kit sitting ready to be built for a couple of years now. I bought it from a good friend and modeling buddy when both of us attended the NNL West in 2011. I fly down there each year to hang with my buddies Raul and Curt. I bought the kit from Curt that year and it included a resin lowered chassis from a now notorious resin caster known for his high quality work and the unbelievably long waits to get your order filled (we're talking years in some cases). It's a shame because it is a full transkit with narrowed rear end, modified tubbed interior piece and a beautifully engineered chassis.
So... I decided I wouldn't actually use the trick resin chassis, but that I would employ it as a model for my own modifications, since, based on the caster's terrible reputation it was highly unlikely I could ever replace it. With Dinky's inspiration the time has come to build my own lowered '41.
Up to now I mainly build Old Skool, But lately I've thought about easing into a more modern style. But, as I said, Dinky's build pretty much nails the modern style. So I decided to do a project that's my take on "Retro-Mod" but with the emphasis on the "Retro" part, rather than the "Mod" part, which Revell has already handled quite well in the basic kit.
So here's the plan. The body remains stock with the stock grill. But all the 90's billet era bling and design cues have to go! And yet I want to retain an aggressive Big Power look and start to include some more contemporary design aspects. So this will be a sort of Post Modern street rod. The only body modification is a hood scoop from an AMT '49 Ford kit. The motor will be the kit Hemi, but it will have Hilborn injection instead of a Jimmy blower. I chose a real Retro color, a Depression era light blue, a Tamiya military color, but it will have a somewhat Billet Era monochrome look, but with Retro design cues: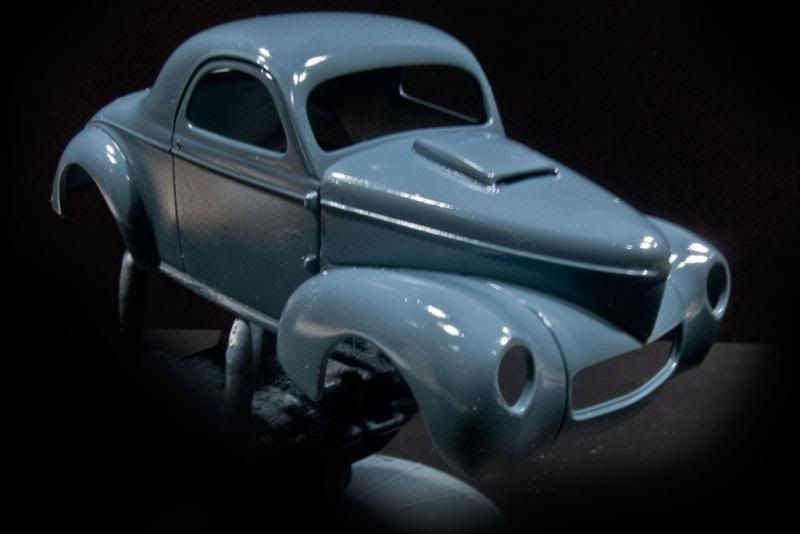 The front end is lowered about 3 ½ scale inches by raising the suspension as shown below: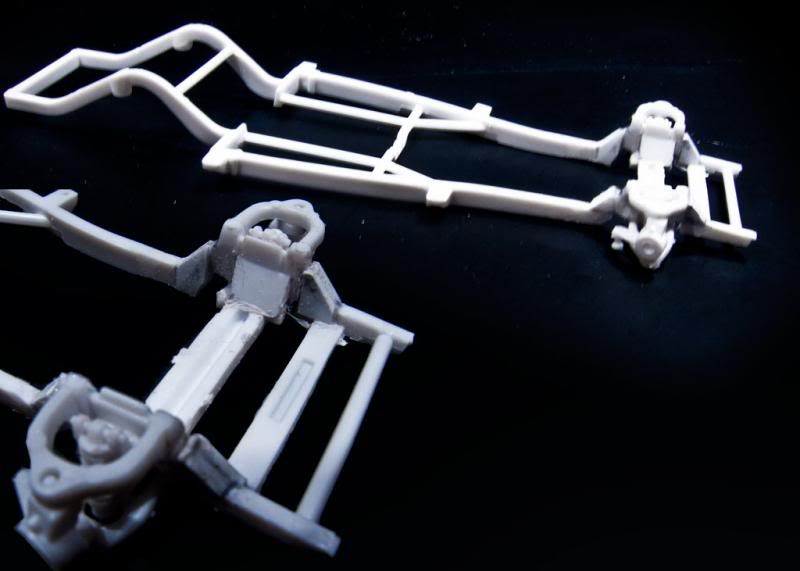 For now the rear end stays kit stock until I can see the rake and determine if any further dialing in is required.
To "sell" the Old Skool, bling-free aspect I've decided to go with steelies. The fronts are AMT '40 Ford items and the rears, in order to conserve the kit's monster meats, were made by using some junk wide chrome reversed rims from an AMT '29 Ford Roadster kit with the centers hogged out to adapt a set of Baby Moons from an AMT '40 Ford Sedan Delivery kit. I used the worst ones I could find in my parts box since they would be stripped and painted body color. Even then I needed to use some giant rear wheel halves from a Too Much kit to provide adequate width for the huge rear tires from the Revell kit. I used matching Baby Moons on the front as well.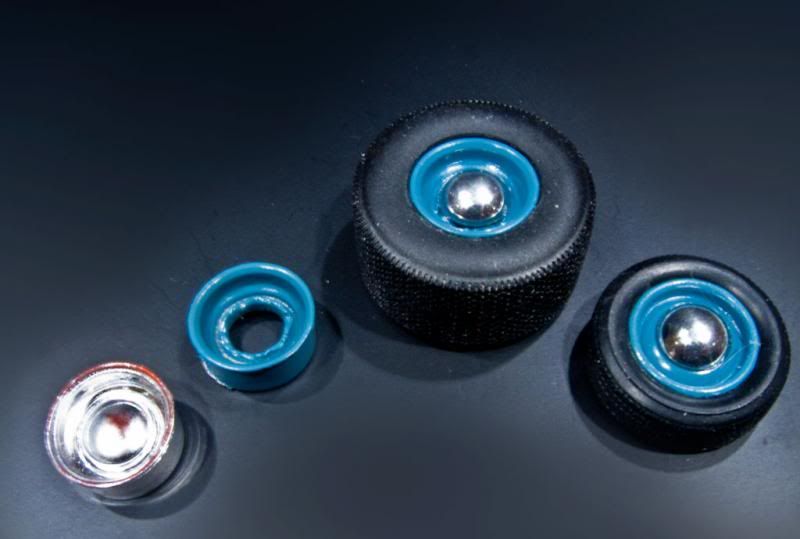 And finally there's the kit's interior, which is classic 90's billet fare. The key piece is an aftermarket resin part from Altered States Models, their AS07-005 'Tubbed 40/41 Willys Floorpan, which combines the tubbed wheel wells from the Street Rod kit with the simplified floorpan from the Revell Stone Woods & Cook gasser. This eliminates the rectangular center console from the Street Rod kit and better suits the look I'm after. I decided to use the diamond tufted buckets from the recent Revell Stacey David Rat Roaster kit and combine them with diamond tufted door panels which I made by cutting out the billet-style panels from the kit and substituting square pattern styrene stock rotated 45 degrees: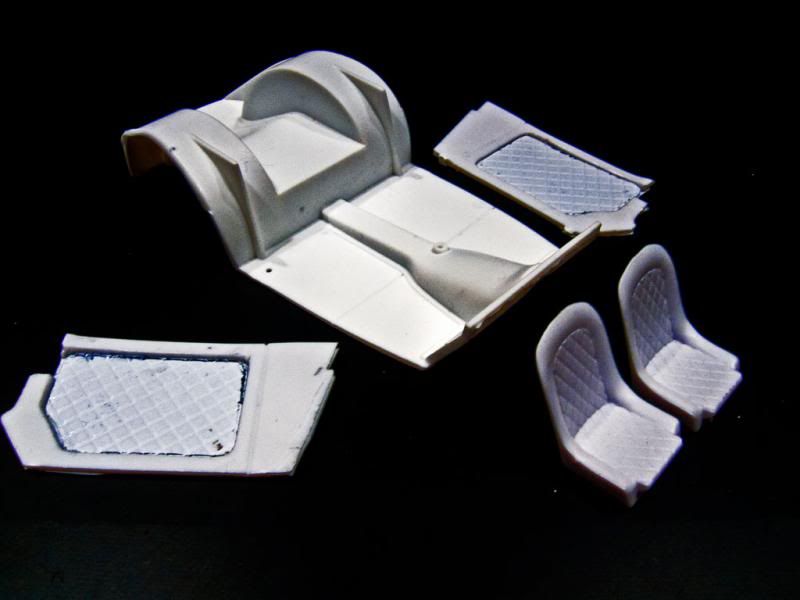 This should give you an idea of where I'm headed with this thing…
Thanx for lookin',
B.
Edited by Bernard Kron, 07 November 2013 - 05:29 PM.