Once I got the glass and the completed interior installed the rest of final assembly went well and fairly quickly.  
I'm happy with the way that the paint color turned out.  It's as close as I could get to matching the color of the real car going by the pictures I have.
To recap, this is a Johan, curbside promo that my buddy John (Forum member Fastback340) gave to me.  (THANKS A BIG BUNCH JOHN...!!!)  The colors are Floquil Depot Buff on the body, and Model Master Wimbledon White on the fins.  About a tenth of a mile of BMF took care of the chrome trim.  The grille was blackwashed and polished PE headlight half moon covers were added to headlights that were coated with off white acrylic along with the turn signal lenses   Chrome wipers, spotlights, mirrors and antenna's are from my parts stash.  Modelhaus' '59 Dodge spinner hubcaps are mounted in parts box whitewall tires with sanded treads.  The lake pipes are from Bob Dudek with pieces of PE flames added to the end caps.  The promo's taillight bezels were cut off and chromed resin ones from Modelhaus were installed with '59 Caddy bullet taillight lenses.  I made the license plates using dry transfers and PE frames.  The rear exhaust pipes are pieces of polished aluminum tubing with flat black paint applied inside. 
I now present to you, The U.S.S. TUNABOAT    My buddy, Tom Valenta, gave me the "Tunaboat" license plate frame a long time ago.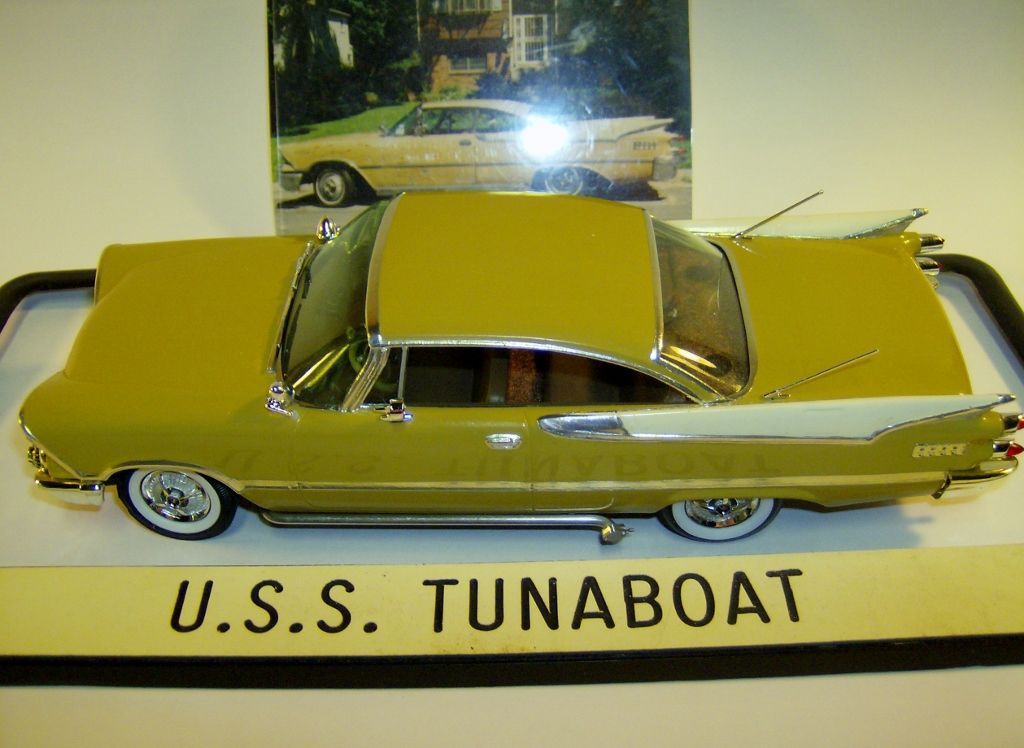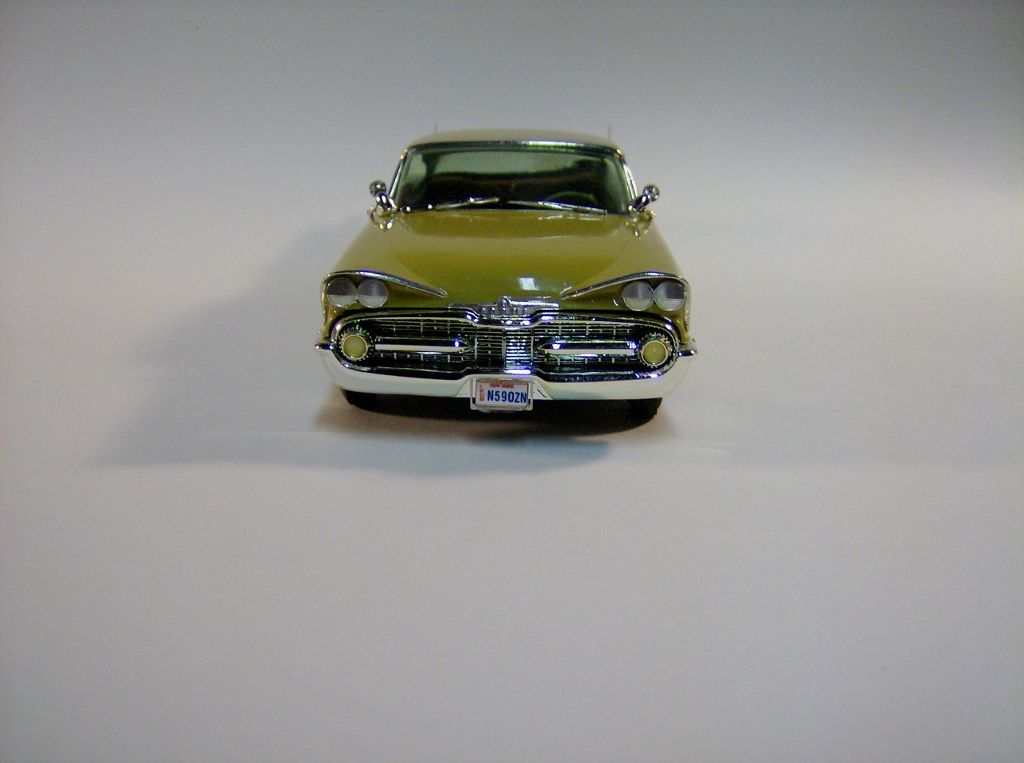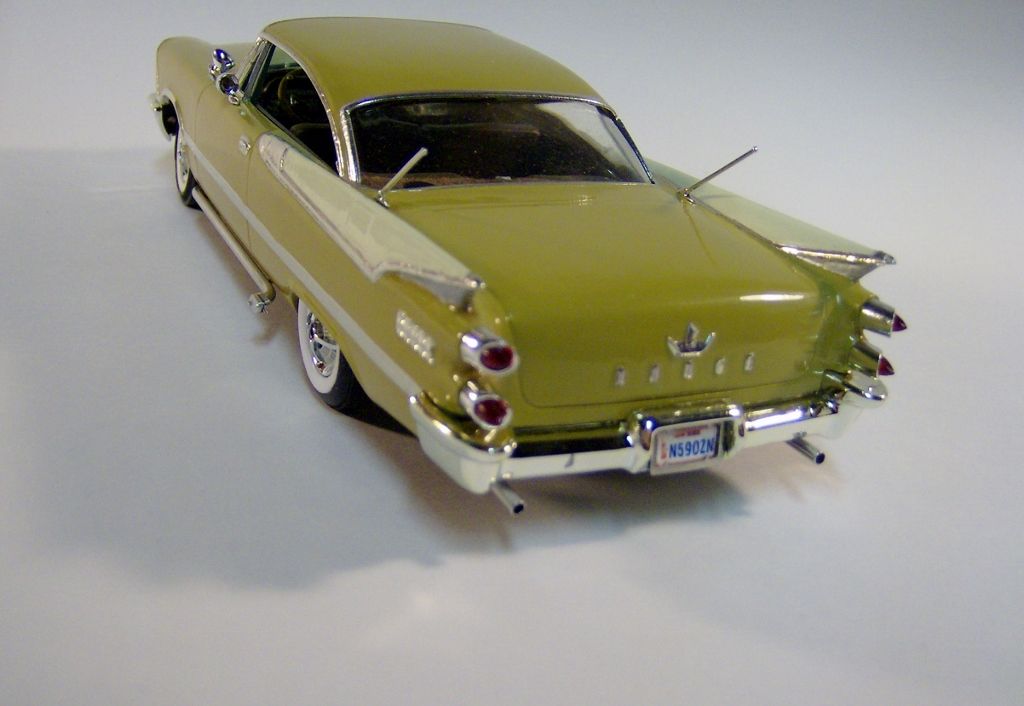 and here's a shot I took of the car using the display case backdrop that I recently made.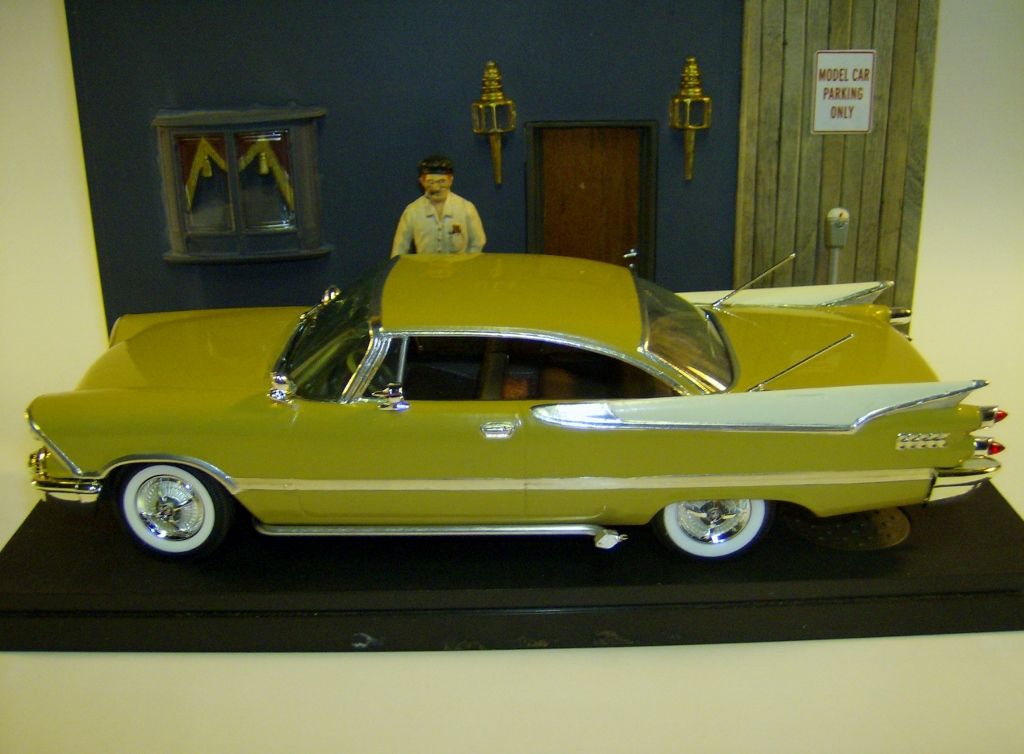 I've been wanting to make this model for a very long time and I'm very pleased with this end result.  This car will now sit in a clear plastic display case in my living room.  I only wish that the real car had looked as good as this model does.
Thanks for looking in on this completed build,  Any and all comments are welcomed and truly appreciated.
Edited by Ramfins59, 25 February 2014 - 12:51 PM.