I'm building the Gabriel (former Hubley) metal kit of the Duesenberg SJ LeBaron Dual-cowl sweep panel phaeton. After viewing the kit parts I began the process of wondering what had possessed me to build this flash-ridden kit. I found normal modeling tools such as files, chisels, bench grinders, and sledge hammers worked well. 

One of the many items requiring correction are the wire wheels. The six wheels come in two halves, meaning 12 pieces total. The spokes are not round and are waaaaay overscale. I was filled with dismay.
Not being very bright, I began the laborious process of de-chroming the wheels in bleach, scrubbing the residue off with a toothbrush (an old one, mind), and replacing the spokes one-by-one. All 468 of 'em. I began by clipping out 4 spokes at a time, drilling .016" holes at the proper angle from the outside of the rim into the hub, then inserting lengths of .015" steel wire from the hobby shop.
Years later, well, maybe not years, but at least a month or two, I was done. The wheels were airbrushed with Alclad II Gloss Black base, allowed to cure and harden for a week, then airbrushed with Alclad II Chrome. This stuff is fantastic. The photos show the "series of unfortunate events", as the movie and book title go, and I hope you all approve.
My wife thinks all is not well with me........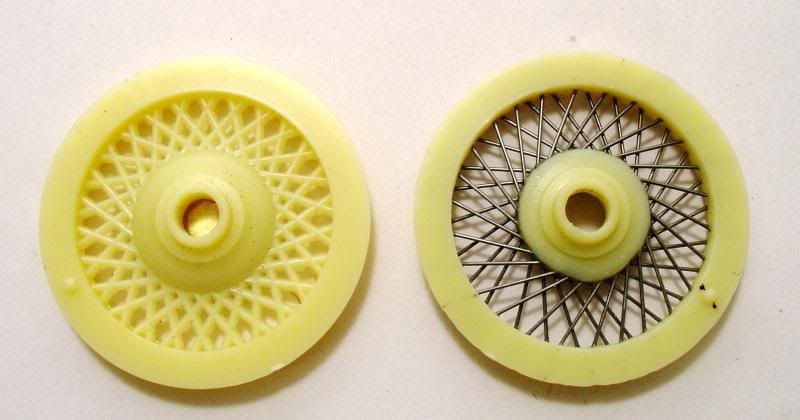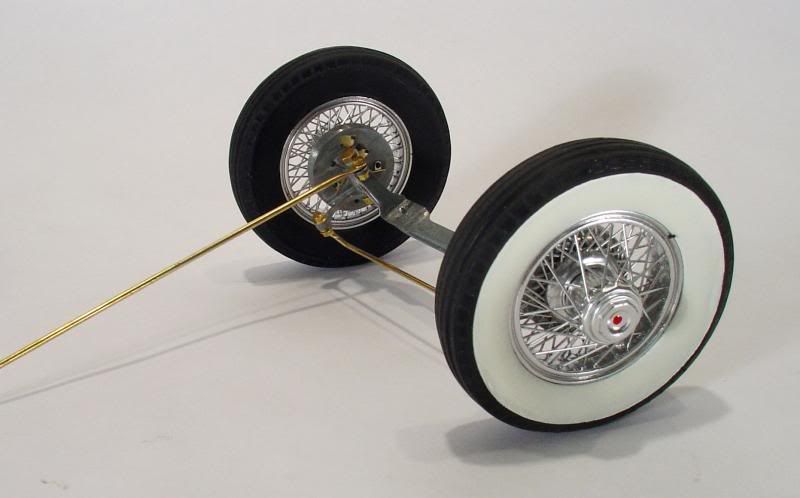 Edited by BSteinIPMS, 05 March 2014 - 08:55 AM.