I recently bought the Polar Lights Spider-Man Beetle.  A lot of guys will be turned off by the Marvel Comics tie-in but remember that Tom Lowe has always been the master of licensing, and his first love is the pop culture memorabilia hobby, which is a market much, much larger than ours puny little band of model car guys!  So a lot of these will be sold to Spider-Man and comic fans, many will never have the shrink wrap molested. A sale is a sale, so it's all good and hopefully the profits will be used to further kit releases we will like. 
Looking past the Spider-Man theme, and the peel and stick stickers (give them to a kid!), this is the second release of the original Polar Lights Herbie kit.  Again, the Herbie was aimed at the TV and movie memorabilia market. Back then a certain character working for Playing Mantis told me that when Herbie was designed, there was a follow up kit coming of a California custom Beetle.  With the sale of the company and ensuing confusion, it never got to market. Until now.  That's right, look past the stickers and you have that California Custom Beetle!
Here's the sticker sheet included with the kit. Nobody here will be decorating their model with these, but the Spider-Man ones may just decorate my model tool box! At worst, give this sheet to a kid!
I will say a few things about Polar Lights / Playing Mantis back in the day.  I was very excited when I got this kit because my then 12 year old nephew swiped the first one I bought from me.  Okay, he gave me that puppy dog eye look and I gave it to him. Within an hour he had it all finished and looking rather neat on the table. It was molded in white, black for the chassis components and had a gray interior. That, along with the chrome and Herbie stickers gave it enough color to satisfy a Love Bug movie memorabilia collector. And remember that a 12 year old boy assembled it without any tools in less than an hour.  Still, the car had opening hood and trunk, full engine detail and enough detail overall to satisfy us serious modelers, who then could go further with customizing and detailing it out. 
Here's a photo of an original Love Bug release.
So in the equation of the perfect balance of a kit for today's market... I think they hit it squarely on the head.  And who was working on this project back then?  Well, our own Art Anderson and another familiar name,  Dave Messner!  Speaking with Dave recently, he glossed over his involvement with the Beetle, saying he was prouder of the '64 GTO / '65 Dodge kits using this same theory.
Another interesting thing is that Polar Lights did this one in 1/24 scale, while their US models are all 1/25. So there was an attempt at complying with the International scale expected by the rest of the world on this German car. It does make sense and allows for kit bashing with the Revell of Germany and Japanese VW kits.  Sizing it up, it does match the Revell of Germany Beetle and the old Revell 1/25 Beetle is noticeably smaller.
Digging into the box is very interesting. Some folks probably just assume this is the Herbie kit with some silly stickers. Not so! This one comes with a slew of options.  First, are the Cali Custom style nerf bars for bumpers. They snap fit into the same mounts as the original kit US style bumper with over riders. The cool part is that the original bumpers are still in the kit, so you have two options.  There are two sets of bucket seats, the original stock ones as well as a nice custom set. Same with the steering wheel.  There is also a custom exhaust option. And there are two sets of outside mirrors to choose from, both round and rectangular.  Very neat detail!
Steering wheel options....
Front seats....  stock or custom seats? 
Mirrors!  Choose a set for this build and have a set for another model! 
The wheel options are also very cool and surprising. There is a completely new chrome tree of just wheels! There are TWO optional sets of custom wheels with exposed lugs. The only problem is that there are 5 lugs when VWs of this era had 4 lug wheels.  If indeed those wheels were 4 lug, they'd have a ton of other applications, like 6 cylinder Falcons and Mustangs. I certainly would've investigated that!  (Craig Irwin posted that VWs of this 1963 era had a wide 5 bolt pattern. Bugs 1968 and later had 4 lugs. Thanks for clarifying!)
Aside from that are a set of Baby Moons, and a set of stock VW hub caps.  One will note that the original Herbie release didn't include these since the movie car didn't have VW emblems on it.  The original set of plain hubcaps are still on the original chrome tree.  Another short coming, but fitting with the snap assembly of the kit is that the stock wheels have no lug detail, only a mount point for one of the hub cap options.  Important to note that since the hood opens to show the spare tire, there are five tires and each wheel set has  five pieces. The shortcoming is that the spare tire would have alug nuts on it or a hub cap, not what we'd do in the real world at all.  I'm sure I can rustle up an exposed lug wheel to drill out and place there.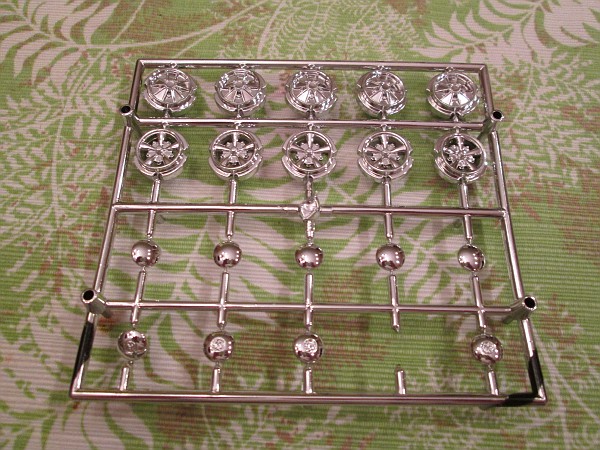 This is the separate wheel tree. Note that there are five of every wheel. That includes the two custom wheel types, a set of Baby Moons, a set of stock VW logo hub caps and there is another set of plain caps on the other chrome tree!  That's FIVE friggin sets of wheel options in this kit.
Body wise, it's the same as the Herbie kit, after all it is a Beetle. I think it's fairly accurate but I'm sure someone will find fault with it. The bad news is that it's molded in red. Not a nice bold and shiny red, but a dull near orange red. No problem for me since I plan on painting mine red, but red plastic can be a curse because it can bleed through paint, but also won't result in a nice shiny model for those who just snap it together.  I'll bet that the body surface was designed to accept those darn stickers!
Past that, a few comments on the body itself.  First, the soft top isn't in this kit. I was happy to get it originally since it was the first time this popular and common VW option was kitted in either 1/25 or 1/24 scale and I have plans to use one on another build of a 1950s Beetle.  You can see where it was on the tree, there's a cut off right next to the tail lights. A comment on the Herbie release is that while the top is included, the installation of it is disappointing. There are snap mounts on the side edges that are visible on a finished model.  I have already sanded them off the top piece, but the body includes the accepting holes, which still are visible since they protrude beyond the edge of the top piece.  So be prepared to fill this in to do a solid roof Beetle… or… the new kit body doesn't have those holes, Round 2 has filled hose in. The bad news is that they didn't do it all that well and I can still see the four mount holes as indents. So you will need to do a bit of surface repair with putty.
Note that no matter how well this model was built, you can still see those pesky soft top mounts right above the doors!
  I can say that this appears to be the only bodywork you'll need to do. The body is clean and I don't even see mold lines. One observation is that the body is molded with a stiffener across the open hood area. Typical of models of every era, the usual "Remove This Piece" thingie.  Only on this kit, it's attached rather well. For those of us into the hobby with a box full of knives and such it's no problem. But for the casual builder or little kid who just wants to snap this thing together, it should just twist out. But it doesn't.  It's really in there and requires some serious cutting.
The white body is the original Love Bug release with the roof holes for the soft top, The new release in red doesn't have the top included, or the holes in the body. Still, there are ghosts of those holes on that red body that will require putty work. 
The only other comment I'll make about the body is that we mentioned that the Herbie release didn't have VW emblems like the movie car, so the emblem on the hood was missing and they didn't fix that on this release.  So you'll need to add one. Good news is that the Revell of Germany kit has that as a separate chrome piece.  So you can steal that, or make a foil casting of it.  Note that I've seen a finished model of the Revell kit and that emblem seems to sit a bit high, so sand the back a bit to get it more in scale.
Another difference between the two releases, Herbie VS Spider-Man (or should we just say Cali Beetle?) is that the interior parts are molded in grey in Herbie and black in the new release.  So if you want a stock interior and own both kits, you can start with either depending on the color you want your interior.. either without paint, or as a cleaner base for priming and painting a lighter color interior.
So I know what you are all asking, "How does this affect Tom Geiger?"  Well, I originally bought the kit for $17 just to see what was in the box.  I was curious to see the new custom options and if the soft top was still in the box.  I'm pleased to get the same body without having to fill in the roof holes since I am planning on building a solid roof car.  So what do I plan?
When I was a kid I was a US Army brat and lived in Pirmasens, Germany from 1969-72. The first thing my father did when we got there was to buy a red early 1960s VW Beetle for transportation.  He paid a few hundred for it, from a departing serviceman.  It was a good car that served us well as our second car for the three years we were there. I don't remember it ever breaking down or needing repairs. The paint had seen better days, but the body was solid. It was a good car.  The funny thing about it was that this may have been the only US spec VW on the army post. Lore was that it was originally sold in the USA and a serviceman got orders for Germany and Uncle paid to ship it there.  Upon leaving, he sold it and may have taken a new Mercedes home, since that was common among servicemen at the time.
So we were probably the third or fourth owner.  Our car had the US bumpers with the over riders while German cars just had the single blade bumper. During our ownership, the car got tapped in the rear and we put a German bumper on the back. So that's how I'll build mine, along with the USA oval from the Revell kit and I already found photos of  a set of the US Forces Germany plates (standard US size plate, green with silver lettering) that all our cars had back then. 
Our parting with this VW is also an interesting story. My father paid something like $500 for the Beetle and it served us well for the three years we were in Germany. He thought that having a car until the last day we were there was more important than selling it. There was a place where servicemen just left cars behind when they left.  Leave it there with the keys and title and maybe some poor GI would take it.  But for the most part those cars got vandalized and became parts cars.  The last week we were there a newly arrived officer asked me if he could walk to the PX from the motel attached to the officers club where we were both staying. I asked him if he needed a car, and managed to sell it to him for $300 with the stipulation that he'd get it the day we left.  My father was so impressed with my sale, that he let me keep the money!  My first car sale at 14!  And once we settled stateside in the New Jersey suburbs, I used that money to buy a lawn tractor to start the lawn business that provided all my needs throughout high school.
Back to the model.. So what does Tom think? I do like this kit. I liked the original Love Bug release and am happy to have the long lost California Beetle version, even if it is disguised with stickers.  It is nicely done and will go together well. I like the cool new custom parts, especially the extra effort of a whole new tree of wheel options. This release does have a lot of interesting options, and I was a bit surprised that they also included the stock pieces. It is a 2 in 1 kit for sure! They should mention on the box that you can build a stock VW from the kit, but they do not. They will lose sales because of that!
I'm happy to have the kit.  Right now my build theme seems to be recreating old family vehicles. I have my sister in law's old Chevette on my shelf, and I am about to begin building my wife's old Mustang II.  So it will be a quick project to build this VW. It will be cool to have this old family member on my shelf!
Edited by Tom Geiger, 20 June 2014 - 02:58 AM.