Recently I was asked by a fellow modeler to post some pics of the GW Trucks White Road Boss hoods that I have, so I decided to do a little "in box" review.
In the 1970s, the White Corporation offered the Road Boss conventional.  This truck came with three BBC options: 122", 108", & 92".  AMT offers the White Road Boss in the 122" BBC, and until recently if you wanted either the 108" or 92" BBC your only option was to modify the AMT hood.  Enter GW Trucks.  Gary Wallace, owner of GW Trucks, offers both the 108" & 92" BBC hoods which are cast in clean, white resin.  Below is a comparison of the three hoods:
Shown in front of the 92" hood are the fenders which will have to be attached to the cab & the air intake bracket.
This is a side view on the AMT hood (which I think we are all familiar with):
Here is a side view of the GW Trucks 108" hood:
And here is the 92" BBC hood (popular with New England fleets):
Both of Gary's hoods have very crisp detail, and use the AMT grill & headlight buckets without modification.  I will state that my copy of the 108" hood does have a crack on the curb-side fender, but that should be an easy repair.  Also, as you can see above, the GW Truck hoods do have a thin membrane where the grill will go.  This will have top be removed by the modeler prior to installation so the AMT hood tilt hardware can be used.  Gary tried to make the hoods so they would be able to make use of as much of the AMT hardware as possible for an easier conversion. 
108" Hood with Grill:
And a couple of views of the 92" hood: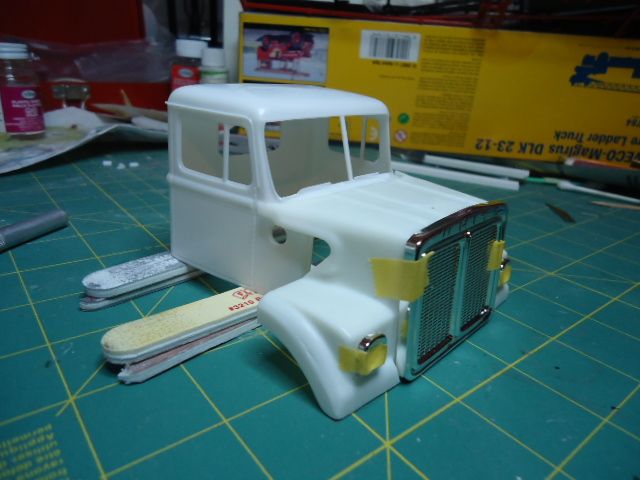 For pricing & information on these hoods, please contact Gary Wallace of GW Trucks at gwtrucks@yahoo.com.