Hi Guys,
I thought that I had shared this build with you previously, but can't find it.  So, here goes...As a former firefighter/paramedic, I build mostly emergency vehicle models.  Years ago, my medic partner and I were discussing our "ideal" response unit.  Like most of us, we were inspired by the 70's TV show "Emergency".  This is what we came up with:
I was really happy with how it turned out!  But, like any model, is it ever "really done"?  As most of the apparatus in my fictional fire department is white over bright yellow, I decided it was time for a "refurb".  Fire service lingo for a "makeover".  New paint, graphics, updated emergency lighting, etc...  While it was hard to think of disassembling this build, I worked with excitement at the possibilities!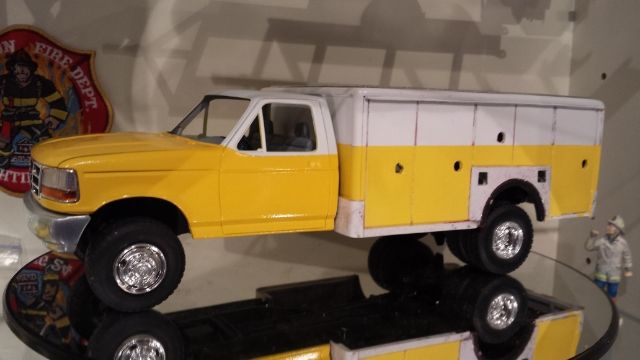 Yellow paint done.  Now on to the white...
With the white painted, it was time to remove the aluminum foil glued to the diamond plate all around.  It was replaced with a coat of gloss gray paint and Alclad Highly Polished Aluminum.  Next up was working on updating the graphics...  As her stablemate(also under construction) sports some new striping, it was time to develop some for this unit.

Here is the progression of the process along with a few mock ups of the proposed lettering.  The final lettering will be printed on an ALPS.  Also, this station likes their trucks with some "Bling"!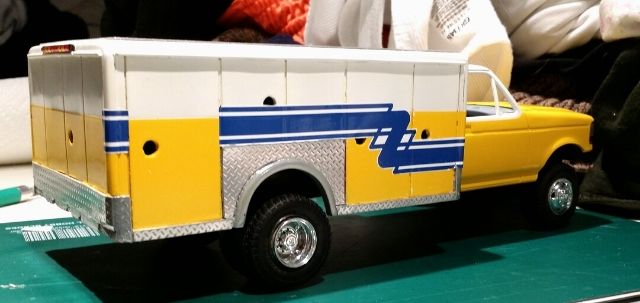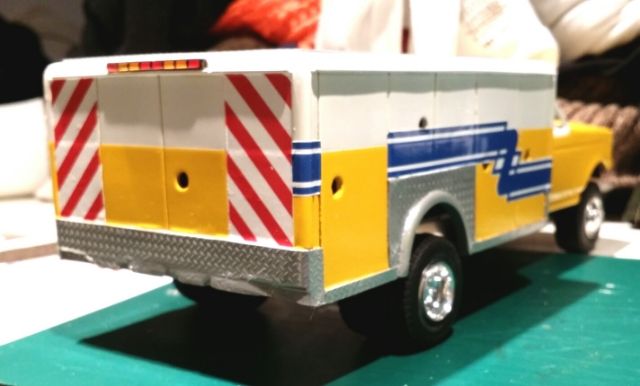 KFS round slamlocks and a soon to be fabricated new rear bumper will also be added...  Thanks for looking!
David
Edited by hooknladderno1, 20 August 2014 - 05:10 PM.