Here's an update on my '37 Ford "ute". Got the paint squared away on the body finally. I think everything is painted, just waiting on assembly, mostly.
The '65 Bonne just need painting to take place. it's going to be duplicolor "metalflakes" red with a white interior (I know, red with white interior, real original, lol)
Here's a Flintstone resin body with fully scratchbuilt frame. It's got a '28 Lincoln engine. It will receive some minor weathering. Waiting on painting of everything except the body. Color is Krylon Celery. Will get flat clearcoat with vintage speed shop decals.
This 32 will receive the late 50's show rod treatment. Full dress flatty. Suspension from the newer AMT ala Kart. Probably metallic wine color. The body is an revell roadster body with AMT 5 window roof grafted on.
This one is brand new. It is inspired by the Matador, and that 40 Ford currently in CK Deluxe with the raised fenders. Top will stay unchopped. Will get 58 vette taillights. Not sure on color yet(surely something metallic)
Here's another brand new one. I whacked the top about 18 months ago and then threw it in a box. Ran across it recently while looking for parts and decided to start messing with it again. Will get a stretched new ala kart frame and running gear. Should sit about that height. Lincoln motor from the '25 T. Testors Lime Gold paint.
This is another new one. It's a flintstone body that I just couldn't figure out what to do with. I've seen a few done up vintage style with big wire wheels and vintage style scallops that look really cool, but I want something different. It's will be styled and painted after the Barris Doby Gilles LSR car. Pearl white with metallic orange details.
Here's the ongoing 67 chevelle protouring I started about 2 years ago. Color is Tamiya Gunmetal stripes over black. Jimmy flintstone flame templates are a snap to use. Rear wheels are courtesy of Marc Nellis or MPC motorsports.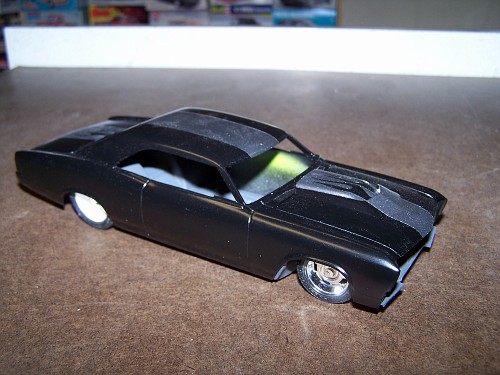 This I was trying to finish for the Dream Cruise, but knew I wouldn't be able to do 2, so I chose to finish the other one. I've really developed an appreciation for the clean lines of the mid 60's GM cars lately, and I find myslef thinking up a lot of projects based on them. This is the revell '65 Chevell Z-16 kit. Open grille is Rep+Min of Md (mastered by Lyle Willits). I'm leaning towards the straight 6 from the Trumpeter Nova for motorvation. Wheels and tires are from the revell 59 Chevy custom 2n1.
Needless to say, I've got LOTS of started projects stored away. These are the ones that are currently seeing daylight, er...flourescent light anyway. Thanks for looking, and follow the link to more pics.
http://public.fotki....ects/page4.html