"The First of the Many"
Kinda like the "Last of the Many" Hawker Hurricane in the "Battle of Britain Flight" that commemorates the last one built back in '44, I guess you could call this Wrangler Thunderbird, from Monogram's original series of two Fords and two Buicks, the "First of the Many" when it comes to what I believe may be the longest running model kit series ever.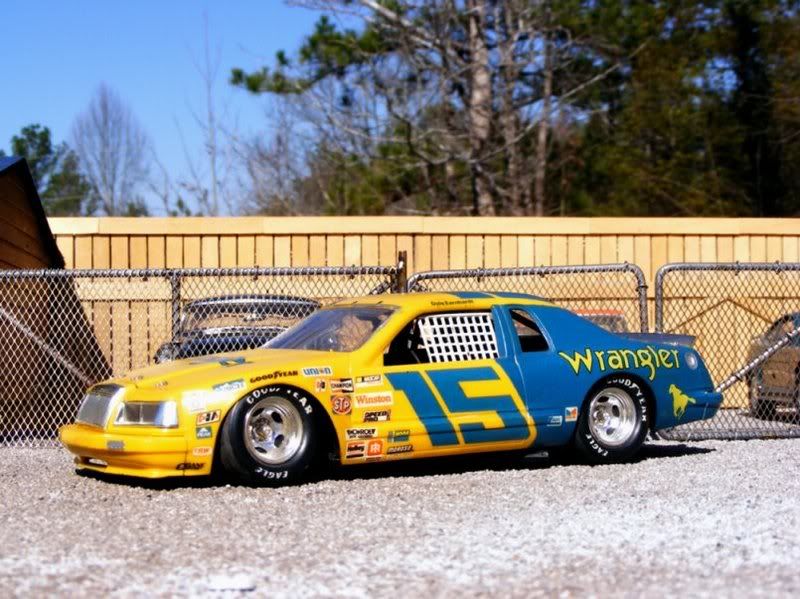 I remember opening the box on these kits after fabricating my own racing parts for so many years and being amazed at what was in it. It was like a back yard mechanic getting a key to the back door at Holman Moody and a license to steal.
I know that there had been the occasional race car kit and that wonderful series of "one size fits all" MPC stockers in the '70's but nothing with this kind of accuracy on a scale such as this. For sheer volume of kits produced, these two basic tools (front steer and rear steer chassis) had to have been the longest running and most produced tool in the history of plastic car kits.
I worked for a hobby wholesaler supplying hobby shops with plastic kits of all types when these kits were in production. Usually I would order kits one or two cases at a time on all but some of the new releases and would have plenty to go around. But when the feeding frenzy really hit with the stock cars I would order from ten to twenty cases of the stock cars as a general rule. And when the new Lumina kit hit with the familiar black paint scheme my initial order was over two hundred cases.
I wonder just how many of these kits have been manufactured in the course of the molding runs with only small changes done. And what kind of profit margin when new kits could be added with only the expenditure of box art and decals needed for an brand new release?
In another Battle of Britain reference it could be said that, "Never have so many owed so much to so few" in the money generated by the sale of these kits that went to fund new tooling of all kinds of models that might not have been made otherwise.
I know that they were the stimulus that got me back into building when all my dirt car models got sold in the divorce auction. I might not have started over and have the darkside and other stock car models I have now if these kits hadn't caught my fancy in the early eighties. I think it would amaze us if we knew just how many of these little race cars have been molded since those first four kits back in the early eighties started a whole new kit, decal and detail parts market way back when.
Edited by LUKE'57, 09 February 2008 - 02:42 PM.