Ok, I am going to give a try on a work in progress thread. Updates might be few and far between as I am not good with these. 


So I am going to try to build a red on red L88 coupe without side pipes and with Rallye wheels, like the one that went across Barrett Jackson.
I will be using the Monogram `67 Covette Coupe kit from the mid-90`s. This will take alot of modification to get right. Some of you may remember the "Big Scale Beauty" issue from a few years ago. I will follow the same procedures as I documented there, but this will take more modification given the exhaust, chassis, and body work needed to match the real car.
 
The first problem is the sink marks in the chassis. Since this will be a full detail build including chalk markings, it would make no sense to not address this. 


 
After some sanding:
 


 
Since the 1:1 car doesn`t have side pipes, exhaust pipes that make their way through the frame cross-member will need to be fabricated. And since the cross member is solid, I needed to carve out holes for the pipes. Given the surrounding surfaces that get in the way, this was a little more difficult than it looks: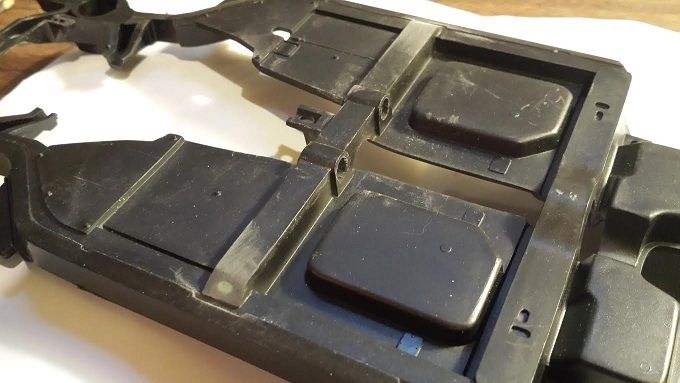 The finished and painted chassis:
 


 
I have a gripe with kits that have two engine halves that divide the oil pan. Sanding, filling, priming, and eventually painting rectify this:
 
 
 


 
This car has no heater. That means removing the heater box from the firewall. It also has a special intake that needed to be fabricated. The bottom carburetor cover piece is actually one of the drag wheels conformed to the general shape of the cover using an open flame, then the outer rim removed. I am using filler putty to fill in the details and to get an accurate shape. The top small cover is actually the aftermarket Moroso air cleaner lid trimmed to the size you see here. The L-88 cars had the unshielded spark plug wires (no radios) and were a flat orangish red.
 


 
Since there is no heater and radio, and the kit version comes with these, I needed to carefully remove them. This is tricky because of the surrounding ridges in the dash. But lots of careful trimming, sanding, and filling results in this: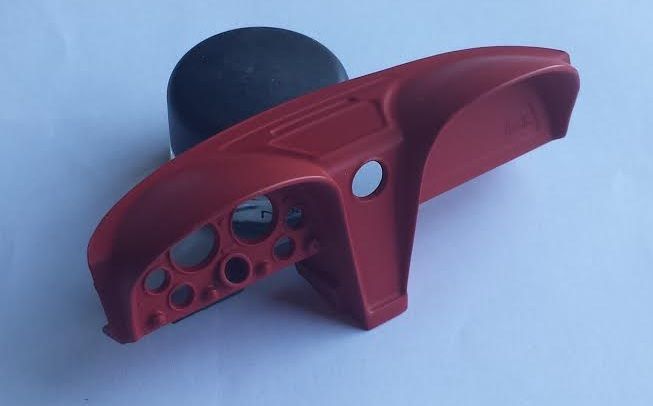 The 1:1 car is Rally Red with Tuxedo Black striping. This is what it looks like right after being sprayed from the can before any sanding or polishing. I have my work cut out. Automotive lacquers are used throughout.