I built this one along side the Gene Snow Vega. Again, this is a quick build, since I have been really pressed for time lately. 
The most notable thing about this kit was the awful, and I mean awful decals. They were yellowish brown where they should be clear. I had to trim as closely as possible to the "ARMY" letters on the passenger side to make it look decent. I wish I would have known before I put the drivers side on, which went on just like they came. The star decal strip dried gray where they were supposed to be clear. I had to fix this buy using future both under and over the decals. They actually look pretty decent now. And finally, and worst of all, they day after I applied the decals, I found that all of them were peeling away, some could even be easily blown off. 
Any, I`ll stop complaining...for now. 

 I substituted the newer Mongoose kit frame and front tires for this one as well. Again, the kit wheels were replaced. Wayne`s tutorial was used for this build as well. The red area/stripes of the decals would not do, as they wanted you to apply the red stripe decals, and then try to match the rear bumper. I ended up masking and painting the red stripes. Basic details were added to the engine. Some of you heard my bellyaching about the rear tires not being large enough in my progress thread, but after looking at the pics, I think the newer Revell funny car kits have the perfect size rear slicks for these kits. All said, I really like this as a shelf model, and it really reminds me of the cars I used to see on the track as a kid. 
Almost forgot, LittleMotorKarCompany did the chrome on the wheels. They came out very bright, much more so than kit chrome.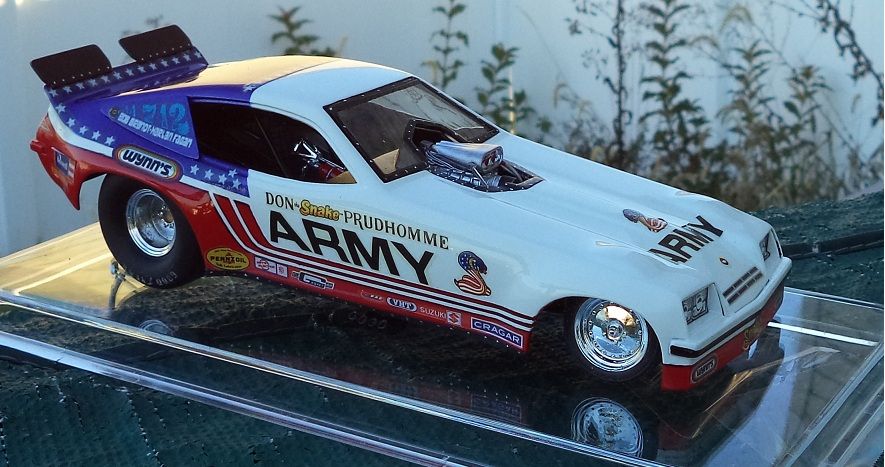 More pics