Sorry, I use google translator.
Hello, friends, okay?
A new model on the workbench. This is my second model, then, a lot of patience, because they lack experience and technical skills.
The chosen after much analysis was the '53 Ford Victoria, the Lindberg. It seems to be a great kit comes with chrome trim already, which makes it easier for those who do not have the slightest practical BareMetal.
Well, the initial proposal is to keep the original wheels and make it very low (giving even an ant beetle), Cadillac all black with chrome and maintained, which will enhance and highlight black enough.
Here are some photos from the beginning.
The kit.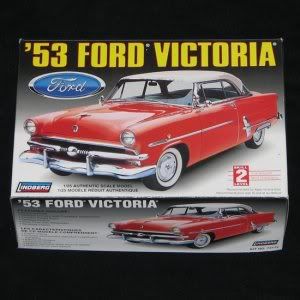 Guys, look at the reference there, only it's a '51 Victoria. Maybe I do not do well with the red roof, I'll just need a red like that, because I have not. The only difference is that I do with the chrome.
Some photos I took to get an idea. The kit comes with a white band for the tire.