This '79 Trans Am was for a client that contacted my local IPMS chapter looking for a builder. Younger brother gave it to older brother for his 50
th
birthday. It was his first new car in '79. The model will be displayed in a clear case with a picture of older brother sitting on the nose of the car along with the original license plate and ignition key.
Client had already obtained an intact MPC 10
th
Anniversary edition Trans Am when we met. I'd never built an MPC kit before and ever again will be too soon.
There are few or no locating points for joining parts. The nose was offset to one side once attached to the fenders so two part putty was used to create a proper contour. The leading edge of the dash had to be removed to allow the interior tub to fit. The drip rail on one side was almost non-existent so I removed both sides and replaced them with styrene strips sanded to shape. The biggest challenge was getting the wheels & tires centered in the wheel wells and the track correct from side to side. 3/32" was added to the right side to solve the issue.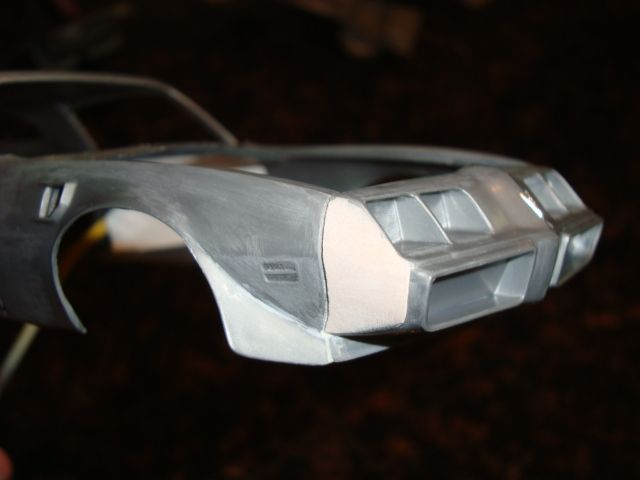 Separate chrome pieces are provided for the shark mouth openings in the nose. Why chrome is beyond me as they are all blacked out on the 1:1 cars. These pieces had straight ends while the openings had curved ends. I solved the miss-fit by cutting off all mating sides and "floating" them in the openings. The turn signals were foiled and finished with orange colored Sharpie.
Seems most, but not all, TA's have black head light surrounds. The photo reference my client provided had black surrounds so I gave it my best shot. Knowing I was not up to masking/painting four uniform surrounds on four different shaped openings I thought I could cut black decal strips and apply those. In determining the ideal width of the decals it dawned on me that the back mounting surfaces for the head lights were canted back from vertical. Just for grins I decided to find out just how far off the kit was. I tacked a piece of Evergreen styrene to the headlight bucket face. I made a unicorn!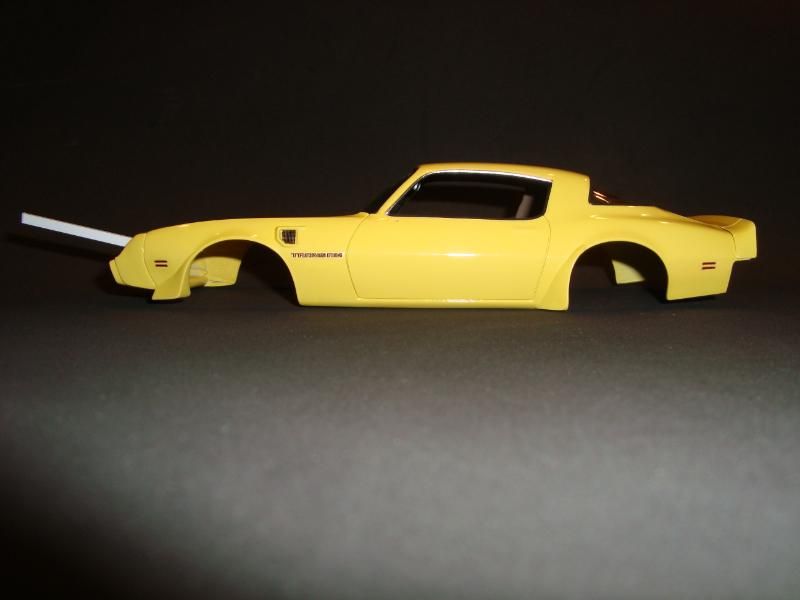 The kit head lights were chromed with raised cross-hatched engraving. No clear lenses were provided. I was able to fabricate lenses by adding drops of Formula 560 (RC canopy glue that dries clear). A front license plate mounting bracket was fabricated from two part putty and custom license plates from Scale-Master Decals replicating the 1:1 plates finished off the front and rear. The side markers were detailed with strips of BMF colored with orange or red Sharpies.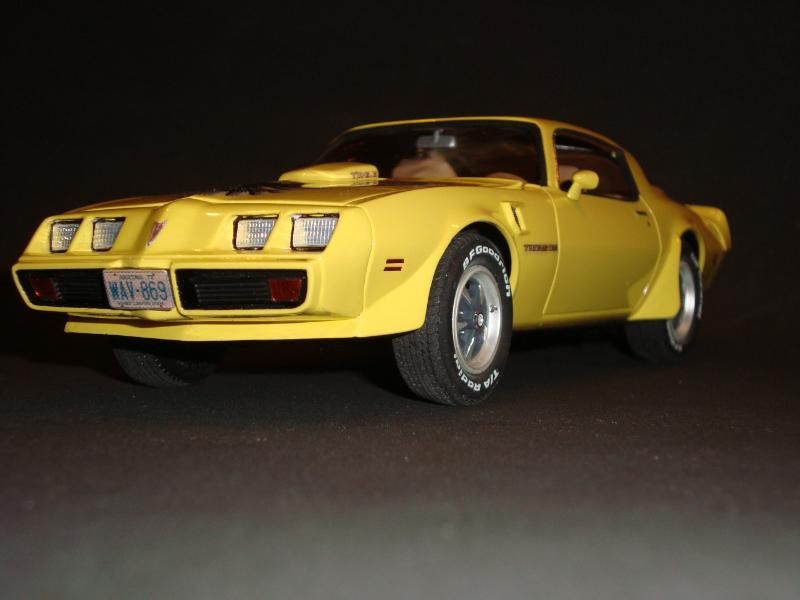 No underside or under hood detailing was to be done – essentially a curbside build. All panel lines were rescribed in anticipation of clear coating. The kit mirrors were rectangular and were trashed in favor of mirrors from a 1973 AMT Camaro. Mylar faced sequins provided the mirror faces.
The steering column was void of turn signal or tilt steering wheel levers. It received a signal lever fabricated from styrene and piano wire. Various NASACR kits donated gauges for the dash.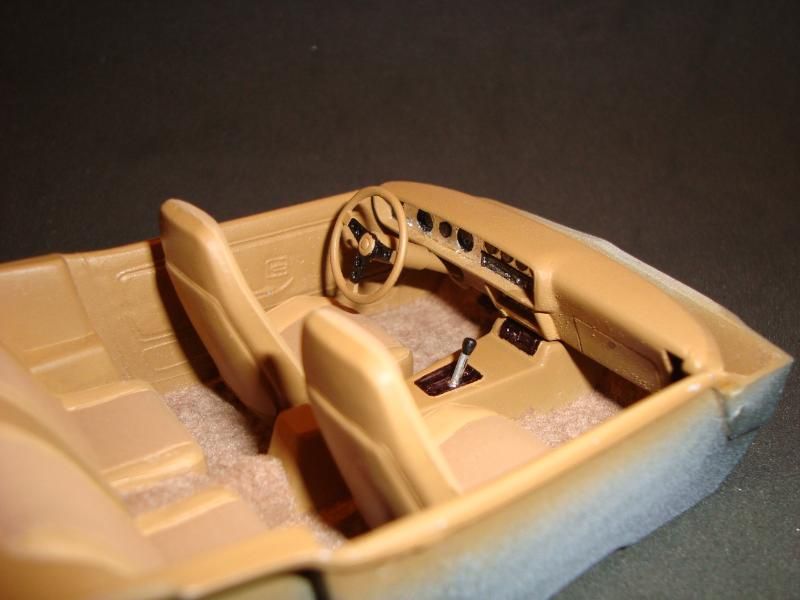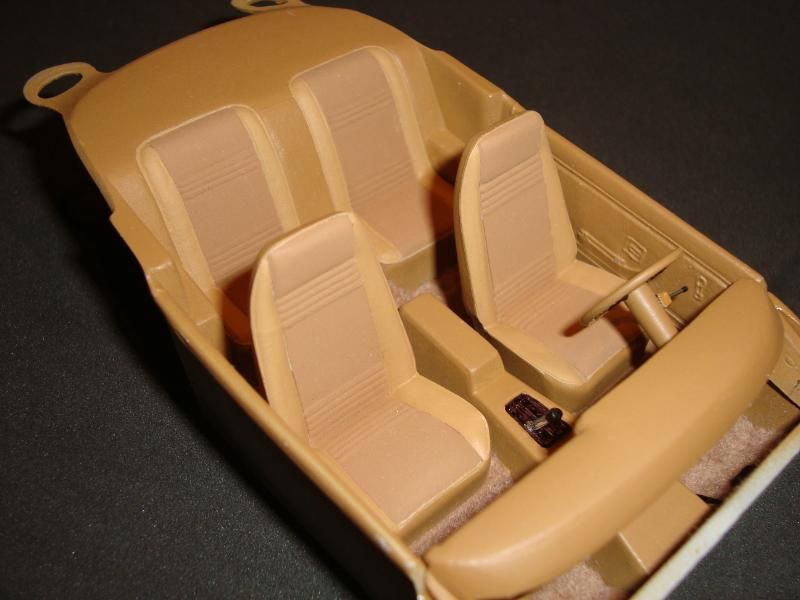 Kit tires and wheels were useless. A '69 GTO Judge kit donated the Rallye II wheels and a '69 Vette donated the tires. Shabo transfers made them proto-typical. The chrome wheels were dullcoated and the centers were painted with Tamiya German Gray.
The 10
th
Anniversary edition graphics included in the kit were different than regular production cars. Scale-Master Decals provided correct custom decals. Sundance Yellow factory paint under PPG urethane clear finishes off the build.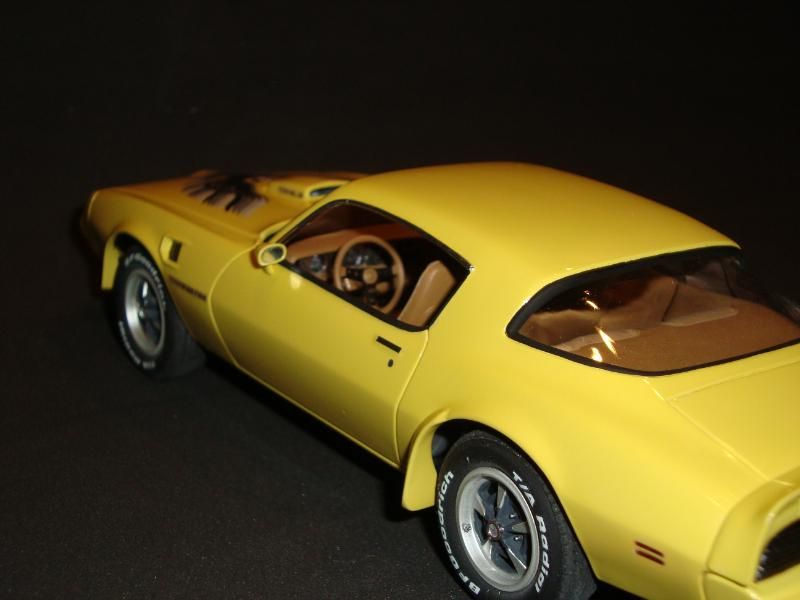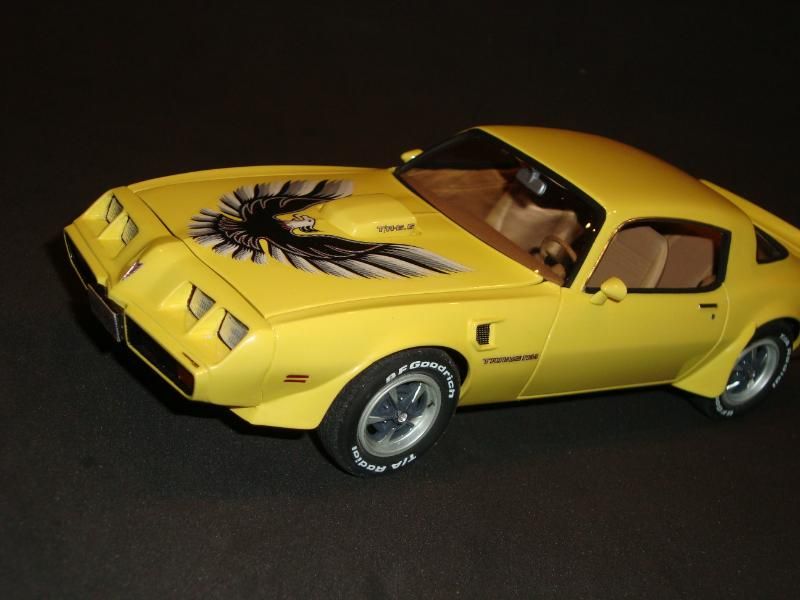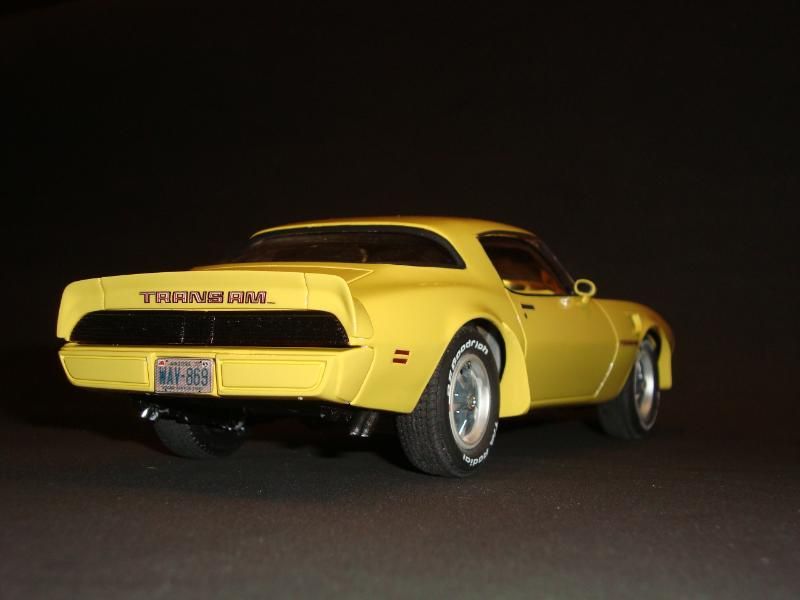 Here it is as delivered: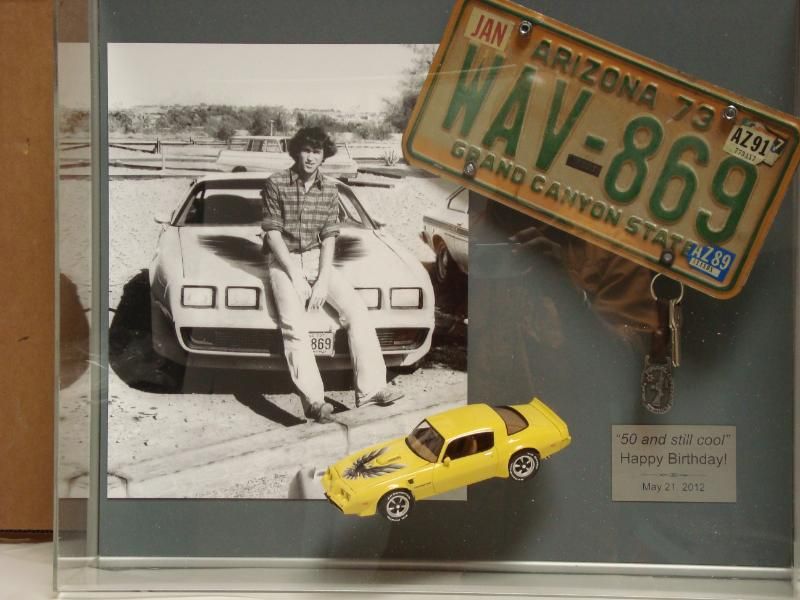 Thanks for looking!