I swear this build takes a new turn and heads in an almost completely different direction every time I sit down to it.
Here's where it sits right now.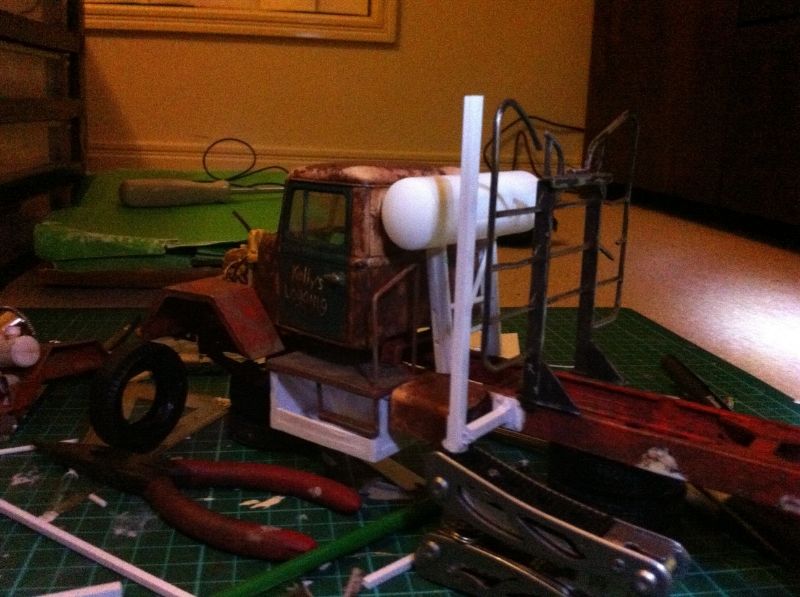 As you can see, I made a decision in regards to my walkways.  I raised both of them so they're flush with the tops of the frame rails.  On the driver's side I took a bit of inspiration from Muleskinner's Sterling and integrated a toolbox/catch all onto the underside of the walkway.  For the passenger side I took the two air tanks I had hung one on top of the other and rotated them so they now sit side by side under the walkway.  I previously had a standard Autocar fuel tank from the kit tacked on, but I was never really happy with it.  Did a bit of spare parts diving, and came across the longer fuel tank from the Road Boss kit which was just the right length to fit the width of the cab nicely.  Pretty sure it's not common practice for loggers, but I know back in the day some Kenworth's had "high mount fuel tanks."  I built a rack for it, and tacked a step on the rail in the spot the old fuel tank was.  With the fuel tank behind the cab I moved the kit cab guard back to make space.  I then remember the old Howell and Sons tractor, and the old full cab guard they'd built for it.  So, that big, unpainted L-shaped elbow hanging off the frame is the beginning of a cab guard along the lines of this:
With that said, whenever I finally get the chance I'll be adding the Mack 65k rears and 12x24s from AITM and a driven front axle from KFS.  I'll also be rebuilding my stinger, because I'm not too satisfied with it either, and I want to add a bit more length to the frame.