looking good,once in awhile I like to build box stock just to change buildding than doing mods and scratch building.

 Terry
Even when I set out to build a model straight from the box I always end up adding one or two little details.  Than I think, "I'll just do this one other little thing too."  Then I end up doing a ton of mods and end up so far from the box it's ridiculous.  But in the end I think all of the little mods are what makes building enjoyable to me.



thats going to be one nice looking A car,i remember one thing autocar owners would do when they would customize their trucks was to swap out the single round headlights for the 359 peterbilt headlights.
I've seen a few Autocars with that mod.  Can't say I like it a lot, but then I don't really care for it a whole lot on Petes either.  I'm more a fan of single rounds.  Although I do like the double rounds more than the squares.
Well, I finished the building portion of the chassis.  Had a few minor setbacks.  The first being I royally screwed up some measurements.  I measured where to mount the steps and fuel tanks so the stacks would come out between the steps and tanks right in front of the sleeper.  Had everything glued down when I had the feeling something was off.  Sat the cab and sleeper in their spot, and noticed I'd made my measurements for both too far back.  The stacks would have come up right under the sleeper.  Fixed the situation by moving the steps forward a bit.  Filled the bigger gap between the tanks with a rack for a jerry can on the driver side and will hang a hook on the underside of the sleeper on the passenger side for a chain.
Second mistake was due to a mind lapse.  I modified the steering assembly to link up with the forward axle, but the fact that the steering assembly mounting position would interfere with the forward fenders didn't cross my mind until the glue had set.  Since I had already modified it to fit the axle position properly I remedied the problem by simply giving the fenders an ever so slightly higher mounting position.
Aside from those problems, I went ahead and added the shutters to my grill.  Decided against the articulated shutters simply because I would probably never use them.
After all of that I finally did get to slapping some paint on the frame.  Got the base laid down, and started to add some detail tonight, but my heart just wasn't into it.  Instead of pushing forward and being unhappy with the result I decided to just stop for tonight.  Here's a tease of where I'm at.  Again, sorry for the low quality iPad pic.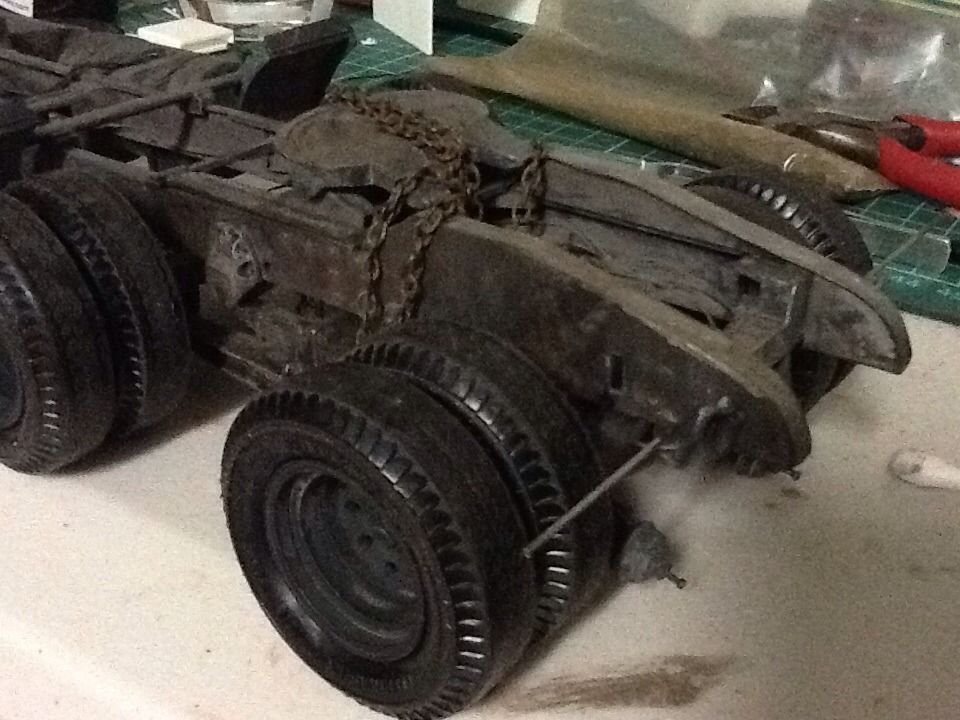 " />