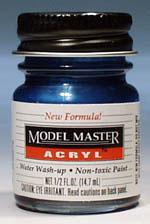 Here's the stuff I'm talking about - not the "teal" in the 1/4 oz jars. 
I'm told it's a slightly different shade (not as dark) as Testors' enamel Chezoom Teal.  I'm also curious about its opacity.  Will the shade of primer affect its appearance? 
Bonus question:  What's a good primer for acrylics?