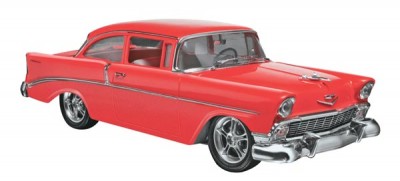 Revell 1956 CHEVY DEL RAY #4946
VERSIONS: Stock (see text), Street
MOLDED COLORS: White, Clear, Red Clear, Chrome Plated
SCALE: 1/25 MSRP: $21.98 USD
REISSUE
ENGINE:
The Del Ray's 29-piece engine represents a 265 smallblock with Powerglide automatic, and is extremely well done. Engraving throughout is superb. The instruction sheet does not mention at all that stock engine pieces are in the kit (a faux-pas to be sure, Revell), however, we will take those parts into consideration in this review. Of special note are the separate starter, fuel pump, front cover (with engine mounts), water pump, distributor with vacuum advance and separate coil, oil filler tube, upper and lower radiator hoses, and the correct-for-1956 exhaust manifolds–the familiar "ram's horn" style did not come into widespread play until the advent of the 283 a year later. Only one intake option is provided, a single four-barrel carb, with a choice between a two-piece stock single-snorkel air cleaner (not mentioned in the instructions, but on the sprue) or a custom two-piece plated "pie plate" low restriction air cleaner. There is also a choice between a stock generator (on the sprue but not mentioned in the instructions) and an alternator. For valve covers, you have a choice between stock Chevy script type (on the sprue but not on the instructions) and a pair of custom finned chrome units. A decal is provided for the oil filter. This is one first rate Mouse motor, and the Powerglide on the end is a real plus for kitbashers. Spend some quality time wiring and detailing it and you have an absolute contest contender.
CHASSIS:
The one-piece chassis pan has frame and floorboards molded in place plus a separate gas tank/spare tire well component. There are two different front suspensions: a five-piece stock unit (on the sprue but not on the instructions) and a five-piece custom assembly with molded-in large diameter disc brakes. There are also two different rear suspensions: a seven-piece stock setup (again, not mentioned in the instructions but on the sprue) and a nine-piece custom assembly with molded-in large diameter disc brakes and raising spacers. Exhaust system is two-piece, requiring only drilling out at the ends. The underhood area is well catered to, with a detailed two-piece radiator unit, detailed firewall, separate washer bottle, two-piece battery and tray, wiper motor, twin horns, and master cylinder. Decals are provided for the radiator tank top, battery top, and the washer bottle top.
WHEELS AND TIRES:
18" O-Z style hollow five-spoke wheels ride on black vinyl wide low profile no-name tires. The stock steelie wheels and chromed dog dish hub caps are still here on the sprues (no mention of these at all in the instructions) and are only missing the proper tires to mount them. These, of course, can either be borrowed from another kit, or found in resin from an aftermarket supplier.
INTERIOR:
The interior is platform style, building up off a basic floor that has the gas pedal, rear seat, and package shelf molded in place. Side panels are separate and have excellent three dimensional detailing. The two-piece front bench seat and molded-in rear seat have excellent upholstery engraving. The dash is a six-piece affair with a chromed central trim insert, chromed under-dash tissue dispenser, steering column with shifter and turn signal stalk, and stock steering wheel with molded-in horn ring. Decals are provided for the main instrument cluster, radio face, Bel Air speaker panel, and clock. The headliner is also catered to, with a separate clear dome light.
BODY:
Revell did a superb job with the body on the Del Ray. The one-piece body has the correct side trim and "Chevrolet" scripts molded into the sides, however, they are very light and almost certainly will get lost under a decent paint job. At the front is a plated grille with separate clear turn signal lenses, plated headlight bezels with separate clear lenses, front valence panel, plated bumper, and optional license plate frame. The hood has separate hinges and very light underside engraving, and on the outside has a separate Chevy crest, V emblem, trim strip, and hood ornament (all chromed). At the rear are a plated rear bumper, two-piece taillight units with red clear lenses, a plated Chevy crest, a plated V emblem, and an optional license plate frame. Door handles, radio antenna, wipers, and two-piece rear view mirror are all separate chrome pieces. All window transparencies are commendably thin and clear.
DECALS:
On the decal sheet, in addition to the items mentioned earlier, are flame designs in yellow for the body sides, two black Chevy bowtie outlines, a silver "California Wheels Pro Touring" motif, two silver Chevrolet scripts for the rear flanks, two silver front fender hash mark trim, two Chevy crests for front and rear, and two California FIFTY6 plates.