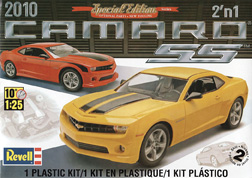 2010 CAMARO SS Revell #4239
VERSIONS: Custom
MOLDED COLORS: White, Clear, Red Clear, Chrome Plated
SCALE: 1/25
MSRP: $23.99 USD
NEW TOOL
ENGINE:
The 21-piece engine is an excellent representation of the LS3 V8 and six-speed automatic transmission as found in the real Camaro SS, with superb engraving detail throughout. High points include the pulley faces molded open where needed, the two-piece injector plenum and engine cover, and the separate plug-on-coil ignition units. Revell even provide decals for the fan belt unit, oil filler cap, and air cleaner! Built, the mill looks nothing short of fantastic.
CHASSIS:
The basic chassis pan has excellent engraving detail. The licensing and copyright notices are raised lettering and placed where they can easily be removed by the modeler; the outer frame rails and the space below the rear suspension. Front suspension is a seven-piece affair building up off of a separate cradle and featuring separate McPherson strut units and steering rack. Rear suspension is a 15-piece assembly (remember, the Camaro has independ- ent rear suspension) with separate trailing links, three-piece differential, and coilovers. Solid face disc brakes with large calipers can be found on all fours, with decalized Brembo logos in red for the calipers. The exhaust system is a six-piece assembly that features custom styled chrome exhaust tips for the custom version and real turned aluminum exhaust tips for the stock version. The engine compartment is very well catered to, the inner fenders being molded as part of the interior unit, featuring excellent shock tower and fuse box detail. Attaching to this are a two-piece radiator with twin electric fans and a firewall with a separate brake booster unit. Decals are provided for the brake booster, radiator, and striker plate. Note that the rear wheels attach via an AMT-style metal axle, while the fronts attach via metal pins.
WHEELS AND TIRES:
Both wheel options are 20" and chromed. The stock version is five-spoke cast Camaro factory wheels, while the custom version uses a five-spoke fluted design. Both use the same set of low-profile black vinyl no-name tires with excellent tread detail.
INTERIOR:
The interior shell is platform-style, with only the rubber floormat and footrest pedal molded in place. Side panels are separate, with very good three- dimensional detailing. Note that the upper contrast area is polished out while the rest of the panel is in a satin finish. Front bucket seats are two-piece units with detailed backs, matching the one-piece rear seat. The console assembly has a separate gauge panel, shifter, and brake lever. Moving to the dash, this has the gas and brake pedals in hanging mode, and has excellent engraving and a molded clear cover for the gauge faces. Attaching to this are a steering column with twin stalks, and the iconic Camaro steering wheel. Decals are supplied for the headrests, console gauges, main gauge faces, horn button, and speaker grilles.
BODY:
R-M nailed the iconic Camaro shape. The one piece body has front and rear fascias as well as rocker panels molded in place. The breakdown of the front grille/lights assembly is interesting, with separate chromed bezels for each attaching to the backside of the grille unit (which encompasses upper and lower grilles, neither of which are molded open, however) and an optional custom front air dam. At the rear is again a unique method for the taillights, with a transparent red strip including the lenses backed by twin chrome bezels, and your choice of the stock diffuser or a custom one with aero extensions. Also optional are custom aero side skirts. The hood is hinged and has excellent underside detail. Separate pieces include door handles, two-piece side mirrors, and rear spoiler. The one-piece main transparency has the windshield and rear window as well as something of a headliner with overhead console detail and twin sun visors. Areas on both windows to be painted in semigloss black are frosted. There are four raised circular mold marks on this that will need to be removed as they are quite prominent. Two small rear side windows also have frosted areas to assist with painting.
DECALS:
On the decal sheet, in addition to what's already been mentioned, are Z28-style hood and deck striping in black or white, custom hood and deck strip- ing in black, two "hockey stick" side stripes in black, black areas for the side windows, gold Chevy bowties for front and rear, CAMARO and SS scripts, front and rear side marker light lenses, two black and silver SS plates, one Michigan CAMARO plate, and two Illinois K59 787 plates.